LONDON — A British children's hospital said it will return donations from a charity facing allegations that women were groped, propositioned and sexually harassed at a fundraising gala attended by hundreds of senior executives and lawmakers.
The men-only event at London's Dorchester Hotel featured some 100 female hostesses, including two undercover Financial Times reporters. The journalists described harassment, lewd comments and "repeated requests to join diners in bedrooms."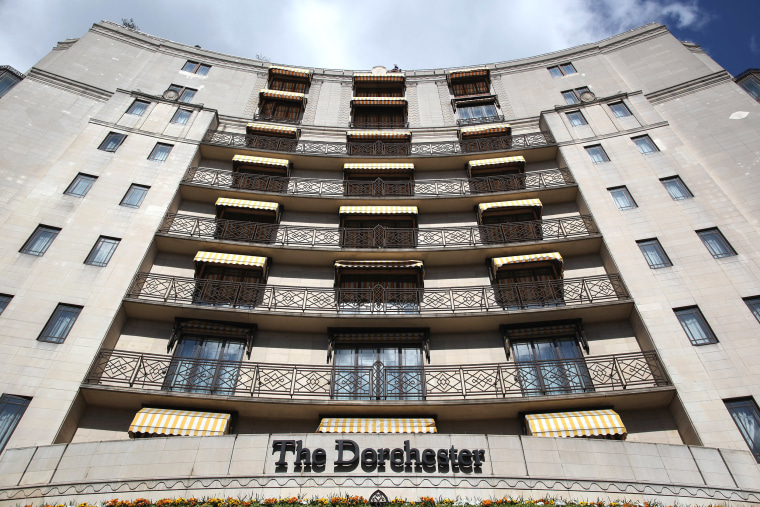 Thursday's event organized by the Presidents Club raised around £2 million ($2.8 million), according to the FT. It has raised more than £20 million ($28 million) over the past three decades.
The Great Ormond Street Hospital said it was shocked to learn of the behavior at the Presidents Club dinner and that it wouldn't knowingly accept donations raised this way.
The hospital says that it was never supposed to receive money from the dinner but that it will return previous donations and "no longer accept gifts from the Presidents Club Charitable Trust."
The detailed report of the gala evening comes at a time of intense public debate about issues of sexual harassment in the workplace and pay discrimination against women.
The newspaper said hostesses were told to wear skimpy black dresses with matching underwear before being paraded in front of braying men.
"The organizers are appalled by the allegations of bad behavior"
"Welcome to the most un-PC event of the year," announced the host at the start of a charity auction to raise funds for good causes, according to the article by undercover reporter Madison Marriage.
Lots put up for auction included plastic surgery, with the invitation "add spice to your wife," and a night at a strip club featuring 50 exotic dancers.
The event also featured auction prizes of tea with Bank of England chief Mark Carney and lunch with British Foreign Secretary Boris Johnson.
Attendees reportedly included Children and Families Minister Nadhim Zahawi. A government spokesperson declined to comment, saying Zahawi attended the event in a personal capacity.
The FT report sparked a swift backlash against the event, with senior women in Britain's Parliament demanding tougher laws against harassment.
In a statement issued Wednesday, the the Presidents Club said: The organizers are appalled by the allegations of bad behavior at the event asserted by the Financial Times reporters. Such behaviour is totally unacceptable. The allegations will be investigated fully and promptly and appropriate action taken."