The small Arab kingdom of Jordan was kind to Ahmad al-Abboud, his wife and their five children after they fled Syria's civil war three years ago.
But the family — yearning for something more permanent — is fastening their futures to a larger ambition: America.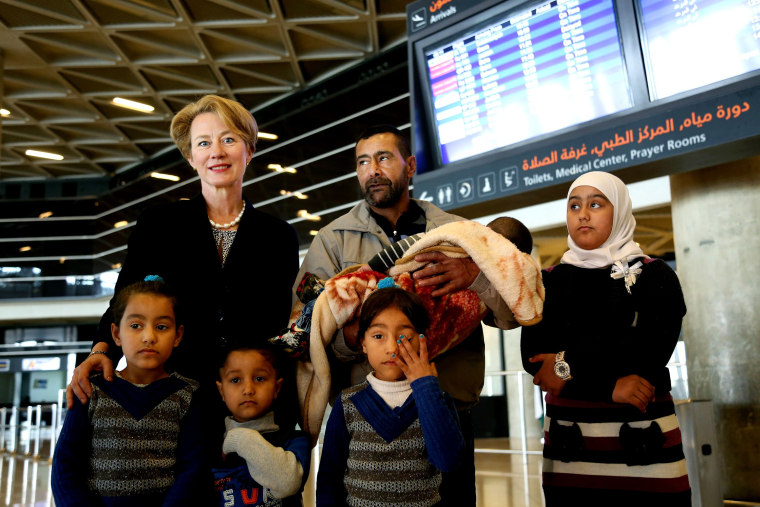 "I'm happy. America is the country of freedom and democracy, there are jobs opportunities, there is good education, and we are looking forward to having a good life over there," al-Abboud told The Associated Press on Wednesday from the international airport in the Jordanian capital of Amman.
The al-Abbouds are the first Syrian family to be resettled in the United States from Jordan as part of the latest "surge operation," and are among 1,000 Syrians who have been permitted to enter America from that country since last October.
Related: Pope Francis Considering Visit to Lesbos to Meet Syrian Refugees
Al-Abboud had been unable to find work in the town north of Amman where he had relocated, and is heading to Kansas City, Missouri, with his family in the hopes of finding a job and learning English. The state's leaders have not tried to outright bar Syrian refugees, although Gov. Jay Nixon called on the federal government to implement safeguards to protect Americans — raising the specter of terrorism at home.
In neighboring Kansas, Gov. Sam Brownback signed an executive order in November saying the state would not help with the relocating of refugees.
A resettlement surge center opened in Amman in February to meet President Barack Obama's target of resettling 10,000 Syrians to the United States by Sep. 30. Every day, the center interviews some 600 Syrian refugees.
The temporary processing center for the surge operation will run until April 28, U.S. Ambassador to Jordan Alice Wells said. She traveled to the airport to greet the al-Abbouds before their departure.
The regional refugee coordinator at the U.S. embassy in Amman, Gina Kassem, said that while the 10,000 target applies to Syrian refugees living around the world, the majority will be resettled from Jordan.
Related: Jordanian School Principal Gives Hope to Syrian Kids Fleeing ISIS
"The 10,000 is a floor and not a ceiling, and it is possible to increase the number," she told reporters, according to the AP.
While the resettlement process usually takes 18 to 24 months, under the surge operation this will be reduced to three months, Kassem said.
The U.N. Refugee Agency prioritizes the most vulnerable cases for resettlement, and then refers them to the U.S. to review, Kassem said.
She said that priority is given to high-risk groups such as victims of torture and gender-based violence and unaccompanied minors.