A Texas pre-teen with rare, medically induced obesity was sedated and on a ventilator late Friday after Cincinnati doctors suddenly had to switch plans during her weight-loss surgery.
Alexis Shapiro, 12, was stable and comfortable but expected to remain in the intensive care unit at Cincinnati Children's Hospital Medical Center at least through the weekend, said Dr. Thomas Inge and colleagues monitoring the child whose metabolism went haywire after brain surgery two years ago.
"Ultimately, I don't think this will change her prognosis," said Inge, who expects Alexis to lose weight and resolve many health problems such as type 2 diabetes and pulmonary issues caused by the condition that sent her weight past 200 pounds on her 4-foot-7 frame.
"I think she will have a new normal."
Instead of the gastric bypass operation and procedure to cut part of her vagus nerve they expected to perform, Inge and his crew had to adjust their plans because Alexis' liver was bigger and fattier than anticipated. Instead, they performed a sleeve gastrectomy to remove up to 80 percent of her stomach.
He said it wasn't a medical complication, but a clinical decision to alter plans. Doctors knew her liver was large, but couldn't tell how difficult it would be to manipulate it until they got into surgery.
"It's not disappointing at all," Inge told reporters. "Our goal is do to a safe operation under circumstances that are not always 100 percent predictable."
Alexis' parents, Jenny and Ian Shapiro, agreed.
"Yes, unexpected. But it's OK," Jenny Shapiro told NBC News in an email Friday. "We are OK with it. And it was what's best for her."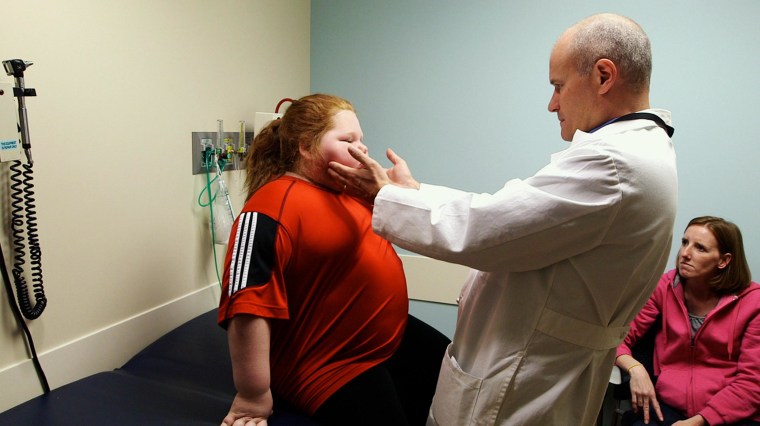 The Cibolo, Texas, couple backed out of the press conference Friday because they had signed a contract with the television show "The Doctors," which plans to air a segment about Alexis in April.
In a statement, they expressed gratitude to the thousands of people who have sent cards and emails and raised more than $84,000 for the family since NBC News first reported the story in December.
"We are appreciative of all of the prayers and thoughts of all of the people who have shown support of us over recent months and we will continue to be focused on Alexis getting better," they wrote.
"We have an exclusive contractual relationship with the guest and her family which is being honored by the family," Marc Grossmann, a senior publicist with The Doctors, said in an email. Show officials would not disclose whether or how they compensated the family to stop talking to other media.
Inge said doctors will wait to see how Alexis responds to the surgery before deciding whether to go ahead with the gastric bypass and vagus nerve operations. Patients sometimes lose less weight with the sleeve procedure than with gastric bypass, Inge said. However, it's very common to perform bypass surgery after a sleeve gastrectomy, he added.
"I think she will have a new normal," Inge said. "The new normal for her will be at a healthier weight perhaps with less damaging conditions."
Alexis will remain hospitalized for about a week and could return to Texas in two weeks.