RIYADH, Saudi Arabia — President Donald Trump kicked off the second day of his crucial trip to Saudi Arabia aimed at resetting relations with the Muslim world by meeting regional leaders.
Another priority of his first foreign visit — jobs for Americans — was also front-and-center with the president on Sunday touting "lots of beautiful military equipment" that U.S. workers manufacture.
Trump was at the Ritz Carlton in Riyadh to participate in meetings with the King of Bahrain Hamad bin Isa Al Khalifa, the Amir of Qatar Tamim bin Hamad Al Thani and Egyptian President Abdel-Fattah el-Sissi.
The president also previewed "a press conference in about two weeks" in which he plans to discuss "how well we are doing" in the fight against ISIS.
Among the president's first comments were about the tiny kingdom of Bahrain, which has struggled to contain occasional unrest since authorities crushed 2011 protests mainly by Shiites demanding a bigger share in running the country. The nation is a partner of the Saudi-led coalition fighting Iran-linked rebels in Yemen.
Related: Why There's Buzz About Melania Trump Not Wearing Headscarf
"Our countries have a wonderful relationship together but it's been a little strained, but it won't be strained under this administration," Trump said Sunday.
Former President Barack Obama attached human rights conditions to an arms sale to Bahrain, but ended a four-year ban on such deals after negotiations led to the release of a leading opposition leader, Ibrahim Sharif. Weeks later, he was rearrested on new charges.
Ahead of the meeting with Qatar Trump said the two countries would discuss a possible arms deal.
"One of the things that we will discuss is the purchase of lots of beautiful military equipment because nobody makes it like the United States," he said. "First that means jobs" he said, adding "it also means frankly great security back here which we want."
Turning to Egypt, Trump said he would be visiting the country soon but did not give a date.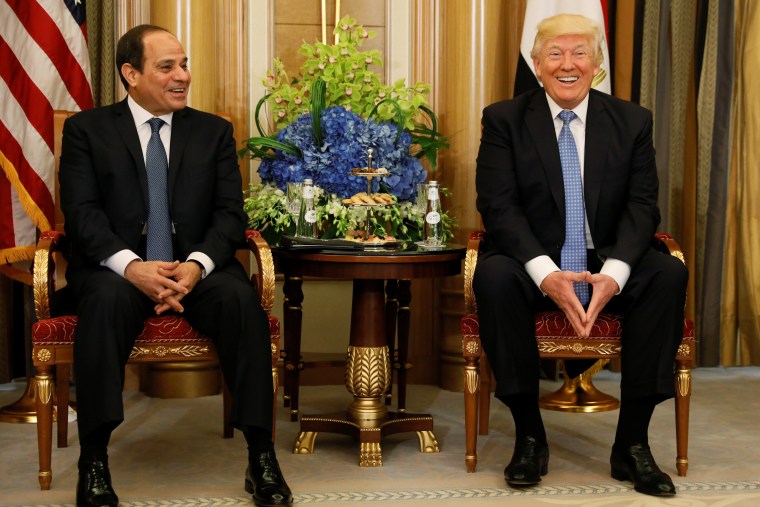 President Sissi described Trump, who he met last month during a state visit to Washington, as "a unique personality that is capable of doing the impossible," prompting laughter from the room.
"I agree," Trump replied.
Following the one-on-one meetings Trump took part in the Gulf Cooperation Council gathering at the King Abdulaziz Conference Center near the Ritz Carlton.
In a gathering with Emir Jaber Al-Ahmad Al-Sabah of Kuwait, Trump referred to the leader as a "special person" and pointed out that the Kuwaiti's purchasing of "tremendous amounts of our military equipment" means "jobs, jobs, jobs" for Americans.
Later Sunday he is due to address the global Muslim community in what national security adviser H.R. McMaster called an "inspiring, but direct speech on the need to confront radical ideology."
During the presidential race, Trump criticized his Democratic adversary Hillary Clinton for taking money from Saudi Arabia and other countries int he region that "want women as slaves and to kill gays."
Early on in his presidency, Trump signed an eventually unsuccessful travel ban that barred citizens from a handful of Muslim-majority countries, although not Saudi Arabia.
Saphora Smith reported from London.