MIAMI — The U.S. Coast Guard is worried about a recent spike in the number of Cuban migrants setting sail illegally to the United States, officials said.
The increase began in mid-December, officials said, right after President Barack Obama and Cuban President Raul Castro announced their intentions to improve U.S.-Cuban relations.
Coast Guard officials say they are being told many of the the migrants are trying to reach South Florida now, because they fear the US could soon end the so-called "wet-foot dry-foot" policy, which gives preferential immigration status to Cubans who set foot on American soil.
They said rumors are swirling around Cuba that the U.S. intends to change its immigration policy by January 15 — explaining why so many Cubans are eager to leave now, hoping to beat the perceived "deadline."
On Monday, the Coast Guard issued a statement saying that the diplomatic activity "does not affect immigration policies including wet foot/dry foot or the Cuban Adjustment Act — which only Congress can change." It added that the Coast Guard's mission was unchanged and that it "strongly discourages attempts to illegally enter the United States by taking to the sea."
Last month, U.S. Homeland Security Secretary Jeh Johnson told NBC's Andrea Mitchell, "Current immigration policy and law concerning Cuba will remain for the time being. It is important, however, to stress that this new policy and this new approach should not in any way encourage future illegal immigration."
In December alone, the Coast Guard intercepted about 500 Cubans, nearly three times the normal amount. (Since mid-December, the numbers rose 164 percent over the first half of the month.)
The decks of Coast Guard cutters are currently filled with Cuban boat people as officials wait to return them to Cuba, a procedure approved by both the U.S. and Cuban governments. Where typically there might be 15 to 30 Cubans aboard ship, Coast Guard Spokesman, Lt. Commander Gabe Somma said there are now more than 200 at a time camped out on deck.
This increase in Cuban rafters and boaters is causing the Coast Guard to send more cutters into the Florida Straits. While officials are not yet calling this a "mass migration," they are deeply concerned, and fear the numbers could swell as more and more Cubans try to leave the island.
This latest increase is in addition to a steadily upward trend in Cuban maritime migration over the last five years. The Coast Guard reports that in fiscal 2014 nearly 4,000 Cuban made the treacherous trip by sea to the U.S. In 2010, the number was 1,092. In the years that followed the numbers climbed slowly to 2,129 in the year 2013, before the big spike last year.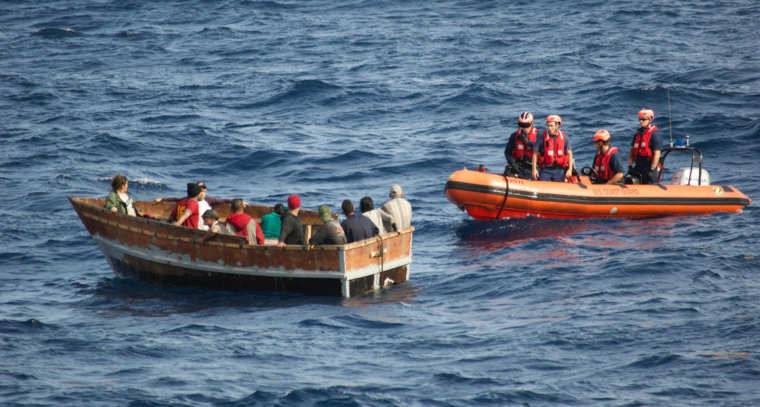 The Coast Guard said the illegal trips at sea are very dangerous, and that most of them began on Cuba's north coast near Havana.
IN-DEPTH
SOCIAL