Russia on Wednesday made its first direct comparison between the Ukraine crisis and its 2008 war with Georgia, warning that it would be forced to respond in a similar way if its interests were attacked.
Foreign Minister Sergey Lavrov made the ominous comparison during an interview to be aired by the Kremlin mouthpiece Russia Today, known as RT.
Russia invaded Georgia in August 2008 after Georgian government troops moved against separatist positions in the semi-autonomous region of South Ossetia. Moscow's forces pushed on to the Georgian capital Tbilisi and led to Georgia withdrawing its troops from the region.
South Ossetia is now virtually part of Russia, although Georgia does not recognize its existence.
Analysts have drawn comparisons between Russia's handling of Ukraine and the 2008 conflict, but Lavrov's comments were the first time Moscow has directly linked the two.
"If we are attacked, we would certainly respond," Lavrov said. "If our interests, our legitimate interests, the interests of Russians have been attacked directly, like they were in South Ossetia for example, I do not see any other way but to respond in accordance with international law."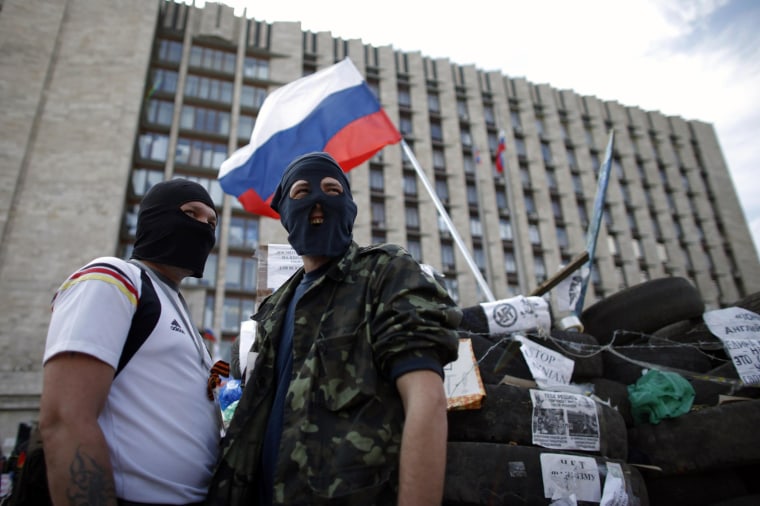 Tensions are high in Ukraine and a peace deal signed in Geneva last week by the United States, Russia, and Europe appears to be in tatters.
Pro-Russian separatists — alleged by the U.S. to be backed by Russia — were still occupying government buildings across the east Wednesday, and the Kiev government said it was to resume an "anti-terrorist" operation to remove them.
Lavrov criticized this move and hit back at Vice President Joe Biden's combative speech in the capital in which he told Russia to stop "supporting men hiding behind masks."
"There is no reason not to believe that the Americans are running the show," he said. "Ukraine is just one manifestation of the American unwillingness to yield in the geopolitical fight.
"Americans are not ready to admit that they cannot run the show in each and every part of the globe from Washington alone."
— Alexander Smith