Russian troops flooded the Russian-speaking Ukrainian region of Crimea on Saturday, giving President Vladimir Putin abundant options should he decide to use the new military authority his parliament gave him.
U.S. President Barack Obama spoke with Putin by telephone Saturday after the upper house of Russia's Parliament unanimously voted Saturday to authorize military force in Ukraine. The White House said the U.S. was "suspending" its preparations for the next G-8 summit of industrialized nations — scheduled to be held in Russia.
Moscow already had thousands of military personnel in Crimea, where the Russian Black Sea naval fleet is based, and Ukraine's defense minister claimed Saturday that 6,000 more Russian troops had arrived.
Masked, well-armed men ringed the Interior Ministry and the Parliament buildings in Simferopol, the Crimean capital, after as many as a dozen Russian transport planes flew in men, weapons and ammunition overnight.
The Russian forces appeared to be establishing "legitimate" defensive positions around some of Moscow's military bases in a "self-defense posture only," U.S. officials told NBC News on Saturday.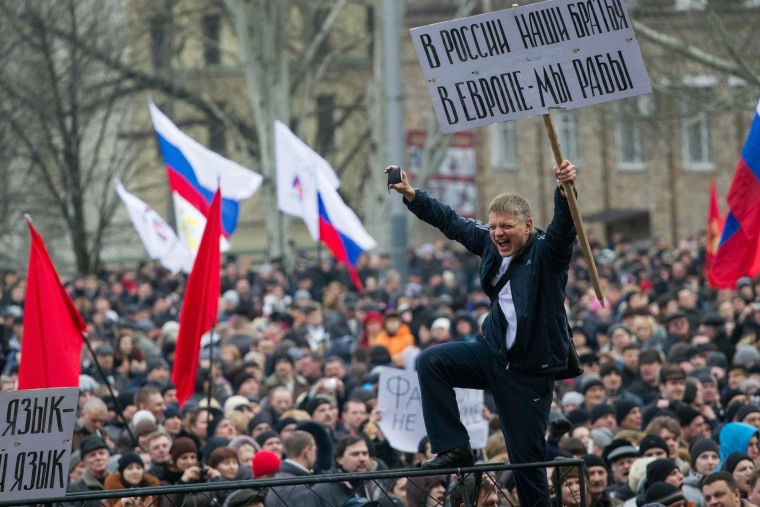 But Ukraine's acting national leaders reacted aggressively, saying any Russian military action would inevitably lead to war and bring an end to relations with Moscow. They said they had put the country's armed forces on "highest" combat alert.
Meanwhile, diplomats worldwide were working to defuse the tension:
The U.N. Security Council was meeting Saturday afternoon in an open session over the objections of Russia, a permanent member with veto power over any council action. Secretary-General Ban Ki-moon, saying he was "gravely concerned about the deterioration of the situation," also spoke by telephone with Putin.
Obama was briefed by his national security team and spoke to several foreign leaders throughout the day, Deputy National Security Adviser Ben Rhodes said. Defense Secretary Chuck Hagel told his Russian counterpart, Sergei Shoigu, that there was no change in the U.S. military posture Obama announced Friday — that Russian military action would be unacceptable.
NATO said its policy-making North Atlantic Council would meet Sunday after Ukraine urged the U.S.-led alliance to step in to protect its "territorial integrity" from incursions by Russia.
European Union foreign ministers scheduled crisis talks in Brussels for Monday, said Catherine Ashton, the E.U.'s head of foreign affairs and security. "We must push all sides in Ukraine to sit around a table and stop this escalation," Belgian Foreign Minister Didier Reynders said.
Sen. John McCain of Arizona, a member of the Armed Forces Committee and a leading Republican spokesman on foreign policy, urged Obama to take an even harder line after the upper house of Russia's parliament gave Putin the power to use military force.
"Every moment that the United States and our allies fail to respond sends the signal to President Putin that he can be even more ambitious and aggressive in his military intervention in Ukraine," McCain said.
"It is now essential for the president to articulate exactly what those costs will be and to take steps urgently to impose them," McCain said.
But just because Putin was granted new powers to use military force doesn't mean he will do so any time soon, Russian Deputy Foreign Minister Grigory Karasin said.In what might have been an attempt to put a velvet glove on an iron fist, Karasin said Putin's power may not be activated quickly.
He gave no time frame for military action, and diplomats said it was possible that the announcement was intended more to send a message to international powers that Russia wouldn't back down over the future of Ukraine.
Jim Miklaszewski and Kristen Welker of NBC News contributed to this report.