A senior U.S. diplomat met former Ukrainian Prime Minister Yulia Tymoshenko on Wednesday, just days after the opposition icon was released from prison.
According to a Ukrainian-language statement issued by her office, Deputy Secretary of State William Burns congratulated Tymoshenko on her release.
"I am happy to see you as a free person and an active politician," the statement quoted Burns as saying. "We admire the dignity with which you have passed through this terrible ordeal. Ukraine needs your courage and leadership now. The U.S.A. is ready to be next to Ukrainian people in these hard times."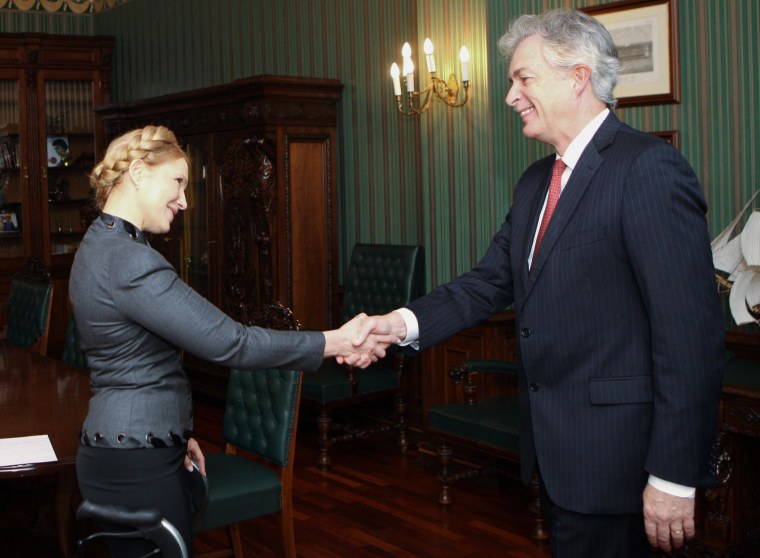 Tymoshenko was freed on Saturday as her after political nemesis Viktor Yanukovych fled Kiev, three years into a seven-year sentence for abuse of office over a gas deal with Russia.
She later addressed the crowd in Kiev's Independence Square, which was the epicenter of months of deadly anti-government protests. However, the response was muted. She is believed to be planning to run in a presidential election scheduled for May 25.
Tymoshenko lost to Yanukovych in a presidential race in 2010 and was jailed a year later on charges that she had overstepped her power as prime minister by signing a gas deal with Russia. Many analysts say the charges were trumped up by her political victor. Many Western leaders regarded her as a political prisoner.
Known for her distinctive blonde braid, Tymoshenko shot to fame during the 2004-5 Orange Revolution that overturned a rigged election won by Yanukovych.
Burns also passed on congratulations from Secretary of State John Kerry. Tymoshenko thanked the U.S. for its efforts in support of democracy and peace in Ukraine, her website said.
The State Department also tweeted links to photos from other meetings from Burns' trip to Ukraine, including those with other opposition leaders and medics in Kiev.
Reuters contributed to this report.