SPANGDAHLEM, Germany — Two years after they were pulled out of this U.S. airbase in the German countryside, American "tankbuster" aircraft are once again parked outside its hangars.
The A-10 Thunderbolt II planes — 12 in all, accompanied by 300 airmen — are part of a six-month U.S. operation in Europe amid concern about an emboldened Russia and the rise of militant groups.
"Today we focus on numerous and emerging threats to regional security and stability: threats from Russia, ISIS, and others throughout Europe and North Africa," 3rd Air Force commander Lt. Gen. Darryl Roberson said at Spangdahlem Air Base on Wednesday.
The U.S. and its NATO allies have found themselves locked in a tense standoff with Russia, sparked by the ongoing crisis in Ukraine. The West has accused Moscow of supplying fighters and tanks to the pro-Russia rebels in eastern Ukraine, something the Kremlin denies.
On Thursday, British Defense Secretary Michael Fallon said Russian President Vladimir Putin posed a "real and present danger" to the Baltic nations of Estonia, Latvia and Lithuania, all of which are NATO members. In comments published by The Times, Fallon said the alliance was preparing to repel any possible aggression.
The temporary deployment of 12 of the A-10 "tankbuster" aircraft at Spangdahlem was part of the U.S. military's Operation Atlantic Resolve. This was intended to reassure NATO partners in light of the Ukraine crisis — and to show Russia that U.S. forces are still around.
"Bringing them back presents a new way of presenting air power," Roberson told NBC News as a welcome ceremony was held at Spangdahlem for the Arizona-based 355th Fighter Wing.
The U.S. military has to show its strength with fewer resources than during the Cold War. The U.S. Air Force in Europe, for example, is now a quarter of its size in the 1990s, when it had over 800 planes and 72,000 personnel stationed on the continent.
It is now relying on temporary deployments from bases on the U.S. mainland.
"Instead of having to be permanently based forward, we have these assets now that will routinely rotate over to other theaters around the world as needed," Roberson said.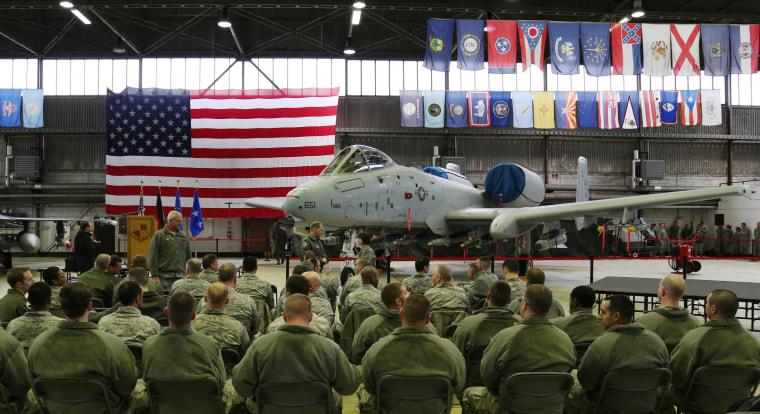 Tate Nurkin, a defense expert at Colorado-based analysis firm IHS, said the U.S. military is forced to help its European partners because despite cutbacks it is still by far the strongest force in NATO.
"The U.S. clearly has the most capability and there is a capability gap between the U.S. and Europe," he said. "They will almost certainly be the lead horse for the time being with more and more allies chipping in."
Last year, the U.S. military used Europe's training areas to stage tank maneuvers together with NATO troops. These drills were far different from the counter-insurgency tactics that used to be trained there during the years of the Iraq and Afghanistan wars.
Earlier this month, the U.S. Army also announced it would retain Coleman Barracks, previously scheduled to be returned to the German government, to store and maintain tanks and other vehicles.
However, the U.S. military's resources in Europe are still far lighter than in past decades while Russia's defense budget continues to rise and is predicted to reach its peak this year.
"There will come a time, when decision on deployments have to be made," Nurkin said. "The U.S. could very easily get stretched very thin if threats flare up simultaneously."