Ukrainian and pro-Russian forces traded public displays of strength in eastern Ukraine on Wednesday as separatist tensions threatened to boil over.
Armored personnel carriers belonging to both sides were seen the towns of Kramatorsk and Slaviansk and jet fighters from Kiev flew overhead as Ukraine accused Moscow of "exporting terrorism" to back up the separatist militias.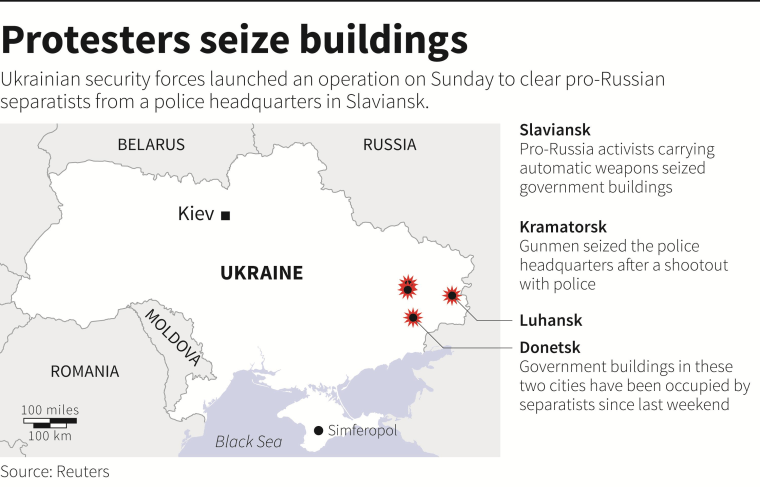 Russian President Vladminir Putin, who the U.S. and many others in the West believe is backing the separatists, said late Tuesday the former Soviet country is on the brink of civil war.
Hours later, NATO vowed to toughen its military presence in Eastern Europe in response to Russian aggression in Ukraine.
Reuters reported that some of the Ukrainian vehicles were seen flying Russian flags and being occupied with men in unmarked fatigues. Eyewitness accounts varied on whether the units had been captured or switched sides, but one of the soldiers told the news agency that he had defected from the Ukrainian army.
"All the soldiers and the officers are here. We are all boys who won't shoot our own people," he said, adding that his men had had no food for four days until local residents fed them.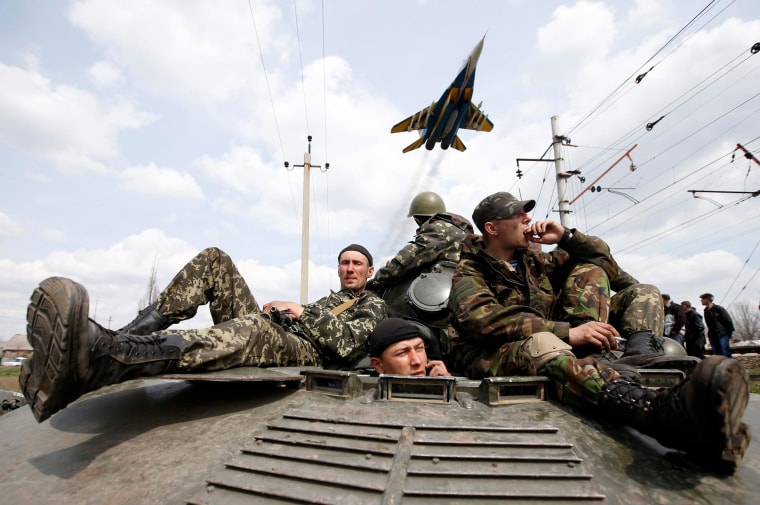 The BBC reported that locals in Kramatorsk remonstrated with the Ukrainian soldiers when they arrived. The region has a significant number of Russian speakers and ethnic Russians, and opponents of the new Western-backed Kiev government have said they think it will not represent their views.
"Why did you come to our land?" asked one man. "Why are you driving over our fields? We are peaceful people! And we just want our demands to be respected!"
Thursday will see a meeting between the U.S., European Union, Russia and the Ukraine in Geneva to discuss the country's future.
Reuters contributed to this report.
- Alexander Smith