The world doesn't know how far Russian President Vladimir Putin will go to attain his self-proclaimed goal of restoring the Soviet Union — and the end result could be disastrous, Ukrainian Prime Minister Arseniy Yatsenyuk said Saturday.
"President Putin has a dream to restore the Soviet Union. And every day, he goes further and further," Yatsenyuk told NBC News' David Gregory in an exclusive interview airing on Sunday's "Meet the Press."
"And God knows where is the final destination."
Putin divulged his aim to reestablish the Soviet Union in his state of the union address two years ago and said in another speech that the biggest disaster of the 20th century was the collapse of the Soviet Union, Yatsenyuk recalled during the interview.
"I consider that the biggest disaster of this century would be the restoring of the Soviet Union under the auspices of President Putin," the interim pro-West prime minister said.
Ukraine's parliament named Yatsenyuk as the head of the country's interim government after pro-Kremlin President Viktor Yanukovych fled Kiev in February after months of protests.
Russia annexed Crimea in March and pro-Russian insurgents have seized buildings in other cities in eastern Ukraine, refusing to recognize the newly instated government.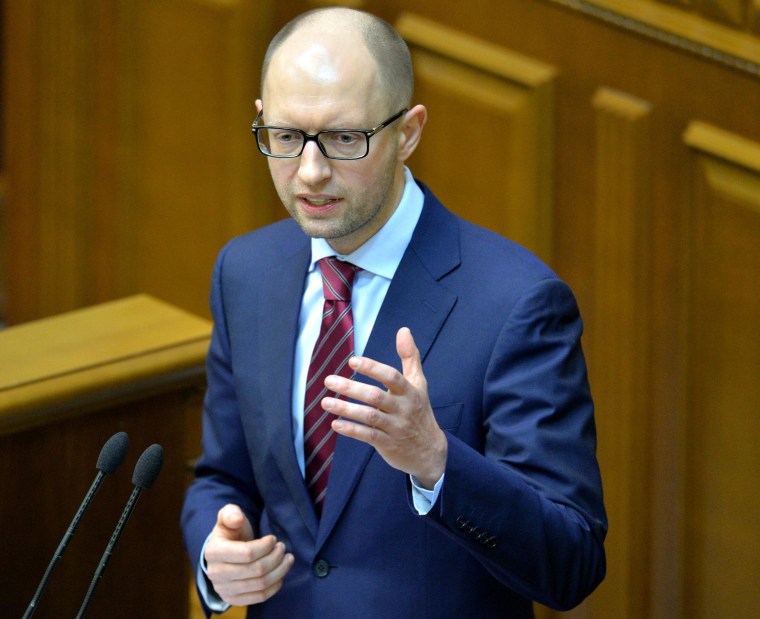 Yatsenyuk also condemned those who handed out bulletins in the eastern Ukrainian city of Donetsk mandating that Jews identify themselves as Jewish.
Yatsenyuk said he made a statement Saturday morning pressing Ukranian forces to find who handed out the pamphlets that U.S. Secretary of State John Kerry called "grotesque."
Ukrainian military and security forces and Ukrainian Department of Homeland Security are to "urgently ... find these bastards and to bring them to justice," Yatsenyuk said.
Russia and Ukraine struck a deal Thursday in which Russian militants must lay down weapons and return seized buildings to their rightful owners, while Ukraine agrees to offer amnesty to protesters who had not committed capital crimes.
Pro-Russian separatists, however, said Friday that they would not honor the deal until the "illegal" Western-backed government in Kiev stood down.