TRUTH OR CONSEQUENCES, N.M. — When Virgin Galactic's SpaceShipTwo rocket plane broke up in the skies over California's Mojave Desert eight months ago, killing one pilot and injuring the other, the shock wave was felt more than 600 miles away in New Mexico.
The schedule for SpaceShipTwo's future space tourism flights from Spaceport America, an 18,000-acre facility that was built in the New Mexico desert with $219 million in state and local tax money, fell apart as well.
"It was October 31st, and it was etched in our brains," Christine Anderson, Spaceport America's CEO, told NBC News last week. "You know, we had high hopes that Virgin Galactic would be here by now, flying passengers. And that didn't happen."
If everything had proceeded according to plan, Spaceport America would be receiving millions of dollars in lease payments from Virgin Galactic. Instead, Virgin Galactic is having to start from scratch with a second SpaceShipTwo that's still under construction in California. There's no firm timetable for commercial spaceflights from New Mexico. And Anderson is now working on Plan B for Spaceport America.
"You can't totally plan out a Plan B," Anderson said. "You have to take what you're learning from the experiment ... and then modify what you're going to do next."
The broad outlines of Plan B are laid out in a business plan that Anderson and other spaceport officials issued in May.
Some of the initiatives are in line with the spaceport's launch mission — for example, its use by rocketeer tenants ranging from SpaceX to UP Aerospace. Other initiatives extend that mission into other aerospace fields — such as the spaceport's efforts to bring in satellite ground operations and drone test flights.
But still other initiatives are pretty far afield from flight. A local company is running guided bus tours to the spaceport, even though there are no takeoffs. Some companies are taking advantage of the facility's 12,000-foot runway to shoot motorcycle and car commercials. There's even a plan to host concerts and weddings.
Related: Spaceport America Courts Down-to-Earth Tourists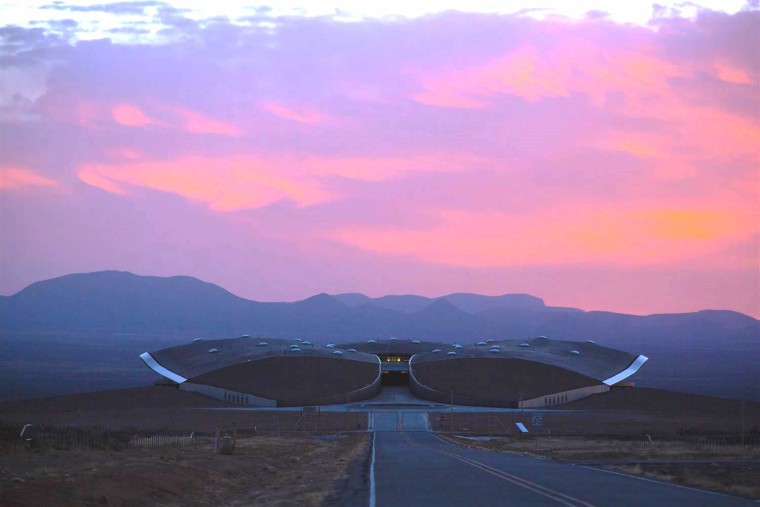 "They're just throwing things at the dartboard," said New Mexico state Sen. George Munoz, who introduced a bill this year to sell off the spaceport. The bill didn't become law, but Munoz hasn't given up. He still wants to see the facility managed by the private sector rather than state officials.
"That place is a shopping center, and Virgin Galactic is your anchor tenant — but if Virgin Galactic is not there, you're not going to attract anybody else," he told NBC News. "The spaceport has done nothing for New Mexicans for their tax dollars."
How many dollars? How many jobs?
The New Mexico state budget allots around $460,000 annually for spaceport operations, and millions of dollars more have been appropriated to improve a gravel road leading to the facility from the south.
Even though the passenger spaceships haven't taken off yet, Spaceport America is already earning revenue. It receives $1.6 million a year in pre-flight lease payments from Virgin Galactic, and another $800,000 comes in from other commercial sources, Anderson said.
Related: Spaceport America Takes Shape in New Mexico
Once Virgin Galactic starts taking passengers to the edge of outer space, at a cost of up to $250,000 apiece, the spaceport's revenue stream should build up to $5 million annually, Anderson said. There's also the potential for entrepreneurs to launch additional tourist ventures close to the spaceport — a luxury hotel, for instance, or an Old West dude ranch.
"I think they're waiting for that first flight," Anderson said.
She estimated that the spaceport already has created 1,400 jobs — including jobs for the spaceport's firefighters, security workers and maintenance teams. "We are a small city," Anderson said. "There's a maintenance cost to running a city, and so we need to generate enough revenue for that."
How patient are taxpayers?
If and when space tourism takes off, Spaceport America will be well-placed to take advantage of the market, thanks to its average of 340 sunny days per year and its proximity to the controlled airspace at White Sands Missile Range. But how patient are New Mexico's long-suffering taxpayers?
For some, patience has run out. "We've already paid almost $300 million on this boondoggle," Sophia Peron said as she held up a protest sign in Truth or Consequences, 28 miles north of the spaceport.
Truth or Consequences is the town that's closest to the spaceport's "small city." The place is best-known for its Old West flavor and its hot-spring spas. Its population of 6,400, give or take, is a blend of retirees, families and artsy types — and for years they've been hoping to see an economic boost from the spaceport.
Those hopes took a big hit last October, said Jeff Dukatt, who runs a tie-dye shop on the road that leads from Truth or Consequences to the spaceport. "The interest died significantly after the crash," he told NBC News.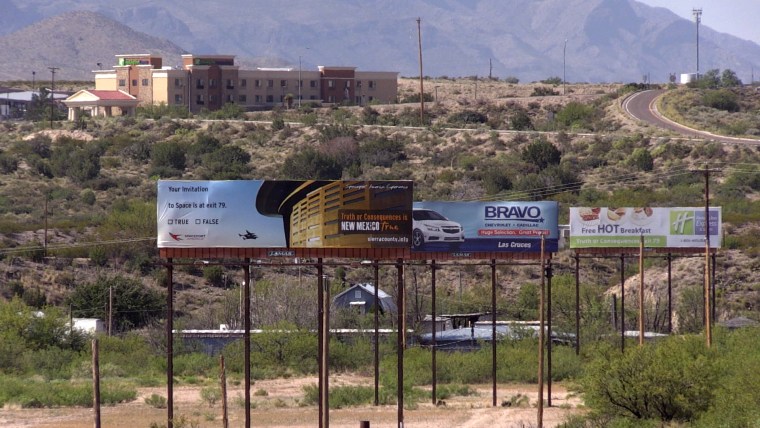 "They've put it off so much, and so much," said Nina Gomez, a kitchen worker at Sparky's Burgers in Hatch, another town that's 34 miles south of the spaceport. "Everybody's just waiting for the business and the jobs."
Even Linda DeMarino, who's the executive director of an economic development group called Main Street Truth or Consequences, acknowledges that so far, the hoped-for boom has been a bust.
"We do have the highest vacancy rate we've been in for a while," she told NBC News. "A lot of people were banking on the spaceport, and they didn't have a great business plan to begin with. After the crash, they threw up their hands. But Virgin Galactic was really great. They came around and tried to get the word out that they were still committed to Spaceport America."
Related: FAITH, Hope and Tragedy for SpaceShipTwo Engineers
Just after the October crash, DeMarino and her husband, Blair Wyman, also made a commitment to the future of Spaceport America and Truth or Consequences. They bought a storefront on the town's main thoroughfare. Now they're converting it from a shuttered restaurant into office and retail space.
Despite all the setbacks and delays, Wyman is sold on the spaceport. "This is quite possibly the next level of transportation," he said.
And as you'd expect, Anderson is sold as well.
"It's going to happen — it's not a matter of if, but when," she said. "It seems like we're inching along right now, but that's how you make history."