MOJAVE, Calif. — The Mojave Desert is where the Right Stuff was born. It's where Chuck Yeager broke the sound barrier with the X-1 rocket plane in 1947. It's where other test pilots earned their astronaut wings in the X-15 during the '60s.
Now the Right Stuff is being born again in Mojave. But it's an open question whether that renewed spirit of rocket-powered flight will grow up here — or take root someplace else, as it did in the 1960s.
This time, the rockets being tested in the desert aren't secret military projects. They're commercial ventures, focused on bringing the thrill of outer space to the masses and turning a profit.
"As a child, I read about some of the things that happened ... the early X-1 flights, the whole X-series ... I guess I thought that was over and gone with, and probably wouldn't be seen again," said David Mackay, a 56-year-old veteran aviator who's now the chief pilot for one of those ventures, Virgin Galactic. "And yet, here we are with a very similar system, an air-launched spaceship."
Mojave's stars
Last month, Mackay took the controls of Virgin Galactic's SpaceShipTwo for its third rocket-powered test flight over the desert. Later this year, Mackay and other test pilots expect to ride the rocket plane up to the space frontier, 62 miles up, during practice runs for passenger space tours.
Virgin Galactic, which was founded by British billionaire Richard Branson, is the current star of the show in Mojave. But Mojave is more than Virgin Galactic. More than 70 aerospace ventures are located in the town, population 4,238. It's a 90-minute drive from Los Angeles, just up the road from Palmdale (where the space shuttles were built) and Edwards Air Force Base (where the X-planes were flown).
Today, the commercial center for the new space age is the Mojave Air and Space Port, where low-profile hangars conceal high-tech gear. On the airport's grounds, you can find Orbital Sciences' Stargazer jet, which launches Pegasus rockets in midflight. You can see Scaled Composites, which built SpaceShipTwo — and before that, SpaceShipOne, which won the $10 million Ansari X Prize for private spaceflight a decade ago.
"It's like a Silicon Valley effect — they share a workforce, they're fiercely competitive."
Just a couple of blocks from Scaled, there's the hangar for XCOR Aerospace, which expects to begin test flights of its own Lynx rocket plane later this year. Off in the distance, you can see another hangar that covers almost twice as much area as a football field. That's where Stratolaunch Systems, a venture bankrolled by software billionaire Paul Allen, is building the world's biggest airplane to carry a new kind of air-launched rocket.
Silicon Valley effectThese and other rocket companies are knit together by friendly rivalries.
"It's like a Silicon Valley effect — they share a workforce, they're fiercely competitive," said Stuart Witt, the airport's CEO. "But you have a good day or a bad day, and that same crowd will be out there congratulating you on making the attempt, on your willingness to try. Can NASA keep up with that? They'll have to."
INTERACTIVE: Take a Ride on Virgin Galactic's SpaceShipTwo
One way for NASA to keep up is by taking advantage: The space agency has already made a variety of deals with Mojave-based companies: NASA's NuSTAR X-ray satellite was launched from Orbital's Stargazer plane. Masten Space Systems is testing lander technologies for NASA's Jet Propulsion Laboratory. Virgin Galactic and XCOR Aerospace already have been tapped to fly NASA payloads once their rocket planes are ready.
It's virtually certain that test pilots will be earning their astronaut wings in Mojave before NASA's astronauts are launched once again from Kennedy Space Center in Florida aboard different types of commercial space taxis.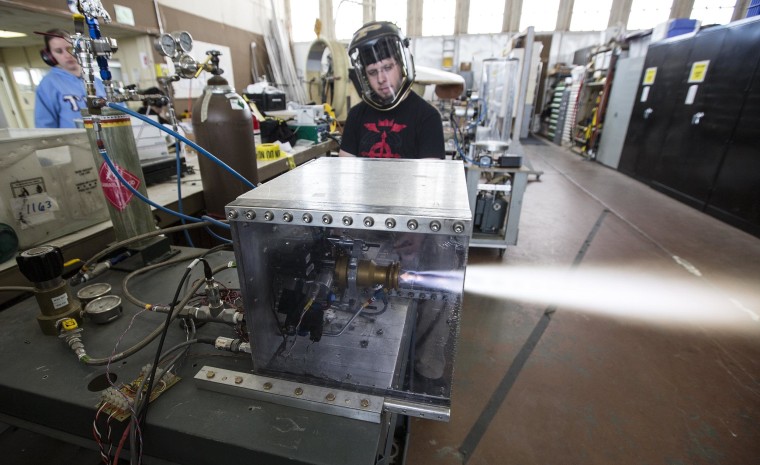 Why Mojave?The roots of Mojave's 21st-century space age go back to the beginnings of the first Space Age in the 1950s: The military favored Edwards Air Force Base as a proving ground for its experimental planes because of the area's generally clear skies and runway-friendly salt flats. Wide swaths of airspace over the Mojave Desert were set aside for military test flights — and eventually for civilian projects as well.
"It took a while to catch on, but it's such a natural fit for flight test," said Kevin Mickey, Scaled Composites' president.
One of the engineers involved in Edwards' test program during the 1960s and 1970s was a guy named Burt Rutan. He went on to design a series of build-it-yourself airplanes, and then founded Scaled Composites to take advantage of the new carbon-composite materials that were coming onto the market. Rutan was the mastermind behind Scaled Composites' Voyager airplane — which was piloted around the world in 1986 by his brother, Dick Rutan, and Jeana Yeager.
"SpaceShipOne happened, and I said, 'That's what I want to do. That is my generation's moon landing.'"
Voyager's record-breaking feat made Mojave one of the hot spots of the aviation world, but it was SpaceShipOne that cemented the town's place in aviation history. Thousands thronged to watch the rocket plane make the world's first private-sector spaceflights in 2004. Among those who marveled over the flights was Travis O'Neal, a Navy veteran who is now an engineer at Masten Space Systems.
"SpaceShipOne happened, and I said, 'That's what I want to do,'" O'Neal recalled. "That is my generation's moon landing."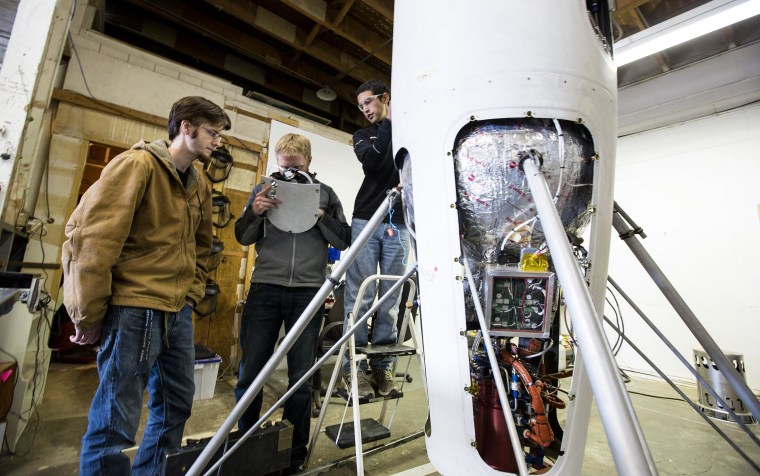 Mojave became a mecca for space dreamers — including Dave Masten, a former software developer whose rocket venture won a million-dollar prize from NASA in 2009. "I think people who say they're going to change the world are thinking too small," Masten said. "We're going to change the solar system."
But first, the rocketeers will have to change Mojave.
Reality checkThe Right Stuff is only one side of the town's story: In the desert, the living is cheap, but it's not easy. "You've got this worn-out town, bumping up against the airport that's trying to breathe new life into it," said James Stokes, the proprietor of Stoken Donuts, a gathering place for young engineers as well as Mojave's old-timers.
"I don't know why I'm still here .... I've never lived in a town that hasn't grown, and Mojave — it hasn't grown."
For decades, the unemployment rate in Kern County, where Mojave is situated, has been consistently higher than California's average. Some longtime residents voice worries about rising crime and the shuttered businesses that lie beyond the airport's grounds.
"I don't know why I'm still here," said Gary Brown, a 70-year-old former surfer and movie-set grip who now does odd jobs around town. "I've never lived in a town that hasn't grown, and Mojave — it hasn't grown."
The farther you drive from the airport, the more the place reveals that it is, in fact, a desert. The desolation is one reason why rocketry took root here, and perhaps why the rocketeers are willing to work so hard. "There's less distraction in Mojave," Virgin Galactic's Mackay said half-jokingly. "What else is there to do?"
A lot of the people involved in Mojave's rocket ventures, including Mackay, actually live someplace else. Some settle in Lancaster and Palmdale, the big aerospace centers to the south. Others favor Tehachapi, a resort town nestled in the mountains to the west. There's a danger that Mojave could turn into little more than an aerospace industrial park and a wind-turbine farm.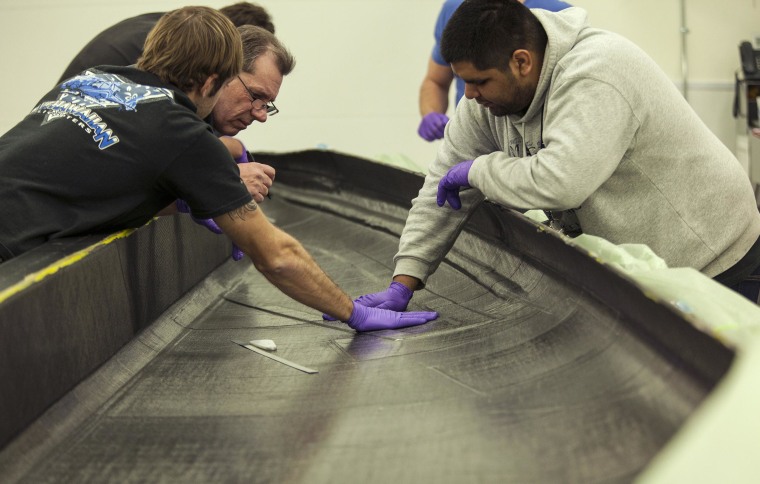 Workforce of tomorrowThat's a fate the city fathers are trying to avoid. Civic groups have organized a "Revitalize Mojave" campaign to give downtown businesses a boost. Witt, the airport's CEO, proudly points to an activity center that was upgraded at a cost of $1.6 million and now serves as a venue for banquets, concerts and even pickleball games.
During a guided tour of the airport, he points to a group of twentysomething engineers clustered outside Scaled Composites' hangar, playing a game of hackysack. "This is your aerospace workforce of tomorrow," Witt said. "We have to cater to that workforce. ... We're retaining two out of five, and we need to retain four out of five."
See More Photos: Mojave, an Aerospace Hotspot at the Crossroads
It will takes more than pickleball and hackysack to keep Mojave in the forefront of the new space age. Historically, the dreams born in Mojave tend to take root somewhere else. That's what happened in the '60s, when the focus shifted from Chuck Yeager and Edward Air Force Base's other test pilots to John Glenn and the rest of the Mercury 7. And that appears to be what's happening now.
When Virgin Galactic shifts from test flights to commercial trips, SpaceShipTwo will relocate from California to New Mexico, thanks to a glittering spaceport that was built with more than $200 million in taxpayer funds.
XCOR Aerospace is shifting many of its employees from Mojave to a new research and development complex in Midland, Texas, thanks to $10 million in economic incentives.
Other states — including Florida, Colorado, Oklahoma and Virginia — have been wooing commercial launch operations for years. Not every courtship has been successful, but some worry that California will have a hard time keeping pace in the commercial space race.
For years, Witt has been urging state officials and lawmakers to offer more economic and regulatory incentives for commercial space ventures, to make sure that what happens in California stays in California.
"California sometimes takes the Right Stuff for granted," Witt said. "It's where many of the innovations in aerospace have taken shape, and Mojave's been at the center of that wave of innovation. But where it's moving next is up for grabs."
NBC News photojournalist John Makely contributed to this report