Two monster wildfires in Northern California are slowly being tamed, but only after earning a dubious place among the most destructive the state has ever endured.
The Valley and Butte fires have combined to claim at least five lives and consume some 1,400 homes. Thousands more homes remain threatened, fire officials said Sunday.
Damage assessment teams have counted 888 homes burned in Lake County, California, according to Department of Forestry and Fire Protection spokesman Daniel Berlant. The fire, which killed at least three people and charred 117 square miles, was 53 percent contained as of Sunday morning.
Related: Owner Has Emotional Reunion With Dog Missing in California Wildfire
The cause of the Valley fire remains under investigation. Authorities said Friday the first structure it destroyed was a utility shed near the mountain town of Cobb on Sept. 12. The flames crept across a lawn and quickly set a large house afire. Within two days, the wind-fed blaze had chewed up 50,000 acres.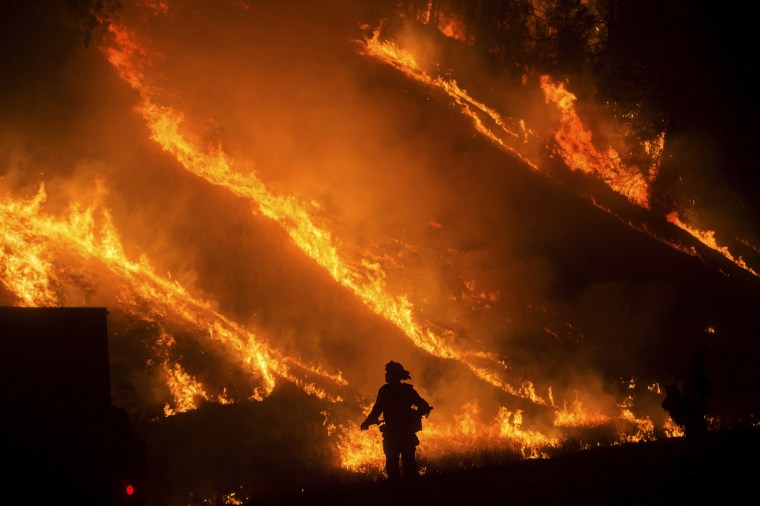 The 888 homes ranks the Valley fire among the worst in California history in terms of structures burned, according to Cal Fire. Only wildfires in San Diego County in 2003 and 2007 destroyed more.
Another 6,400 home remain under threat from the fire, about 100 miles west of Sacramento.
Residents of Middletown, the area hardest hit by the massive wildfire in Lake County, were allowed to return home Saturday afternoon. Evacuation orders for other areas in Lake County remained.
Watch: Mad Dash to Escape Wildfires in Northern California
The Butte fire has destroyed another 535 homes and killed at least two people in the Sierra Nevada foothills, about 170 miles southeast. That blaze was 70 percent contained Sunday but continued to threaten thousands of structures.
All evacuation orders were lifted Saturday. Some returned to nothing.
"Everything was destroyed," said Annie Curtis, 16, an evacuee from Mountain Ranch, told NBC station KCRA. "My house, the barn, the woodshed, three cars, some tractors, a whole backhoe, the tires melted off," she said.
Sunday, Cal Fire said a new blaze has turned deadly: A fire two miles north of Jamesburg quickly grew to 1,200 acres after starting Saturday afternoon. One person was killed. Evacuation advisories were issued for residents of Jamesburg and the nearby community of Cachagua, Cal Fire said.
The fire, known as the Tassajara Fire, was 10 percent contained as of Sundaynight, the department said. Ten homes have been damaged or destroyed.