Florida state officials declared a second outbreak of Zika over in the Miami area, this one in a neighborhood known as Little River or Little Haiti.
But federal health officials said pregnant women need to take care in the entire Miami area and should stay out of the south Miami Beach area if at all possible.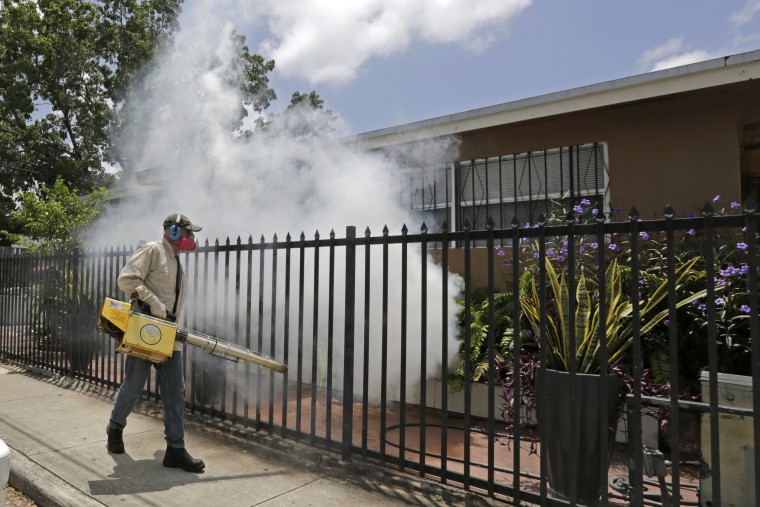 Zika virus has been spreading locally in various parts of Miami since July. South Florida is home to the Aedes aegypti mosquitoes that transmit the virus and has plenty of travelers who can carry it with them from other countries hard-hit by the virus.
Texas also announced its first locally transmitted case of Zika in recent days. The Brownsville area of south Texas was always considered prime potential territory for Zika since it's also home to Aedes mosquitoes and has seen outbreaks of dengue, a similar virus.
"The Little River area of Miami is no longer considered to be an area of active Zika virus transmission (red area). It is now designated as a Zika cautionary area (yellow area)," the Centers for Disease Control and Prevention said in a statement.
Related: CDC Declares Zika "Red Zone" in Miami
"There have been no new cases of local Zika virus transmission identified in the Little River area for more than 45 days, suggesting that the risk of Zika virus infection is no longer greater than in the rest of Miami-Dade County. The red area in South Miami Beach will continue until 45 days pass without new cases. The remainder of Miami-Dade County continues to have the yellow area designation."
Florida has reported 240 home-grown cases of Zika virus and 958 cases carried or transmitted by travelers. Of these, 173 have involved pregnant women.
"The Little River area of Miami is no longer considered to be an area of active Zika virus transmission."
The main risk is to babies of women infected while pregnant. The virus causes severe birth defects.
There's no vaccine against Zika and no treatment for infection, which is mild and almost undetectable in most people. The main way to fight Zika is to eradicate mosquitoes.
"The $17 million we have spent on Zika prevention and response in our community to date has been money well spent, Miami-Dade County Mayor Carlos Gimenez said in a statement.
Related: New Zika Zone Found in Miami
The CDC said women still need to be cautious.
"Women and men living in or who traveled to the identified Little River area should be aware this location was considered a red area from Oct. 13 to Dec. 2, 2016," it said.
That means men, especially, who may have been infected should take care. The virus can remain in semen for months and a man who did not know he was even infected could potentially transmit it to a woman.
"Partners of pregnant women who lived in or traveled to the affected areas should consistently and correctly use condoms to prevent passing Zika during sex, or they should not have sex with their partner during the pregnancy," the CDC advised.
Related: Who Should Worry About Zika?
"Pregnant women who lived in, traveled to, or had sex without a condom with a person who lived in or traveled to the designated area of Little River after Aug. 1, 2016, should be tested for Zika virus," it added.
"Women who traveled to the designated area of Little River after Aug. 1, 2016, should wait at least eight weeks before trying to get pregnant, regardless of whether they had symptoms."