Amazon announced a plan on Tuesday to finally get its package-delivery drones in the air.
The proposal includes tiered flight zones that would limit small unmanned aircraft systems (sUAS) to slow speeds in airspace below 200 feet and allow them to fly faster for long-distance travel between 200 and 400 feet.
Although Amazon has been testing its drones indoors since 2013, Federal Aviation Administration restrictions kept the program from moving to the open air. That changed in March of this year, when agency gave Amazon permission to test its drones outdoors — provided they never fly out of sight of their pilots and only operate during the day.
For Amazon to truly get its drone delivery service up and running, it needs permission from the FAA (which is still trying to finalize broader rules for commercial drone use) to fly out-of-sight and over people.
Related: FAA Proposes Rules for Routine Commercial Use of Drones
"The majority of airspace integration efforts over the past decade have focused on integrating medium or large unmanned aircraft systems into non-segregated civil airspace, i.e. airspace above 500 feet where most civil and military aviation activities occur," wrote Amazon in a paper unveiled Tuesday at NASA's Unmanned Aerial Systems Traffic Management Convention in Moffett Field, California.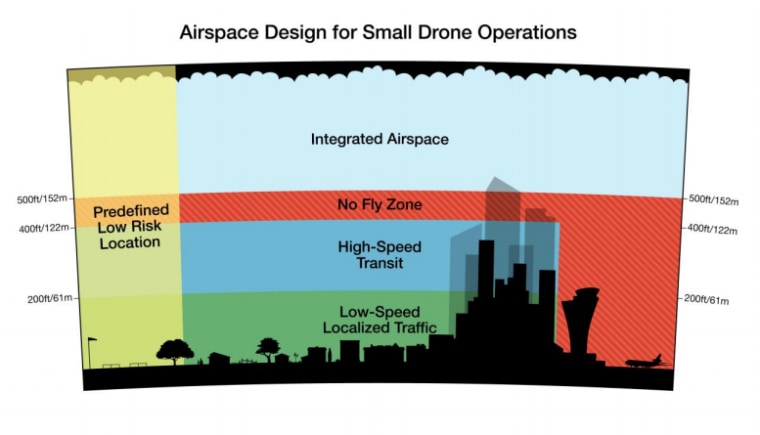 The company's plan would be to utilize the space below 500 feet — minus a 100-foot buffer — for small drones like its Prime Air vehicles.