The massive flames that lit up downtown Los Angeles early Monday were terrifying, but thanks to modern firefighting technology and techniques, they stood little chance of spreading to other parts of the city.
More than 250 firefighters battled the blaze, which consumed an under-construction apartment building near downtown, shut down traffic on the nearby Harbor Freeway and blew out several windows from adjacent office buildings. No injuries were reported.
It's a blaze that L.A. firefighters are calling a "career fire" — a monster that consumed the equivalent of a city block. Downtown Los Angeles is home to around 52,000 people. So why didn't they have to worry about a fire like this destroying large swaths of their neighborhood?
A combination of technology and sheer manpower.
"The fire departments in Los Angeles are early-adopters when it comes to technology," Bobby Halton, a former fire chief who now serves as editor-in-chief of Fire Engineering magazine, told NBC News. "The LAFD has done a tremendous job of containing that fire."
Firefighting in the 21st century
Fires create a lot of smoke. That can make it hard to spot where, exactly, a fire is burning inside of a building or whether there are people stuck near the flames. That is where thermal-imaging cameras come in.
"They are very helpful for firefighters sizing up a fire from the outside," Daniel Madrzykowski, leader of the firefighting technology group at the National Institute of Standards and Technology, told NBC News.
FLIR makes an easy-to-grip "heat vision" camera for firefighters that can withstand temperatures of 500 degrees Fahrenheit for up to five minutes.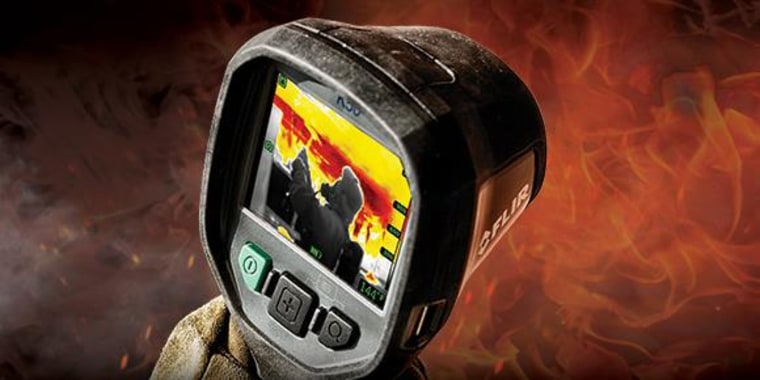 L.A.'s firefighters are well-equipped with thermal-imaging devices, according to Peter Sanders, director of public information for the LAFD. They come in especially handy when it comes to smaller fires hidden behind walls or in fireplaces. But this was a different case.
"This fire was so massive that we didn't have to resort to any kind of high-tech imagery," Sanders told NBC News. "We're on the cutting edge when it comes to technology, but with this fire, our biggest challenge was just getting enough water on it."
Another tool firefighters can use: drones. Fire departments from Austin to Detroit are looking at how relatively inexpensive quadcopters could give them a bird's-eye view of a burning building.
The LAFD has not yet jumped on the drone bandwagon. Instead, it gets radio reports from its own helicopters or live video feeds from helicopters flown by the Los Angeles Police Department.
No matter where the video comes from, it can be valuable to the people below.
"It help you decide where to deploy your resources, which way is the wind blowing, what kind of construction sites are nearby," said Halton. "The ability to get more data, and have that data analyzed into information you can work with, is phenomenally important."
There have been other advances as well. Portable, flame-retardant "curtains" can work like doors, cutting off smoke and directing air-flow, without blocking firefighters' hoses. The actual amount of water flowing out of those hoses have been "greatly enhanced" over the last 20 to 30 years, Halton said, thanks to refined pump systems and nozzles.
Why cities don't burn
Despite all the tools that firefighters have, it's the building themselves that have made urban fires less destructive.
Automatic sprinklers and alarms can help limit the damage even before the fire department arrives. Unlike rural and suburban houses, there isn't a lot of exposed wood in city buildings. Such structures are also usually divided by layers of gypsum board or concrete walls that stop flames from spreading throughout them.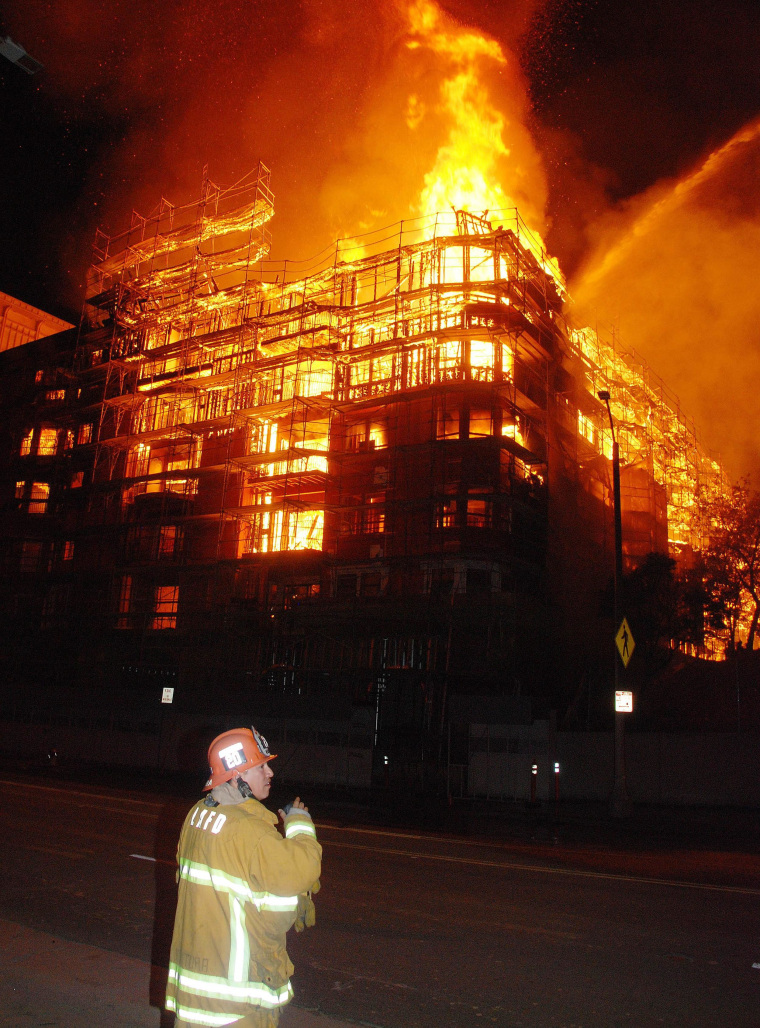 The reason the fire in downtown Los Angeles got so bad was because it happened at an exposed construction site filled with wood.
"It's like lighting a super-sized campfire," Madrzykowski said.
In cities, fire normally only jumps from building to building through open windows or doors, or when one construction site is close to another. That is why one of the LAFD's main priorities was getting firefighters into adjacent buildings where windows had been blown out by the fire's intense heat. Ultimately, firefighters were able to quell the flames that the automatic sprinklers didn't reach and were able to put everything out in less than two-and-a-half hours.
Thanks to strict building codes, the latest technology and the hard work of hundreds of firefighters, the fire didn't end up destroying much beyond the apartment building where it started. Is there any chance that the next time L.A. residents might not be so fortunate?
"There could always be a catastrophic failure," Halton said. "It's highly improbable, but something like a major earthquake could disrupt the water system or make the roads impassable. However, given normal working conditions, the Los Angeles Fire Department is going to contain a fire to one building 99 percent of the time."