Virtual reality startup Oculus began taking pre-orders Wednesday for its first consumer headset — and it'll set you back about $600. Many companies are diving into VR, but perhaps none more seriously than Facebook, which acquired Oculus for $2 billion in 2014. CEO Mark Zuckerberg has sung its praises as well — but what makes the social media giant and its founder so sure VR is the wave of the future?
Sure, VR sounds cool to begin with: a headset that lets you explore 3-D game worlds or experience videos with new depth. Special controllers would even let you interact with items using your hands instead of a controller. But that isn't what makes it attractive to the world's biggest social network.
"Zuckerberg is all about connecting people who are far apart, but want to have a rich connection," J.P. Gownder, an analyst with Forrester Research who covers VR technology, told NBC News. "The promise of VR is what we might call presence, being in the same place at the same time. We're sharing our lives, our experiences, can we not also share our presence?"
Related: The Promise of Virtual Reality is Starting to Look Very Real
"Presence" is in fact a concept Zuckerberg himself used in a recent on-stage interview at a Vanity Fair event.
"It feels like the person is right there," he said, in reference to a virtual space that can be inhabited by multiple VR users at the same time. "You feel like you're interacting with them."
"If I could have lunch with a friend in San Francisco while I'm in Boston, and feel like I'm really there, that would be really powerful," Gownder said.
The idea sure isn't new — people have been talking about VR for 25 years and longer now — but it's only recently that the technology has caught up with the idea. Faster, more efficient chips can produce more realistic images, while high-resolution, low-latency screens show those images in a more lifelike manner. A while back this might have been accomplished in a lab, but this year will see multiple consumer headsets competing for headspace.
Related: Oculus, Playstation prep VR hardware launches, as Fox leads content landgrab
"2016 in a lot of ways is year one for VR," said Gartner analyst Brian Blau in a phone interview. "It's a new ecosystem — and that's why Facebook is so excited about it. It represents a new opportunity, a device landscape that hasn't emerged yet. There's a lot they can build on."
The question, however, is not whether VR will work — it already does — but just what we're going to be doing with it. It doesn't immediately sell itself, like a new smartphone or tablet.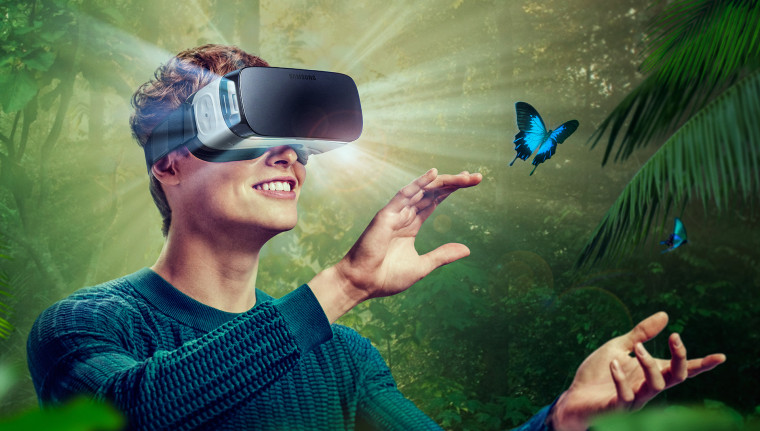 Related: CES 2016: Expect Buzz Around Smart Homes, Smart Cars, Virtual Reality
First, everyone seems to agree, it will be for gamers. There are tens of millions of people willing to pay for a premium interactive experience — think "Call of Duty: VR Edition" — so it makes sense to take aim at them as early adopters.
"You could say that 3-D games are the closest relative to a full-blown VR experience, and that's why they're being pursued," said Blau. "But that's just the tip of the iceberg of the type of thing this technology is going to enable."
Media companies are already lining up to produce VR experiences to tie in with movies, games and books — and analysts predict skyrocketing growth after a slow initial growth period. CCS insights predicts 2.5 million headsets will be sold this year alone — ramping up to 24 million headsets in 2018.
And if VR successfully moves from gamer accessory to must-have mainstream gadget, expect applications to explode just like apps did a few years after the first iPhone. One area where VR has great potential is in education, said Gownder. Could a VR headset make online courses more personal, make virtual lectures more effective?
At the very least, he said, it might help us move back to doing one thing at a time rather than bouncing between three or four smart devices.
"VR is a completely focused and immersive experience. That's maybe one of the unsung attributes here," Gowdner said. "It's a blowback against distraction!"
First, of course, you have to get a headset. While the true early adopters who backed Oculus on Kickstarter will be receiving theirs for free, the rest of us will have to pay. For Oculus, that means $599, and no one knows how much HTC's competing Vive Pre headset will cost.
Related: Samsung's $99 Gear VR Headset to Arrive in Time for Holidays
For those on a budget, Samsung's Gear VR lets you try things out for $100 as long as you have a compatible smartphone, and Google's even cheaper Cardboard sets you up for just $15.
"The tech has taken decades to get where it is. But can they make experiences that people want to come back to again and again?" asked Blau. "That's the real litmus test."
For now, Facebook and its partners may just be happy to lead the charge on digital togetherness.
"If we all had this technology, we could all get together in a way we can't with a video call or teleconference," said Gownder. "That would be a very logical way for Facebook to take over the world."