As a little girl, Shellie never dreamed of having a big, beautiful wedding — let alone four. But after she and her husband got married at Disneyland Resort in 2016, they've returned three times for extravagant vow renewal parties that include new dresses, new themes and new receptions. And she is planning at least two more "Disney weddings" in the future. 
"Once you have a Disney wedding, you're just addicted and you want another one," she said. 
To some, Shellie and her husband's decisions are confusing. NBC News agreed to not publish Shellie's last name because she was concerned about harassment — she says she's received death threats in the past. But she is part of a growing and thriving community of adult Disney enthusiasts who obsessively document their love of Disney online, with repeated expensive trips to the Disney theme parks.
Online, Shellie calls herself "The Serial Bride." She said in an interview that she created her Instagram account in 2019 so she could post wedding pictures without bombarding her friends and family on Facebook. At that point, she already had her first Disneyland wedding, a Star Wars themed vow renewal, and wedding photos taken at Walt Disney World. Since then, she's also had a vow renewal with a Pixar's "Up" theme.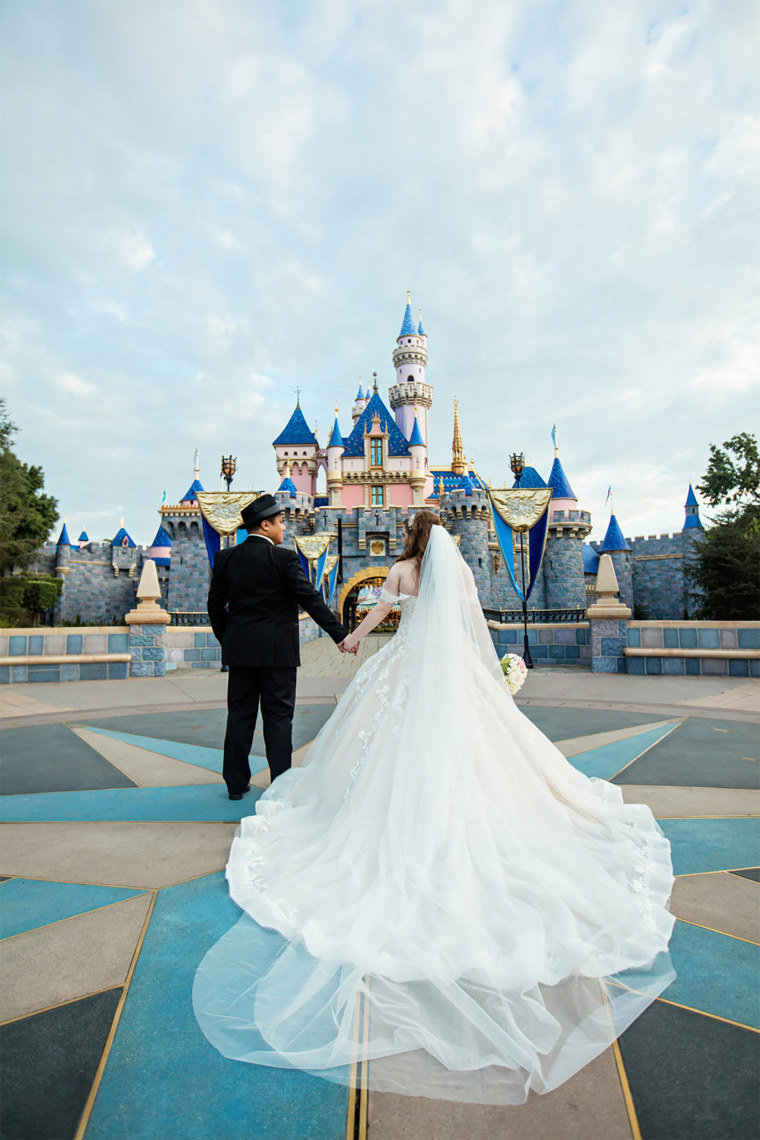 She said that she didn't expect to have another Disney wedding after 2016, and that it was her husband who pushed for them to do a Disney wedding in the first place, because Disneyland was "their place" — "where we could run away together and forget about our everyday life," she said. 
Similarly, once she started working with Disneyland's wedding planners, Shellie said, the experience was more magical than having to plan a wedding on her own. Disney's wedding services are entirely in-house, with things like food, decor and extras like character meet-and-greets all provided by Disney. 
"They just really kind of hold your hand through the whole process," she said. "Disney is really a one-stop shop."
Disney weddings also have a wide range of pricing. Weddings can start as low as $15,000, but the cost quickly increases with guest count, food, venue choice, timing and extras. Dinner is $210 a person before sales tax and gratuity, according to the current pricing on Disney's website. The ceremony venues outside the park (like the Disneyland Hotel, where Shellie got married) are less expensive, but having a reception inside the park after it closes (Shellie's was in the Animation building inside Disney's California Adventure) is costlier — the base package starts at $45,000 for the venue and its requirements. Shellie said that her first wedding was the most expensive Disney event she's hosted, because she had 100 guests.
On the wedding day itself, she said, there were some moments she wished had lasted longer.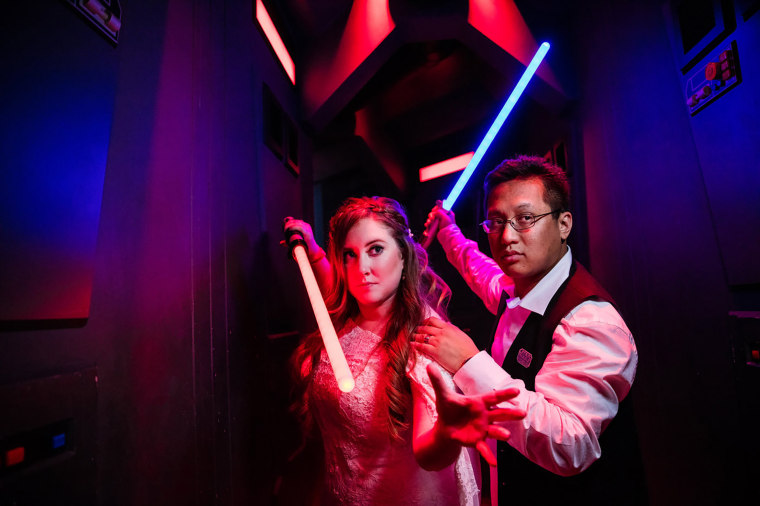 "We didn't realize our wedding day would go by so fast and honestly we both wish we had more time at our reception to eat and dance," Shellie said. "The day was a lot different than what we expected our wedding to feel like." 
Luckily, they got a do-over. Plus two more.
Shellie and her husband agreed to do their vow renewal a little over two years after their wedding, so they could have a longer reception. At her subsequent Disney wedding events, she said they've had around 10 guests who are all Disney fans. When it comes to the reactions of friends and family, Shellie said, "Some get it and some don't."
"The people who know and love me the most support my choices as long as I am happy and don't go into debt having these unnecessary vow renewals," she said.
The guests who have made it to her vow renewals have enjoyed even more Disney add-ons. Shellie has bought out rides such as Star Tours and Tower of Terror for her guests, which can cost upward of $10,000 per ride, according to the unofficial "Fairytale Weddings Guide" book. Once, Shellie's guests even rode the Lily Belle, the original caboose of the Disneyland Railroad.
"I love being a magic creator," Shellie said. "I don't tell people what I'm doing, it's a secret. Even my guests, when they're showing up, have no idea where they're going. So it's fun to see their faces get so excited and I love surprising them."
For Shellie, planning Disney weddings and vow renewals has become her hobby and a way to pamper herself. She said she works a regular, 9-to-5 job, and budgets for her Disney adventures. She is one of thousands of people who have launched Disney blogs and social media accounts to memorialize their Disney tourism.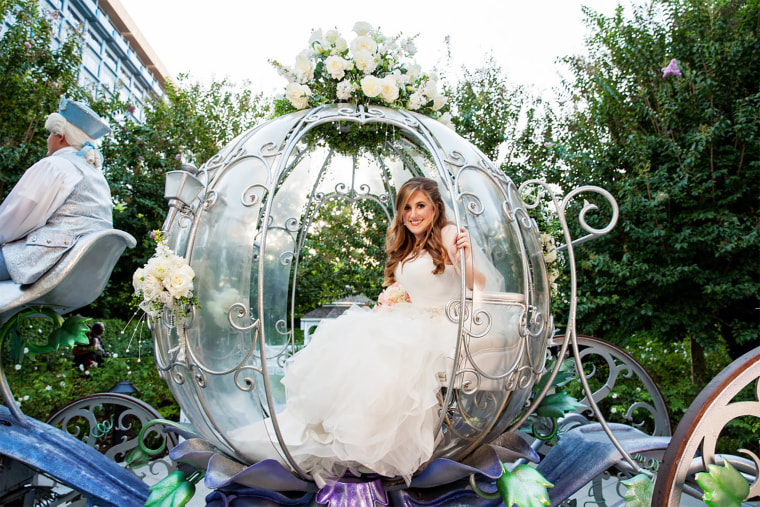 "You have to budget like crazy to be able to afford a wedding," she said. "Yes, it's expensive. But so is collecting cars, having an RV or a yacht." 
In order to afford her Disney trips and vow renewals, Shellie said, her life is budgeted out "for the next five years." She isn't interested in new clothes, accessories or shopping, she said, adding that she's fine to stay home and live below her means.
"Going to Disney and having these vow renewals is my only hobby," she said.
In July, Shellie turned some of her Disney wedding pictures into Instagram Reels, the platform's version of TikTok. One of them has been viewed more than 1.3 million times. Her following has doubled to more than 9,000 people and counting. 
While Shellie isn't alone in loving Disney, she's just the latest "Disney adult" to receive hate for her obsession. In 2022, a Reddit post that claimed a couple paid for Mickey and Minnie character appearances at their wedding instead of food went viral, stoking outrage toward the Disney fandom as a whole. "Wedding shaming" is also an entire genre of content online, and Disney weddings combine both topics into a fountain of outrage. 
"Sending death threats because I love my husband?" Shellie said. "Some people have their thing that makes them happy, and this is what makes me happy."
Carrie Hayward, author of the unofficial "Fairytale Weddings Guide," who has been writing and podcasting about Disney weddings for more than a decade, said that judgment often stems from people who believe that Disney weddings are more expensive than the average weddings.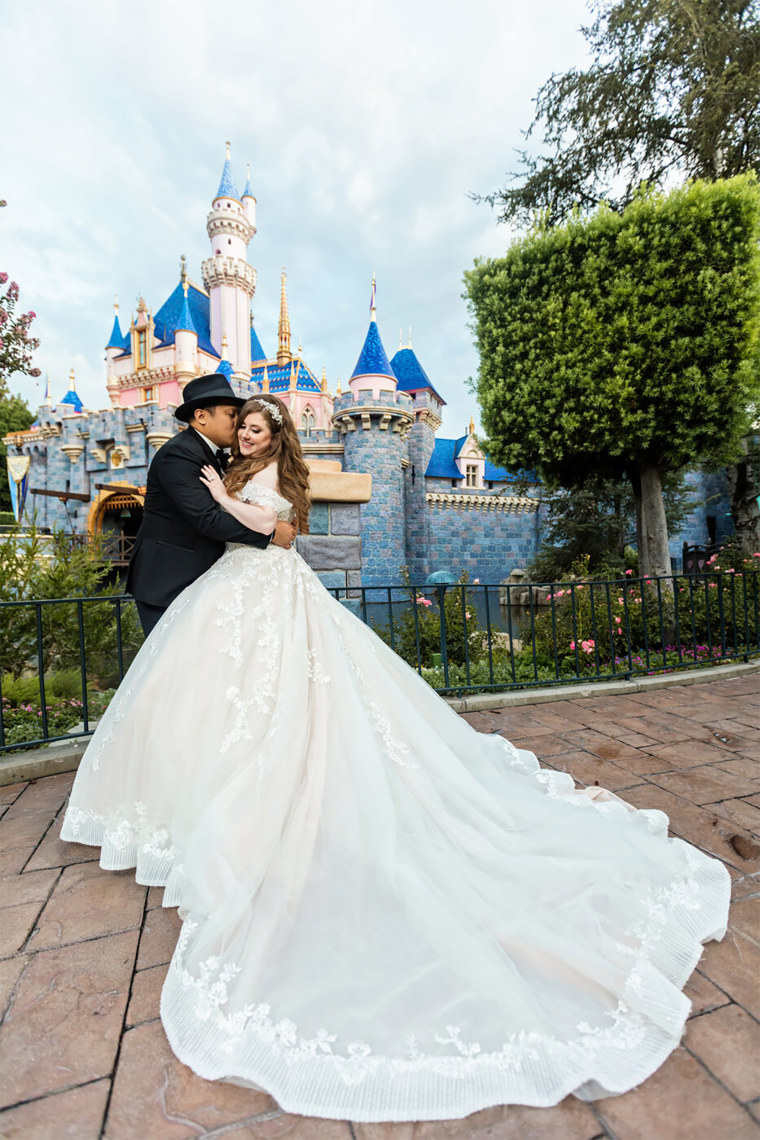 "It's actually pretty affordable for a wedding in this day and age," Hayward said, noting that the average cost of a wedding is now almost $30,000. Similarly, she said frequent Disney vacationers face judgment that isn't reserved for other kinds of repeat vacations. 
"It's only a waste based on your perspective of what is valuable," she said. "If your family owned a vacation cottage and you went there every summer, no one would bat an eye."
For people who are already fans of the Disney parks, Hayward said, the motivation to get married at Disney is a combination of nostalgia, theming and entertainment.
Despite recent surveys showing that households are tightening spending on travel and recreation amid recession fears, the wedding sector is one area of the economy in which prices keep rising. Hayward, who said couples are increasingly celebrating vow renewals in addition to their wedding day, had a wedding at Epcot, a Disney vow renewal and multiple anniversary celebrations at Disney.
"This is a chance to do it over," she said. "The pressure is off. It's not your one and only wedding. It's a big party, and this time you can pay attention to all the details."