A Washington D.C. comic artist has something Hillary Clinton might want.
Jeremy Green, who uses the pen name Jeremy Pegg, snatched up the domain name ClintonKaine.com on a hunch in the summer of 2011, paying $8 and a small annual fee. He's now offering to sell the website to anyone willing to pay $90,000.
"It seemed like Clinton was probably going to run and since Kaine got passed over by Obama [for the vice presidency], it made sense he would be one of the first people she would look at," Green told NBC News.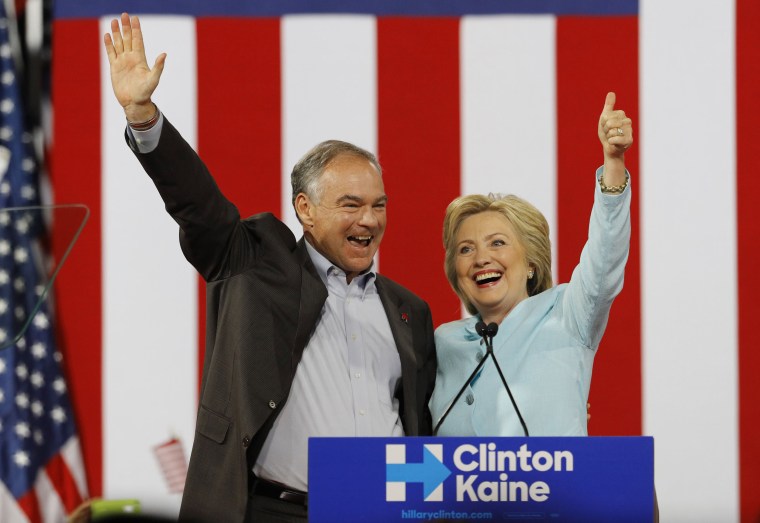 Green, who works by day as a government contractor, also bought other domain names, including ClintonBiden.com, ClintonCuomo.com and ClintonBooker.com, among others.
"It's sort of a gut feeling. I've always spent a lot of time politically speculating," he said. "I didn't bother with Trump really. I figured he could pick anyone as his running mate, but he picked a very predictable person and now I'm kicking myself now for not buying it."
Green said he plans to vote for Clinton in November, but would be willing to sell the domain to Trump. He said he's also fine if he has no takers.
"Right now I am happy to be using it for my own Harry Potter fan fiction," he said. "But if someone wants to buy it, I'll sell."
Read More: President Obama Heaps Praise on Hillary Clinton at DNC
While it's unclear if the Clinton Kaine campaign is interested in the domain, it's not the first time this election cycle that someone else has claimed a prime piece of internet real estate before a candidate.
JebBush.com was used to troll the former Florida governor during the Republican primary by redirecting visitors to a Donald Trump website.
Arizona real estate attorney Ted Cruz owns TedCruz.com and, while the Arizonan previously used it for his business, he found a new purpose for the site with Cruz's political rise.
Cruz posted messages in support of President Obama, immigration reform and currently has a photo of Hillary Clinton on the homepage, declaring her the "next president of the United States of America."