Nokia has reaffirmed its commitment to the low end of the smartphone market with several new models aimed at low-budget and developing markets. And believe it or not, a couple actually run Android.
The $40 220 and $60 230 are what you might expect — limited but ultra-cheap phones to be bought in bulk and sold at convenience stores or pay-as-you-go carriers.
It's the Nokia X family, announced at Mobile World Congress in Barcelona Monday, that breaks the mold. The candy color and squared-off bezel put the design in company with Nokia's Lumia series of Windows Phone devices. But don't be fooled: These phones run a modified version of Android — not that you could tell by looking.
The interface has been completely redone, with Windows Phone-like tiles instead of icons (they don't update with counts like unread mail, but could later), keeping your most-used apps front and center. It's a striking design, though it will likely work best with the apps Nokia and Microsoft provide that are made for the X series: Skype, Here maps, free MixRadio music streaming, and others.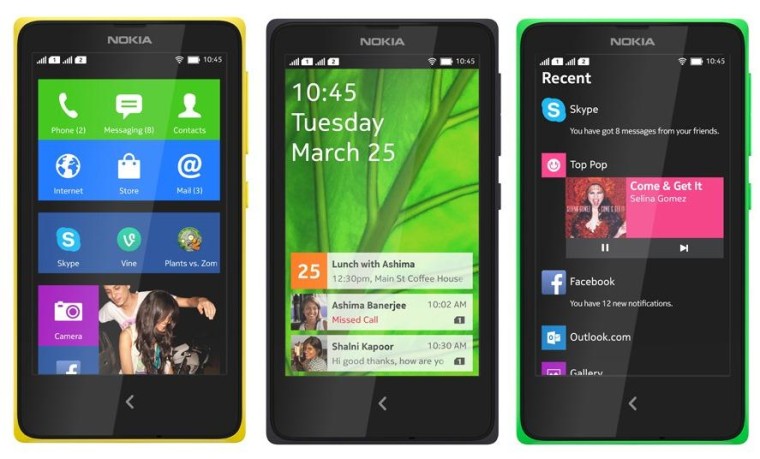 The specs are where the budget aspect of the phone comes to light. The 1 GHz processor is a bit behind the pack power-wise, and there's not much RAM to make sure apps and Web pages stay responsive. The basic X has only 512 MB; the X+ gets 768 MB, and the XL gets a bigger screen and 5-megapixel camera to the others' 3 megapixels, though nothing here is anything to write home about.
Most worrying, you'll be limited to Nokia's "curated" app store rather than the full Google Play Store — which means you'll have to wait for Nokia to approve and make available the latest games and apps, or "sideload" them, which is a good way to get infected with a mobile virus.
Still, for $120-$150, it could be a bargain. The X series is meant to be accessible to Android users while pushing the Microsoft/Nokia set of services. We'll see if it's successful when we get our hands on the devices.