AT&T is scrambling to catch up with the latest moves from rivals T-Mobile and Verizon, both of which recently announced enhancements to their mobile plans. On Friday, AT&T unveiled it own changes — nothing groundbreaking, but they should help keep its subscribers from jumping ship.
Related: Verizon Ditches Two-Year Phone Contracts and Unveils New Rate Plans
Monthly rates for data plans have been simplified a bit: 300 MB for $20, 2 GB for $30, and 5 GB for $50. Beyond that, the 10 GB tier is jumping to 15 GB for the same price ($100) and the 20 GB plan is dropping $10 to $140. Be sure to buy your phone or bring your own device if you don't want to have to pay the $25 "monthly device access charge" ($15 on the higher tiers).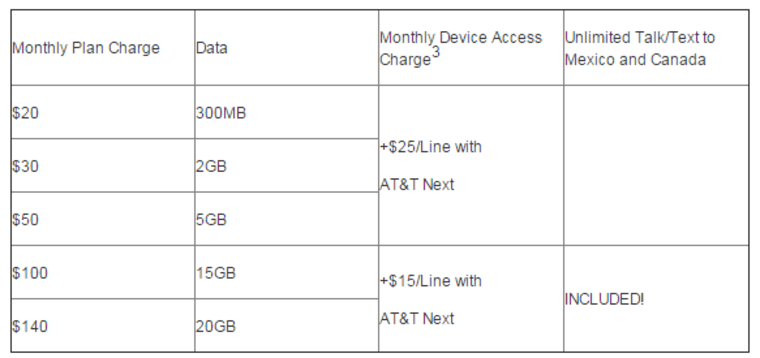 Verizon also recently simplified its rates, removing two-year contracts and phone subsidies in the process.
The high-end plans (15 GB and up) also include unlimited talk and text to Mexico and Canada, a move seemingly spurred by T-Mobile's recent announcement that subscribers can use their phones in those two countries just as if the borders didn't exist. AT&T's version isn't quite as generous, but many subscribers will certainly appreciate it nevertheless.
If you want to take advantage of the new pricing, log into your account tomorrow to switch or visit your local AT&T store.