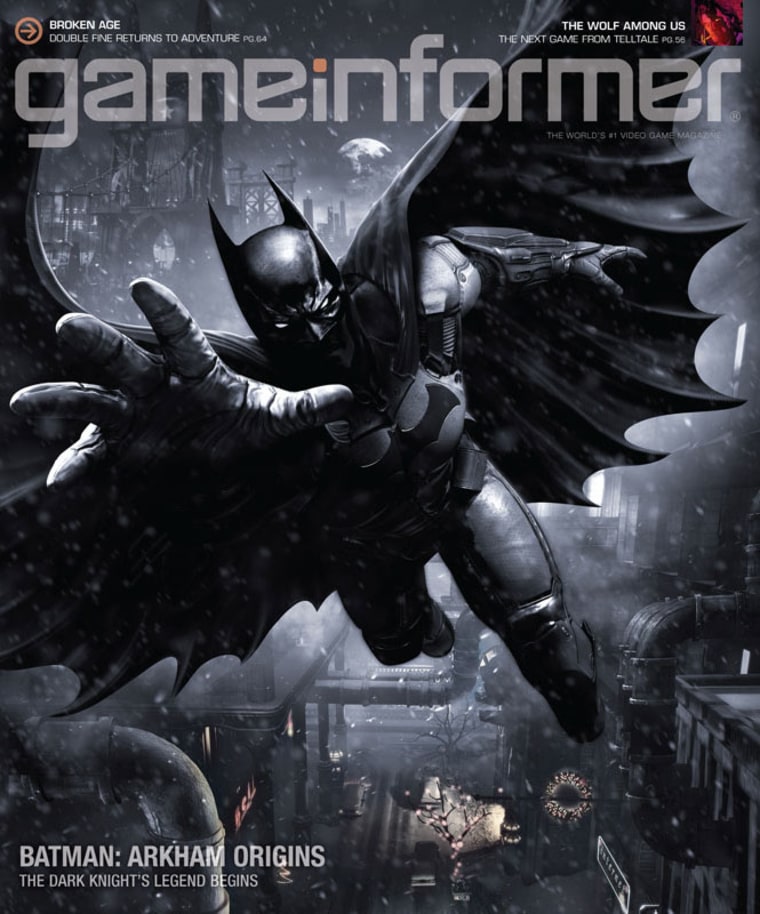 Every superhero needs a good origin story. And no hero has one as iconic and apocryphal as Batman. So it makes a certain amount of sense that after publishing two of the most highly regarded comic book video games ever made — "Batman: Arkham Asylum" and "Batman: Arkham City" — Warner Bros. wants to return to the series again.
And that's exactly what the "Arkham" series publisher is going to do, according to an announcement made by way of the cover of the industry publication Game Informer. And as the title of the new game implies, "Batman: Arkham Origins" might be taking a page from the Christopher Nolan playbook to explain why Bruce Wayne become so buff and surly in the first place.
"Origins" is currently being developed for the PC and current-generation consoles — meaning the PlayStation 3, Xbox 360, and Wii U. Warner Bros. gave no word about the game's availability of next-generation consoles, but the game's prospective October 25 release date suggests that "Origins" will come out shortly before the PlayStation 4 and next Xbox arrive in time for the 2013 holiday season. This could equally position the game as a strong launch title for next-generation consoles or as a sort of swansong of the current generation.
While many video game adaptations of comic books (much like the countless lesser-known "Star Wars" games) are seen as lazy exercises in co-branding by publishers who know they will make a guaranteed profit by sticking Spiderman or Batman on the cover, the "Arkham" franchise has achieved near-universal acclaim since "Arkham Asylum" first came out in 2009. Both "Arkham" games scored above 90 on Metacritic — a challenging feat for even the most seasoned AAA game developer.
It might come as a surprise to "Arkam" fans, then, that series developer Rocksteady Studios will not be involved in "Origins." Instead, the publisher has given the game to an in-house studio at Warner Bros. Games Montreal.
According to Game Informer's report, Warner Bros. claims that the "Origins" development team is using many of Rocksteady's pre-existing assets for the new game such as its modified version of the Unreal engine in order to maintain the aesthetic continuity of the franchise. The project is being lead by Eric Holmes, who previously worked as the lead designer on several superhero-type games like "The Incredible Hulk: Ultimate Destruction" and "Prototype."
"Origins" will feature a younger and less war-weary Batman than the previous two "Arkham" titles, and Warner Bros. says that he will encounter some familiar villains from the comics that haven't made an appearance in the series yet.
Warner Bros. also announced a mobile game to correspond with the launch of "Origins" titled "Batman: Arkham Origins Blackgate." Like its console counterpart, "Origins" is being sent to a new studio — this one being Armature Studio, a small team that previously adapted part of the "Metal Gear Solid" series to the Vita for its HD re-release. "Blackgate" will appear simultaneously on the Nintendo 3DS and PlayStation Vita on October 25, Warner Bros. said.
Yannick LeJacq is a contributing writer for NBC News who has also covered games for Kill Screen, The Wall Street Journal and The Atlantic. You can follow him on Twitter at @YannickLeJacq and reach him by email atylejacq@gmail.com.