Internet mogul Kim Dotcom is eligible to be extradited to the United States to face online piracy-related charges, a judge ruled Wednesday in New Zealand.
Lawyers for Dotcom — the German founder of Megaupload, who legally changed his name from Kim Schmitz a decade ago — immediately vowed to appeal, saying, "Justice was not served today."
Dotcom, who turns 42 next month, and other Megaupload figures were detained in January 2012 at the request of the FBI in a raid on his mansion by dozens of armed officers. Dotcom took refuge in a "safe room" and had to be cut out by police.
He has been fighting extradition to Virginia since then on charges of racketeering, conspiracy to commit copyright infringement and conspiring to commit money laundering in connection with legally protected movie, music and software files distributed on the file-sharing site.
From 2012: Kim Dotcom's Rise Is Legend Fit for Silicon Age
Megaupload was shut down, but it reopened the next year as Mega, an encrypted cloud storage service.
Dotcom has become a cult hero to so-called free-Internet activists, but the FBI says he and his shuttered company cost studios and record companies more than $500 million by facilitating the pirating of copyrighted material.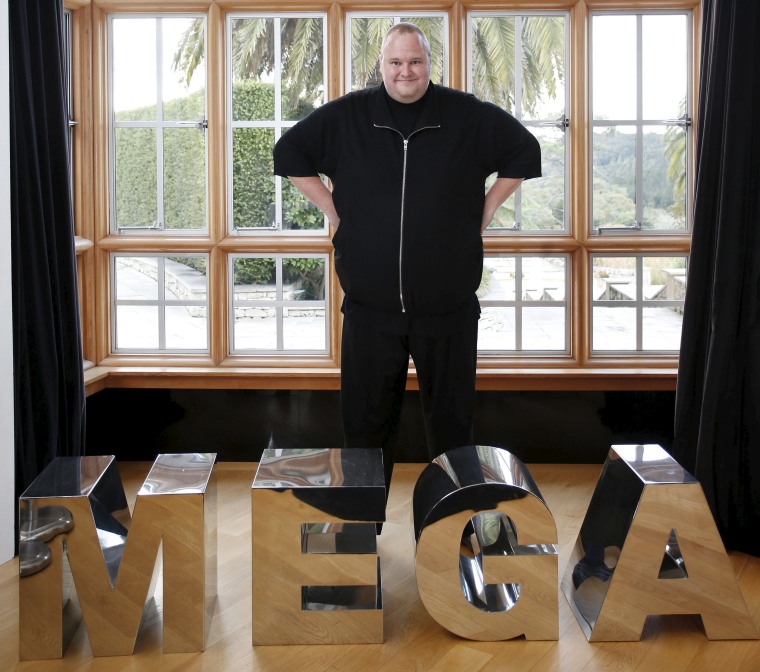 Auckland District Judge Nevin Dawson ruled Wednesday that the "overwhelming preponderance" of evidence justified allowing New Zealand authorities to hand Dotcom and his three co-defendants — Mathias Ortmann, Bram van der Kolk and Finn Batato — over to U.S. authorities.
Dawson agreed that they could go free on bail, but he ruled that they must report regularly to local police pending their appeal.
Ira Rothken, Dotcom's California-based attorney, said that Dotcom's lawyers "believe the district court was wrong."
"Justice was not served today," Rothken said.
As late as two hours before the ruling was issued, Dotcom was still on Twitter discussing his fate: