In the era of President Donald Trump, Silicon Valley insiders — who overwhelmingly backed Clinton — are uncertain about the direction of their company, their industry — and their nation.
Even before Trump took office, one of his first moves as president-elect was to summon a closely knit group of tech titans to Trump Tower for a tight-lipped, closed-door meeting that was presumably meant to still the waters between the west coast elite and Trump's team, including rogue tech billionaire Peter Thiel.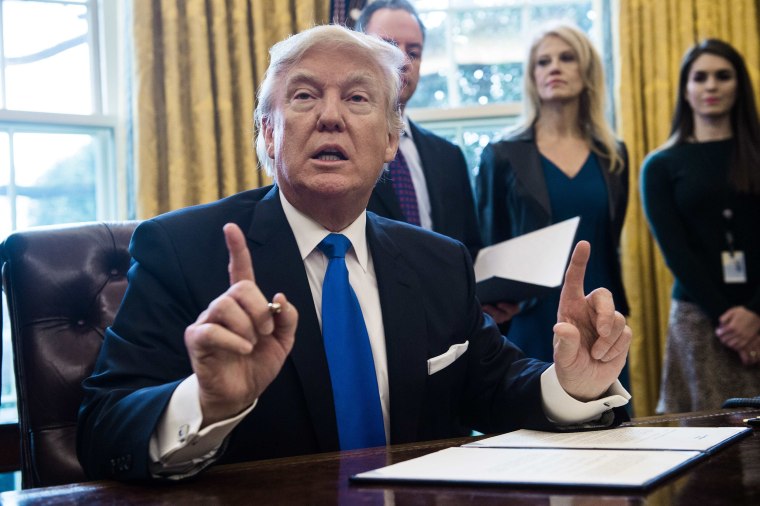 During the meeting, Trump assured the assembled executives, "We have no formal chain of command around here. Keep going with the incredible innovation. There's nobody like you in the world."
Yet less than one week into the Trump administration, it appears one of Silicon Valley's hard-fought victories may already be doomed.
Net Neutrality
On Monday, Trump promoted Ajit Pai to chairman of the Federal Communications Commission. Pai, who was appointed by President Obama to a Republican seat at the FCC in 2012, has been a critic of net neutrality, which prevents providers from throttling the internet and creating so-called fast and slow lanes.
(NBC News is a division of NBCUniversal, which is owned by Comcast Corp., the largest internet provider in the United States.)
"We are concerned that Commissioner Pai may take steps to undermine net neutrality protections," Corynne McSherry, legal director of the Electronic Frontier Foundation, told NBC News in a statement. "If so, we — and millions of internet users — will do what is necessary to defend a free and open internet."
Related: Trump Promotes Neutrality Opponent Ajit Pai to Lead FCC
Some companies have already been preparing for a potential change in net neutrality rules under President Trump. Though Netflix has a stable relationship with ISPs, the streaming service giant stressed how vital a neutral internet is to supporting innovation and smaller companies, saying in a letter to shareholders, "No one wants ISPs to decide what new and potentially disruptive services can operate over their networks, or to favor one service over another."
Lingering Uncertainty
While the beginning of the end of net neutrality may have been predictable, there's been a lingering feeling of uncertainty about Trump and the whether he'll make good on statements he made on the campaign trail.
"Most of us are worried because it is not really clear what is going to happen," said Ellen Pao, chief diversity and inclusion office at the Kapor Center, a social impact organization based in Oakland, California.
Denelle Dixon, chief legal and business officer for Mozilla, said she hopes the Trump administration "will make the internet a priority in regards to cybersecurity, net neutrality, innovation, and accessibility."
Related: Will Trump and Tech Be the 'Disaster' Some People Have Predicted?
For now, the tech community is fighting back by doing what it does best: Mobilizing and building technology tools that will hold President Trump accountable.
Sam Altman, president of Y Combinator, a start-up incubator, is one of four people behind the new Track Trump website, which promises to hold the president to his promises in the first 100 days.
"It's not punditry or analysis," said Peter Lederman, one of the founders of the site. "It's essentially to describe what is happening and whether it fulfills a campaign promise," he told NBC News.
Switching Sides?
Some leaders who were previously critical of Trump are now making sure they have a voice in his administration.
Days before the election, Tesla and SpaceX CEO Elon Musk told CNBC that Trump is "not the right guy" and that the Republican candidate "doesn't seem to have the sort of character that reflects well on the United States."
Yet last month, Musk joined Trump's Strategic and Policy Forum; and on Monday, he attended a breakfast round table with President Trump at the White House.
Musk, a fierce advocate of clean fuel technology, even cozied up to Trump's pick for Secretary of State — Rex Tillerson, the former CEO of oil giant Exxon Mobil. Musk tweeted that Tillerson is "an exceptionally competent executive, understands geopolitics and knows how to win for his team."
While some critics cry foul of Musk's shape-shifting, it's possible a Trump-Musk relationship could be mutually beneficial.
After all, SpaceX is boldly going where no spacecraft has gone before: sending Americans into space without taxpayer dollars; and Tesla's massive gigafactory in the Nevada desert will employ thousands of American workers. It doesn't take a rocket scientist to figure out that Musk's empire could stand to gain from being closely allied with the new president.
Musk isn't the only one to find himself in the hot seat over his involvement with Team Trump. After Uber CEO Travis Kalanick joined the president's business advisory board, demonstrators in San Francisco blockaded Uber's headquarters in San Francisco on the day of Trump's inauguration, describing the service as a "rogue tech company that has made itself notorious for aggressively undermining labor standards, safety, and the rights of its passengers and which is directly tied to the regressive Trump agenda."
Some tech companies are even fighting a battle from within: According to a report in Business Insider, Uber Chief Technology Officer Thuan Pham sent an internal email that blasted Trump as a "deplorable person," and categorized his election as a step backward.