What do a sandwich, soda and Spectacles have in common? You can buy all three from vending machines.
Spectacles — the camera glasses from the company formerly known as Snapchat — went up for sale in a bright yellow vending machine on Thursday. The machine, called a Snap Bot, looked like a minion and had people lining up in Venice, California on Thursday, eager to be some of the first to buy the $130 camera glasses.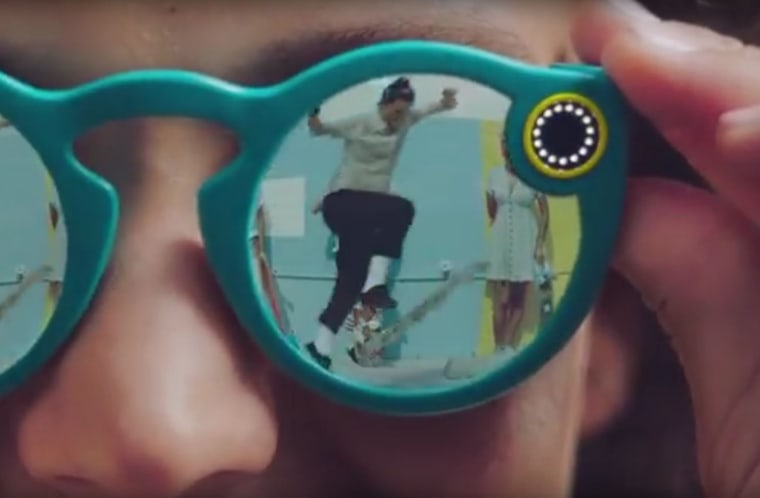 Related: Snapchat Launches Video Sunglasses and Becomes Snap Inc.
What's the Hype?
Snapchat announced its new corporate name — Snap Inc. — in September, along with Spectacles. Coming in a variety of colors, the hipsteresque frames can wirelessly upload short videos to Snapchat.
Spectacles capture videos in a circular format, allowing Snapchat users to watch it now matter which way they're holding their phones.
While previous products, such as Google Glass, faced backlash over privacy concerns, Spectacles have a ring of lights that shine around the camera lenses when the wearer is taking a video, making it clear to others in the area when something is being recorded.
Videos can then be added to Snapchat memories wirelessly with just the push of a button on the glasses. Spectacles charge in their case.
"Now that we are developing other products, like Spectacles, we need a name that goes beyond just one product — but doesn't lose the familiarity and fun of our team and brand," CEO Evan Spiegel wrote in a blog post, explaining the shift to become a "camera company."
The Early Reviews
One user showed what the circular video looks like in your saved camera role, but added that on Snapchat "it's even cooler as it really comes alive."
Others praised the unorthodox experience of buying a new tech product from a pop-up vending machine. Even the receipt was a "work of art," according to one Twitter user.
Ellen DeGeneres also seemed excited about her new shades.
Where Can You Find Them?
Here's the downside: Snap isn't saying yet when and where the next pop-up vending machine, which they call a Snapbot, will be placed.
Snap said on their website they'll let everyone know 24 hours in advance before a Snapbot is rolled out to the world — and they sure know how to build buzz. You'll be notified by a geofilter in Snapchat if Spectacles are on sale nearby. The only other option? You'll just have to keep checking the Spectacles homepage and keeping your fingers crossed.