SAN FRANCISCO — It sounds like something out of a James Bond movie: An organization with a vaguely nefarious name and an address in the Cayman Islands sets up offices in dozens of world capitals, where agents dressed in all black use silver orbs to take photos of people's eyeballs. 
But it's happening in real life, and it's all voluntary. 
Thousands of people a day are having their irises scanned in the far-flung outposts of Worldcoin, a nonprofit foundation that aims to create both a new form of digital identification and a new financial network based on cryptocurrency. Worldcoin was co-founded by Sam Altman, the CEO of OpenAI, the tech startup that's behind the viral chatbot ChatGPT. 
Altman, 38, created Worldcoin in 2019 with two other men, Alex Blania and Max Novendstern, explicitly to try to solve a problem — "proof of personhood" — that OpenAI is arguably inflaming. As artificial intelligence advances, it is becoming far easier to fake a believable human identity through email, voice or video. Custom biometric hardware "might be the only long term viable solution to issue AI-safe proof of personhood verifications," Worldcoin said in a white paper.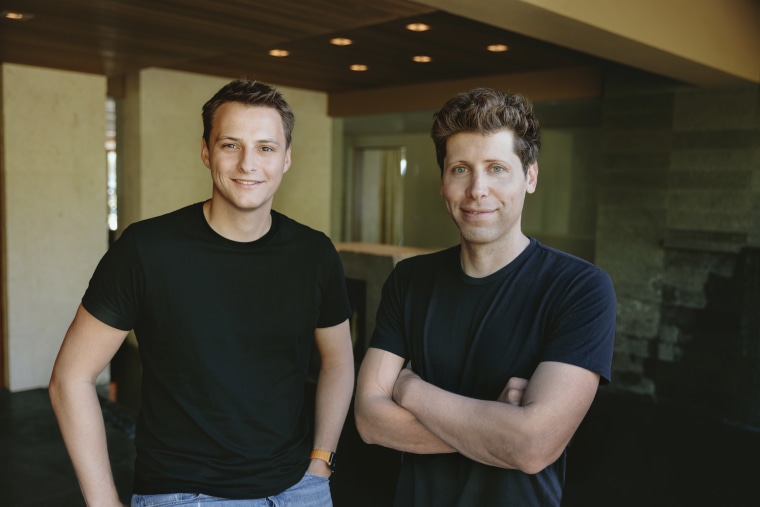 The iris, which controls the color of an eye, is unique to each person. The FBI began collecting images of irises in 2013 to supplement its fingerprint database. 
Worldcoin launched a week ago and has made a splash among tech-watchers and internationally.
On Tuesday, I was among the people registering for Worldcoin, visiting a sign-up location in San Francisco to observe the process — and see up close whether the foundation really resembled a spy-world villain. 
It's far from the first time that tech companies have used biometric data to make it easier for people to prove their identity. People use their faces and fingerprints to open smartphones, and the company Clear uses iris scans and other data for entry at airports and sports arenas. 
The scale and ambition of Worldcoin, though, are beyond anything tried before. Worldcoin said the scans are happening in 107 places worldwide, from Madrid to Tokyo, from São Paulo to New Delhi. 
Worldcoin had a tumultuous trial period, and now is provoking strong reactions including anti-surveillance protests and, in some places, throngs of people wanting to sign up in exchange for free cryptocurrency. A user on the social media app X posted a video of the person appearing to take one of Worldcoin's silver orbs and toss it into the San Francisco Bay as a protest against dystopia; Worldcoin later said it believes the video was deceptively edited and that it has all its orbs accounted for.
But in other cities, people have lined up to have their irises scanned. In Bengaluru, India, so many people showed up that the crowds became disruptive, prompting Worldcoin to close down two locations, the news site Rest of World reported Monday. 
Outside the United States, a big part of the attraction seems to be free money. When people get scanned, the foundation gives them cash in the form of a new digital coin named WLD if local regulations allow the cryptocurrency. Early adopters got 25 tokens to start, equal to about $60 as of Tuesday's exchange rate, with the utopian promise of more tokens in the future "simply for being human." 
The coin, though, is not available in the U.S. because cryptocurrency rules here aren't clear enough to allow it, Altman and Blania wrote last month. 
For people living in the US who still want to sign up without the promise of free money, there are 10 locations in four regions: Los Angeles, Miami, New York and San Francisco. 
Sage Wagner, 32, said he signed up in San Francisco because he likes being on the cutting edge of technology and is looking for a permanent solution to identity theft. 
"I consider myself a techno-optimist," he said in an interview. "A digital identity could very much change the world." 
Wagner, a geophysicist at a civil engineering firm, said he had listened to several podcast interviews featuring Altman and came away thinking that he was earnest — or in other words, not a James Bond nemesis. 
"He kind of seems to be a good guy, as far as billionaires go," he said.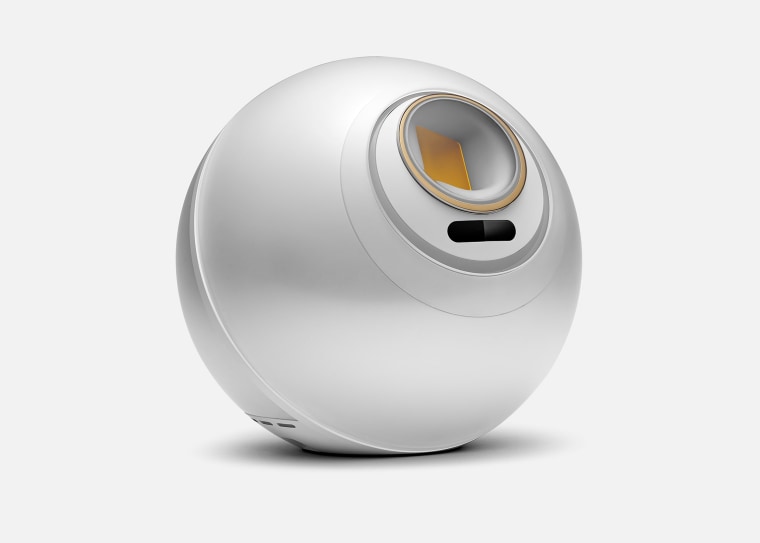 So far, Worldcoin's ID doesn't have much practical use, but the foundation and its associated for-profit company, Tools for Humanity, are hoping to change that by persuading other companies to integrate its technology. Worldcoin's website lists eight such partnerships, including with the social media app Discord, to verify users. Imagined future use cases include identity verification for voting, shopping and banking, the foundation says.
Another challenge is privacy regulation. Worldcoin says it's "completely private" and that it doesn't store biometric data unless people opt in. "We don't want to know who you are, just that you are unique," it says on its website. Still, it's been getting questions from authorities in France, Germany and Kenya. On Wednesday, the Kenyan Interior Ministry said that it had suspended Worldcoin's operations as it evaluates the product, according to Reuters. 
There's already a black market for Worldcoin credentials including on Chinese social media and e-commerce apps, with the credentials originating in other countries like Cambodia, CoinDesk reported in May. Worldcoin told the site that there had been a few hundred instances of such activity and that no sensitive data was shared.
On Tuesday, when I visited one of the Worldcoin sites in San Francisco, I saw a mostly empty rented office inside Shack15, a private club catering to tech entrepreneurs on the second floor of a historic ferry-service building built in 1898. Getting an iris scan there required an appointment.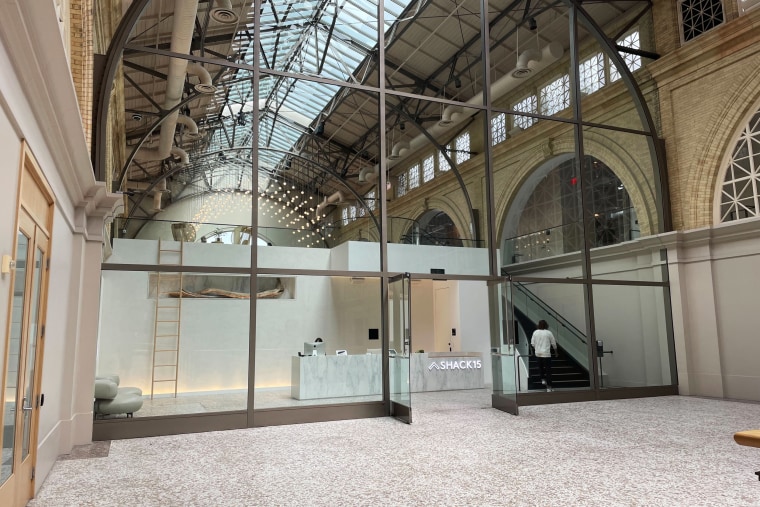 As a visitor, I checked in on an electronic tablet at Shack15's white marble front desk and then waited on a plush chair for a Worldcoin contract worker, called an "operator." On the bearded man's black T-shirt, Worldcoin's motto was emblazoned: "The global economy belongs to everyone." 
Operating an orb is a form of gig work. Worldcoin's website describes each orb operator as an independent "local business," and it says they're paid to sign people up in their communities, "typically near high-traffic areas like shopping centers and university campuses." 
MIT Technology Review reported last year, during Worldcoin's pilot phase, that some operators appeared to have used deceptive marketing practices or failed to obtain meaningful informed consent from people before scanning their irises. Blania told the news site that there was some "friction" in sign-ups, which he attributed to inexperience and lack of resources. 
My operator in San Francisco guided me up a set of stairs, through the private club's coffee bar and into a set of offices and conference rooms used by various tech startups. At the end of a hallway, the final office on the left contained a desk, a wastebasket and a television. The room had a name, "Isfjord," which is also the name of a landform in Greenland. 
On the desk: one of Worldcoin's eyeball-scanning orbs, made in Germany. The orb is silver and reflective. About 8 inches in diameter with a camera inside, it resembled a large Magic 8 Ball or a bowling ball. Like a high-end electric drill, it ran on a removable battery. It felt unexpectedly heavy when I picked it up. 
The operator, who asked that his name not be used because he was not authorized to speak for Worldcoin, gave me more information: The orb would take photographs of both my eyes but would not store the images themselves — employing a technology similar to PhotoDNA, a technology that creates a unique digital signature called a "hash" based on an image. The orb would verify that I was a human, based on prior scans of other humans, and that I had not previously been scanned by an orb. (There's a limit of one digital identity per person.) 
Former U.S. intelligence contractor Edward Snowden is among those who have criticized the technology, saying on Twitter in 2021 that Worldcoin would create an "eyeball catalog." 
I went ahead anyway, in part because I'm fairly sure that at least one other corporation has a detailed photo of my iris, and like Wagner, I'm interested in new technology. I haven't received any WLD tokens, but my orb operator did agree to snap a couple of photos of me. 
To start the scanning process, I opened the Worldcoin app on my phone and tapped a button saying, "Verify now: I'm with an Orb." The next page described the orb's purpose and how to delete or manage data later on. Yet another page required that I agree to a couple of conditions, including that I was at least 18 years old and that I agreed to the foundation's terms of service. 
Next, the app displayed a QR code with instructions to show the code to the orb. I did, and a small light flashed the orb's approval. 
Then came the moment of truth: I positioned my face about a foot or so from the orb and looked into a circle containing the camera. A couple more lights came on, and the orb beeped. Back on the smartphone app a moment later, a message said to wait a moment. 
"Verifying Humanity," the app said.
Finally, the app gave its judgment. 
"You have successfully verified yourself as a real and unique person," it said. It displayed a black digital card labeled "proof of personhood," and it showed what the operator said was a one-of-a-kind badge in the style of tie-dye. 
The whole process could have taken about a minute, although with me asking lots of questions, it lasted about 15 minutes. 
Worldcoin keeps a running tally on its website of how many people have been scanned. As of late Tuesday, it was up to more than 2.1 million people in 34 countries, although many of those signed up during an earlier pilot phase. From what I saw in San Francisco, there appeared to be a strong gender tilt in favor of men signing up; Worldcoin said it had no data to share about demographics. 
My orb operator said that one possible use for my new World ID would be to go to a bar that accepts it and buy a round of drinks for everyone who could prove they're human. I asked if there were any nearby bars where I could do that. He said no.