The "next big thing" is no exaggeration when it comes to describing the latest TVs from LG and Samsung. The two electronics giants are introducing mammoth Ultra HDTVs— as in 105 inches — for the consumer market next year.
On Wednesday, LG revealed in a press release its first 2014 model television — a 105-inch (diagonal) curved Ultra HDTV. Unlike LG's 55-inch curved OLED, this giant TV will use an LED-lit LCD panel. The extra-wide screen represents the largest consumer television ever offered.
Called the 105UB9, this behemoth boasts 11 million pixels, the highest ever for any production television. Unlike all other UHDTVs to date (3840 x 2160 resolution and a 16:9 aspect ratio), this LG's screen resolution is 5120 x 2160. Based on this number we believe the aspect ratio is actually 21.3 x 9 (2.37:1) and LG is rounding down, or maybe it is to compensate for the curve? We asked an LG spokesperson by email for clarification and will update if and when we get a response.
LG's press release states this large curved LED LCD overcame technical the "challenge for uneven backlighting by refining its TFT (Thin Film Transistor) pixel circuit technology to prevent color leakage and ensure a superior viewing experience from virtually any angle."
This massive display will debut to the industry on Jan. 7 at the International Consumer Electronics Show (CES) in Las Vegas.
Price and availability were not provided, though we bet it will be very expen$ive.
The styling appears different in the two photos LG provided and we have no idea of the purpose (if any) of the rectangular opening below the screen. LG did not state whether the 105U9 could be wall mounted. However, it appears the built-in stand is part of the overall design.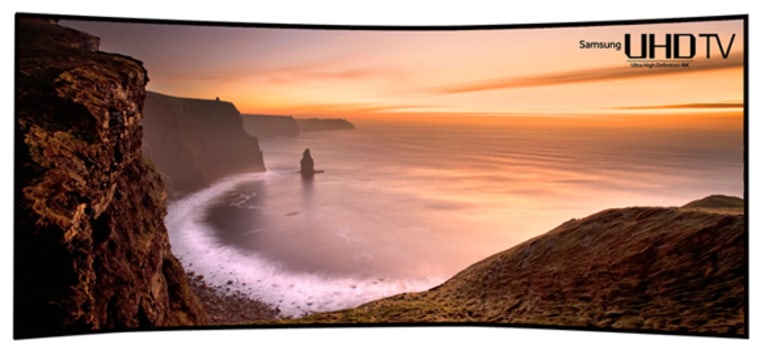 Just hours after LG's announcement, Samsung issued a press release stating it will be showing its own 105-inch curved widescreen LED-lit LCD at the CES.

The Samsung 105-inch Curved UHD TV adopts a new proprietary picture quality algorithm that delivers optimized color and a greater feeling of depth. Its curved Ultra HDTV screen provides more vivid images when viewed from the side than other LED LCDs and boasts 11 million pixel (5120X2160) screen resolution with a 21:9 aspect ratio.
Samsung also claims its 105-inch UHDTV is the "most curved" and the signal processing achieved with its Quadmatic Picture Engine "delivers all content in UHD-level picture quality no matter what the source is."
No other features, pricing, model number or availability information was provided. The "screen only" photo was the only one issued by Samsung with the press release.
More from HD Guru:
Best deals on HDTVs and 4k models
Connecting a soundbar to your HDTV
HDMI audio return channel arc for your HDTV explained
Mobile device to HDTV connection shootout: Apple TV, Chromecast and Kindle Fire HDX