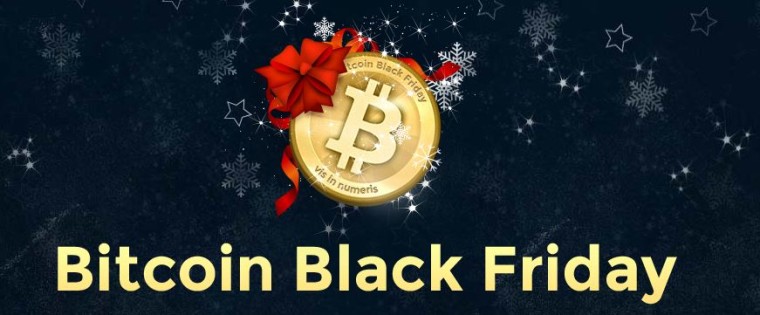 As holiday deal-hunters pack the stores on Black Friday, a new breed of tech-savvy shopper will be at home, anonymously buying gifts with bitcoin.
Yes, the digital currency, the price of which broke above $1,000 for the first time on Wednesday, can be spent on many things besides black market drugs and other contraband, with which it's been notoriously associated. 
If you're really feeling flush, you can use bitcoin to book that special someone a trip to space on Virgin Galactic. If that's outside your budget, you can check out the first Bitcoin Black Friday where hundreds of merchants, as well as charities, will offer discounts on everything from warm alpaca socks to sticky caramels to a Motorola Moto X smartphone under the Christmas tree via a bitcoin community-sponsored website. In fact, you can use the peer-to-peer digital currency to even buy a Christmas tree.
There has been plenty written about whether bitcoin is the future of money or just a fad. Here are the basics:
Bitcoin is a virtual currency that can be spent, sold and moved around anonymously online. It's not tied to any government or central bank and can be used anywhere in the world. 
The first bitcoin was created in 2009 and there are currently 12 million bitcoins. New bitcoins are generated by computers that are rewarded for solving complex math problems in a process called "mining." 
Its value is skyrocketing. On Wednesday, one bitcoin traded for as high as $1,000, compared to $13.27 at the end of 2012. 
Its wildly fluctuating value and its lack of government oversight have created doubts that it can survive as a viable currency. 
Why even consider bitcoin? Well, some very smart people like Sam Yagan, whose talent with complicated algorithms built OKCupid into one of the biggest dating sites on the Internet, believe that some form of virtual currency — whether it's bitcoin or something else — will be accepted by most businesses in the future. 
"When PayPal launched, people were like, 'Why would any company take PayPal? PayPal is for sending money to friends,'" Yagan told NBC News. "Now it's something that most e-commerce sites accept. Fifteen years ago, you would have said, 'No, that's never going to happen.'"
How to acquire bitcoins
You could buy your bitcoins from someone else on the Internet. You can also buy them through international exchanges like Mt. Gox, a bitcoin exchange based in Tokyo. The easiest way to do it, for now, is with Coinbase, a San Francisco-based company that received $6.1 million in investor funding earlier this year.
Coinbase combines three services — an exchange, a digital wallet and payment processor for vendors — to make buying bitcoins relatively easy for beginners. 
Buying 0.033 BTC (at the time of purchase about $25) took me less than 10 minutes since I had my bank account information with me. I also had to authenticate my email address and telephone number. 
Once that is set up, users begin with the ability to buy 10 bitcoins a day — which comes nearly instantly if you link both a credit card and a bank account. I only linked the latter, which meant a wait period of around four business days.  
Bitcoins, once purchased, are universal, which means they can be moved around to different digital wallets. These wallets let you send bitcoins to e-commerce sites and physical vendors, many of whom charge you by having you scan a QR code with your smartphone. 
Where to spend your bitcoins
Looking to spend bitcoins on goods and services in your own neighborhood? Check out Coinmap, an open-source map that includes more than 1,000 bitcoin-friendly vendors. In the United States, most of the vendors are clustered around San Francisco, New York City and Los Angeles, with others scattered across the country.
One proprietor, Buddy Koerner of Folino's Pizza in Selburne, Vt., told NBC News that three customers bought a total of 10 pizzas with bitcoin in three days after his business was mentioned on Reddit.
Grass Hill Alpacas, an alpaca farm located in In Haydenville, Mass., started accepting bitcoin two years ago. Recently, business has been booming. Over the last month, according to David Forster, who runs the farm's sales, the business has accepted bitcoin for more than 100 pairs of alpaca socks, with multiple orders coming in every day, compared to only a few per week during the same time last year.
"I continue to accept them because it has been a real boon to our small business ," Forster told NBC News in an email. He said that when he started accepting the virtual currency in February 2011, a pair of socks cost 75 bitcoins. By today's standards, that would be worth more than $71,000.
"Unfortunately, I didn't keep any of the coins," Forster wrote. "I was more interested in creating the bitcoin economy and keeping them circulating, so I'm not a bitcoin millionaire."
Overall, however, bitcoin payments are the exception, not the norm.
That could change as bigger fish get in the game. That includes Gyft, a San Francisco-based seller of gift cards founded in 2012 by entrepreneur Vinny Lingham, who told NBC News that a "significant number" of his customers use bitcoin.
"The current credit card system wasn't built for the Internet," he said. "There was a need for some form of digital cash."
Lingham said that he started accepting bitcoin after getting fed up with having to deal with fraudulent credit card charges, not to mention the 1.5 percent to 3 percent fee merchants get hit with every time you pull out your Visa or Mastercard. (Lingham recently started offering a 3 percent discount on all items as a way of giving users the money that would otherwise go to the banks).
That combination of guaranteed payments and no credit card fees, Lingham said, was creating opportunities for "businesses that weren't possible under the old paradigm."
A few other things you can buy with bitcoin: Plane tickets on CheapAir.com, T-shirts on MixedTees.com and, strangely enough, Sriracha bacon lollipops on Lollyphile.com — all of which are offering discounts as part of Bitcoin Black Friday.

And if someone you know could use a date for the holidays? You could always buy them an A-List account on OKCupid, which gives them special searching, browsing and messaging features that non-paying members don't have access to.
"That's one good thing to do with your highly appreciated bitcoin," Yagan said. "Have an OKCupid bitcoin party, drop one bitcoin, and get an A-List membership for 100 of your friends."
Keith Wagstaff writes about technology for NBC News. He previously covered the tech beat for TIME's Techland and wrote about politics as a staff writer at TheWeek.com. You can follow him on Twitter at @kwagstaff and reach him by email at: Keith.Wagstaff@nbcuni.com