If you're one of the many Windows users who took the plunge into the unfamiliar waters of Windows 8, you'll be happy to hear that the 8.1 upgrade is available for all of you right now. There are dozens of fixes, improvements, and new features to be explored.
Be warned, though: If you haven't been reading up on 8.1 and are expecting major concessions to the classic Windows desktop, you'll be disappointed. Sure, you can boot into the desktop now, but don't get too excited if you see a Start button in the same place it was in Windows 7 — that just brings up the new Start screen, not the old pop-up menu. Yes, 8.1 is all about addressing shortcomings with the "Modern" interface and apps, and only tangentially about improving the legacy Windows experience.
With that said, here are the items we're looking forward to the most:
More and better tiles. The Start screen tended to get quite monotonous in its layout, with only two tile sizes to choose from and very few of those more than an icon and title. 8.1 will bring in an extra-large tile type and an extra small one (above). The large ones can display helpful info like your next appointment or a three-day weather forecast, while the tiny ones will just be an icon — great for stashing a few non-essential apps on your main page or plugging the gaps between bigger ones. (Bulk editing of tiles will make Start screen management easier, too.)
Better search and "heroes." A unique frustration of Windows 8 was figuring out what was searchable and what wasn't. Some common settings and locations couldn't be accessed via the quick pull-out search charm in Windows 8, only through the classic desktop. Really? Fortunately, this should no longer be a problem. Search now indexes just about everything, from your local files to cloud storage to popular Web services, and queries include Bing search results, too.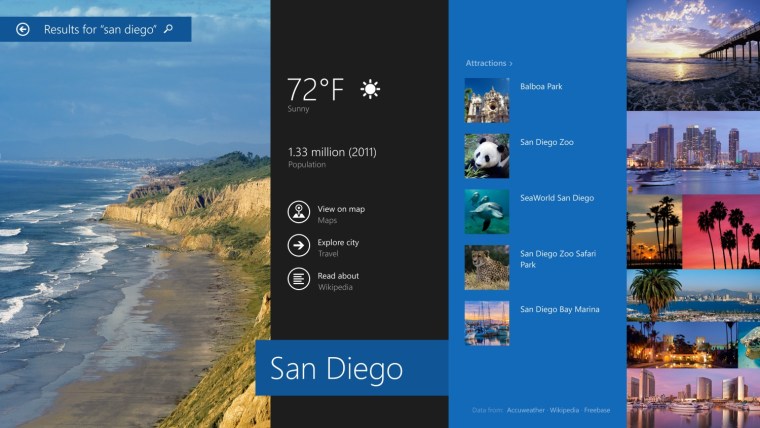 Search will also get "hero" pages for certain common search items like celebrities or locations — a big image will pop up, along with (ostensibly) relevant data like a person's date of birth or last few movies, or maybe the current weather or events at the city you're searching for. All this might be overkill if you're just looking for your word doc entitled "san_diego_presentation.doc".
Multi-windowing (and multi-monitoring). Multi-tasking was supposedly a priority in Windows 8, but the way it worked didn't always make sense: some apps had logical "sidebar" versions that sat snugly against the side of the screen, while others didn't fit there well at all, or wasted tons of space on huge type and graphics. 8.1 will let you have up to four apps on-screen at once, each as wide or narrow as you want to make it.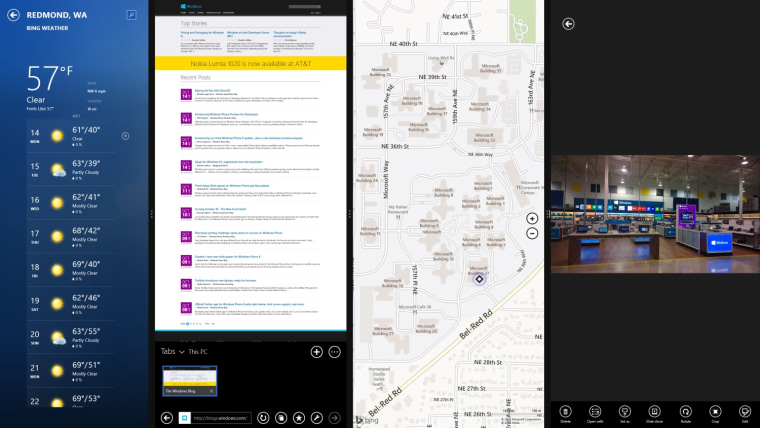 Even better, if you have multiple monitors, you can put a "Modern" app or three on one and the traditional Windows desktop on another. Great for people who love the look of, say, the new Mail and Weather apps, but are most productive in a more old-school window-based interface.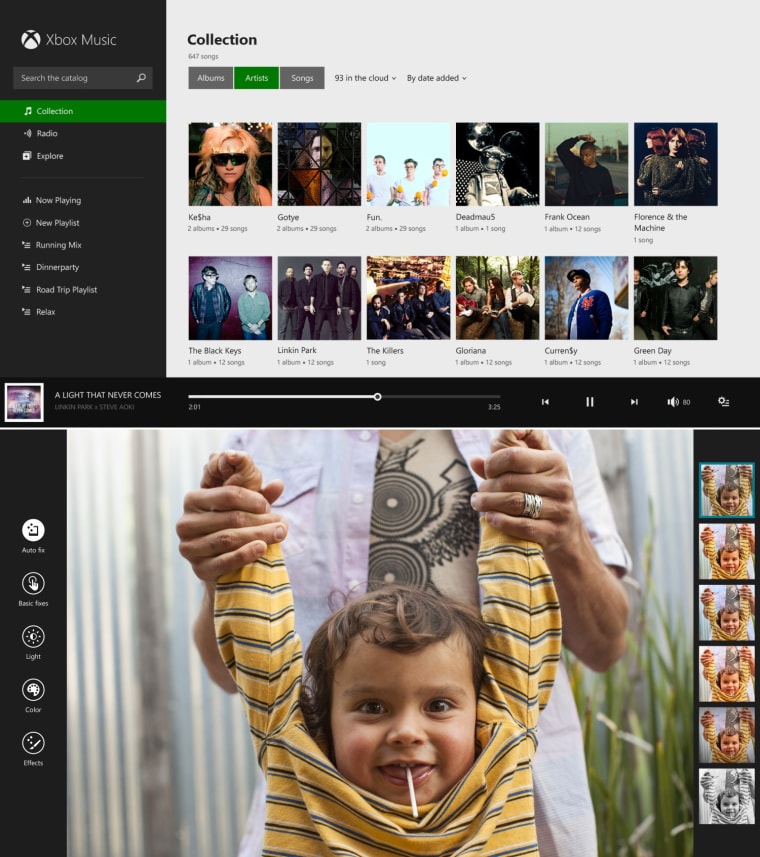 Improved Xbox Music and other built-in apps. While Microsoft's built-in suite of media apps can't rival Apple's Apple's iLife, they are attractive and functional within the Modern UI, and 8.1 is bringing a heaping handful of refinements to them.
Xbox Music just recently got a revamped interface that will be integrated with the updated OS; Photos lets you do more than viewing, like add filters; Mail has been streamlined and powered up; Food and Drink has a new touchless navigation for when your hands are full, or covered in flour. Going through all the changes would be tedious, but rest assured there are enough to make you want to try these apps again if they seemed a little too basic when you first got Windows 8.
We're pretty sure these new features will improve the Windows 8 experience significantly for anyone already using it — but they probably won't bring many skeptics into the fold. Perhaps that's in the works for 8.2.
In the meantime, anyone with Windows 8 should be able to go into the Windows Store on their computer and update their OS automatically (be sure to back up critical data first, just in case!). And Windows 7 users who want to join the party will be able to upgrade to 8.1 on Friday for $120, or $200 for the Pro version with some extra administrative features. You can compare versions and get your own copy here.
Devin Coldewey is a contributing writer for NBC News Digital. His personal website is coldewey.cc.