Tablets are becoming more familiar members of the American household, with 34 percent of adults now owning a tablet, "almost twice as many" as a year ago, according to a new study.
Last year, 18 percent of adults had a tablet, be it an iPad, Kindle, Samsung Galaxy Tab or other device, said the Pew Research Center's Internet & American Life Project in a report entitled "Tablet Ownership 2013."
It's a huge jump in tablet ownership since 2010, when Apple's iPad debuted. It remained the only game in town while competitors sought to find ways into the business. Not surprisingly, in May 2010, only 3 percent of Americans said they had a tablet, according to Pew. But the thin devices have been booming ever since.
"Tablets — at least in the post-iPad era — have been the fastest growing consumer electronics category from launch in recent history," Ross Rubin, principal analyst at Reticle Research, told NBC News. Tablets, he said, "have higher penetration levels than any of the major home game consoles, but not quite as high as Blu-ray players yet."
And tablets seem to be predominant among those with children at home, Pew found.
"Unlike smartphones, which are most popular with younger adults ages 18 to 34, we see the highest rates of tablet ownership among adults in their late thirties and early forties," Pew said. Correspondingly, 50 percent of parents with young children at home report having a tablet, Pew said, up from 26 percent last year.
Does that mean the iPad and Kindle have become a kind of second media babysitter, after the TV?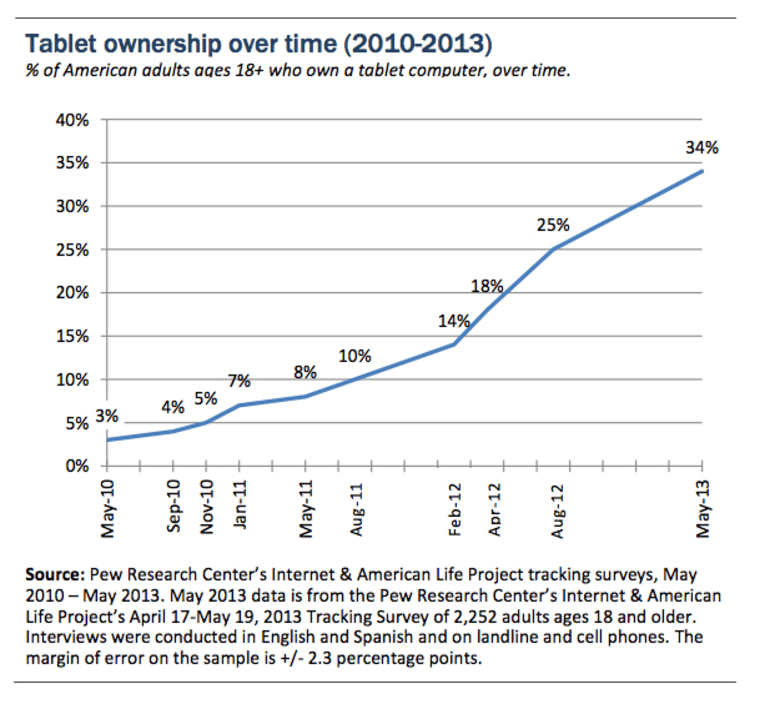 "The question of how parents are using these devices with their children is certainly a fascinating one," Kathryn Zickuhr, Pew research analyst told NBC News.
"Even though parents are more likely to read e-books than adults without minor children at home, the vast majority — 81 percent — of parents say that it is important to them that their children read print books."

Zickuhr also referred to a new study, "Parenting in the Age of Digital Technology," from Northwestern University's Center on Media and Human Development, which finds the iPad is not the mother's little helper some might think it is.
"While new media technologies have become widespread, a majority of parents do not think they have made parenting any easier," said researchers in that report:
Parents use media and technology as a tool for managing daily life, but books, toys, and other activities are used more often. Parents say they are more likely to use books, toys, and other activities when they need to keep children occupied than they are to use TV; and they are much more likely to use TV than to use mobile media devices.
And, as punishments go, the old "I'm taking away the TV!" is still harsher than "I'm taking away the iPad!" according to the Northwestern study.
Among other demographics, Pew saw a surge in tablet ownership among adults living in households making at least $75,000 a year — from 34 percent last year to 56 percent this year. Among college graduates, 28 percent said they had tablets last year; now that number is 49 percent.
"Adults ages 65 and older, on the other hand, are less likely to own a tablet," says Pew. Only 18 percent say they have one.
The research organization's findings are based on interviews with 2,252 adults, age 18 and older, done between April 17 and May 19.
Check out Technology and TODAY Tech on Facebook, and on Twitter, follow Suzanne Choney.