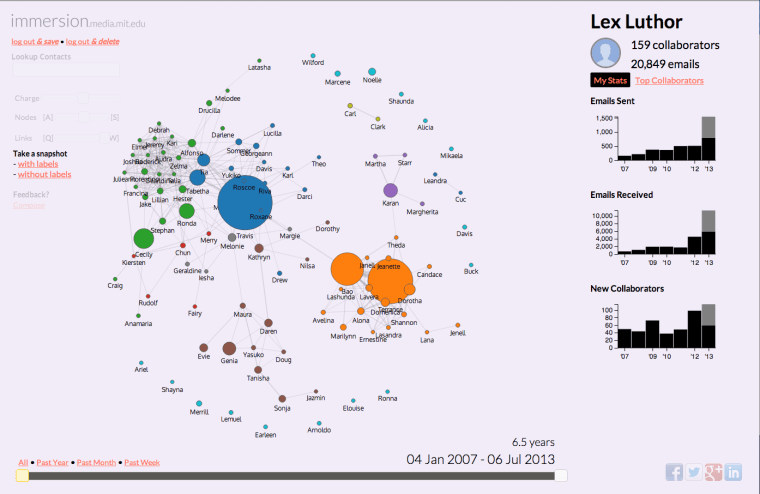 If this NSA data-snooping thing has you wondering about how much can be learned from your email metadata, there's an easy — and safe — way to find out.
A new public Web application from the MIT Media Lab picks up metadata from your Gmail emails and displays an easily readable map of your digital connections, just enter your Gmail details.
I sent my own first Gmail email a few weeks into my first semester at college. Since then, I've made and lost friends, foes and beaus — and no one knows this better than my inbox.
Last Friday I handed over the contents of my personal account, tens of thousands of emails, to the trio running Immersion at the MIT Media Lab. In under 10 minutes my email history was digested and sent back to me as a web of wobbling dots of assorted colors and shapes that instantly showed me who was important to me and my mailbox.
Anyone I'd written to more three times appeared as a single dot, connected to anyone else I'd cc'd in a conversation. The better I'd kept in touch with someone, the larger they appeared on my page.
The color-coded communities were easily spotted: friends at work, college buddies, high school mates. I dragged the "Time" slider around to see how the bubbles swelled and shrank over the years.
"Email is always presented to users in the same way regardless of what service (you're) using," Deepak Jagdish, one of the co-creators of the Immersion told NBC News. "There's so much more of the data that they don't get to see about their email."
Immersion went live to the public on June 30, and has had more than 70,000 visitors so far, said Jagdish, who, along with fellow grad student Daniel Smilkov at Cesar Hidalgo's Macro Connections group at the MIT Media Lab, built the analytical tool. Once you've securely entered your Gmail details and had a look at your contact map, Immersion gives you the option of deleting your information and logging out, or letting Immersion keep your compressed email metadata and user profile. That data is not shared outside the research group.
Rather than looking at the body of the email or the subject line, the tool maps the senders and recipients of the email, and the time that it was sent. You've probably heard details like those referred to frequently in recent weeks regarding the NSA's controversial data-gathering approach.
Jagdish describes metadata as "bits of information that you don't pay attention to." He believes Immersion can reveal aspects of your behavior and relationships that you may not have noticed before.
For example, Jagdish explains, one early tester of the tool isolated a previously unknown characteristic of his relationship with his girlfriend. When this tester looked at a map of his contacts, Jagdish said, he was surprised to find how often his girlfriend involved his mother in their conversations.
Jagdish's own response invoked nostalgia, he said. "It showed me that regardless of the ups and downs I've gone through in my life there's been this core group of people that have been with me no matter what."
The tool could be used for more than a walk down memory lane. The team has been asked about developing the tool for corporate use, Jagdish said. One company expressed interest in using Immersion to map the connections of employees who are leaving, so that their replacements can identify their most important connections.
The Immersion project grew out of an idea Cesar Hidalgo, leader of the Macro Connections group at the Media Lab, had developed for a more "visual" inbox that broke away from the time-organized layout of most email services like Gmail, Outlook and Yahoo. In a blog post published Sunday, Hidalgo wrote that Immersion helped him see how frequently he'd been traveling over the last year. He says he is resolved now to spend more time on campus so he can better connect with his students.
The Macro Connections group is no stranger to metadata. Earlier this year, a separate group working with Hidalgo showed how people could be identified from anonymized cell phone records using GPS data.
Nidhi Subbaraman writes about technology and science. Follow her on Facebook, Twitter, Google+.