Air bags have been called one of the most important safety technologies ever developed. But there is growing concern among federal regulators and safety experts that, as they age, they could threaten the lives of millions of American motorists.
Nearly a dozen different automakers have so far recalled more than 40 million vehicles around the world due to concerns over faulty air bags produced by Japan's Takata Corp., which that have been blamed for at least eight deaths and hundreds of injuries. But the head of the National Highway Traffic Safety Administration, which recently launched an investigation of a second manufacturer's supplemental restraint system, tells TheDetroitBureau.com that he's worried the problem could be a broader issue with air bag technology itself.
"Cars are lasting on the road a lot longer than ever before," Mark Rosekind, who took over as NHTSA administrator in December, said Monday during a visit to Detroit. "Is aging now an issue? That's part of the investigation going on."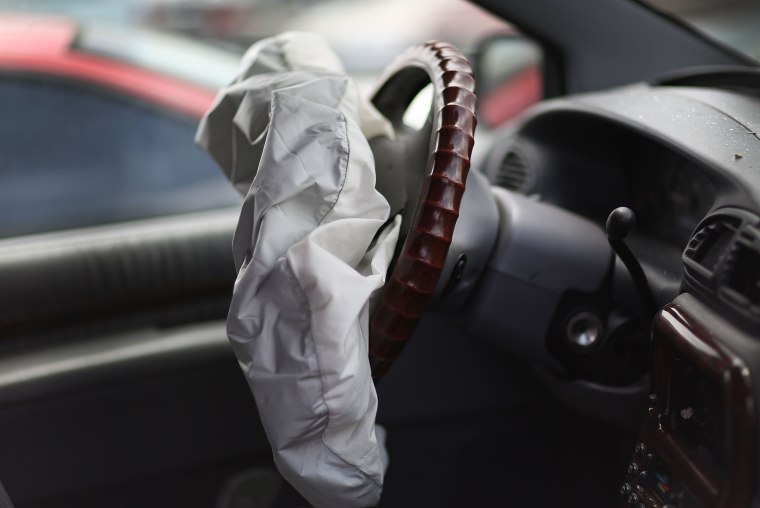 Safety advocates and industry officials also have begun to question whether a technology designed to save lives can, over time, become a threat to life and limb since the first recall related to the Takata air bags in November 2008.
Starting in 1989, automakers were required to equip all new vehicles with some sort of passive restraint system, technology designed to protect even unbelted occupants in a frontal crash. Initially, they responded with a mix of different technologies, but by the mid-1990s the rules were rewritten to mandate air bags. Since then, more than 300 million vehicles have been sold in the U.S. alone using air bag technology.
At their most basic, so-called supplemental restraint systems are designed to remain hidden until a crash occurs, bursting out to provide a pillowy cushion that can significantly reduce crash forces. Over the decades, they have been credited with savings thousands of lives.
Suppliers have tinkered with different ways to inflate air bags, relying on tanks of stored gas, pyrotechnic inflators, or both. But pyrotechnic systems have been used in the majority of the millions of air bags installed each year. And that's where the potential problem lies, according to preliminary analysis of system failures.
Explosive 'shaped charge'
Pyrotechnic inflators are essentially what the military calls "shaped charges," explosives packed in a precise way to control both the speed and direction in which they blow up. The goal is to create a precise rush of hot gases that inflate a hidden air bag quickly enough to cushion an occupant even in a high-speed crash. In the case of the recalled Takata air bags, however, the inflators used in some older vehicles have triggered with excessive force, not only inflating the air bag but shooting shrapnel into the passenger compartment.
While NHTSA's Rosekind cautioned that the precise cause of the Takata air bag failures has yet to be determined, initial evidence indicates the problem is most severe in states with warm weather and high humidity. Many experts say this suggests that long-term exposure to such conditions causes the propellant to burn too rapidly.
So far, about 40,000 older Takata air bag systems have been collected from around the country and set off in controlled lab tests and about 300, or slightly less than 1 percent, have failed catastrophically during testing, Rosekind said.
"Seventy to 80 percent of the ruptures" involve air bags that were used in vehicles from Florida, he added.
But while the problem of defective airbags initially appeared to center around problems at Takata, NHTSA recently received word of faulty deployments involving older vehicles using inflators produced by the supplier ARC Automotive Inc. A formal investigation covering 500,000 Chrysler Town & Country minivans and Kia Optima sedans, which used air bag systems with ARC inflators, was announced earlier this month.
NHTSA Investigates Second Manufacturer for Exploding Air Bags
At the time, Knoxville, Tennessee-based ARC issued a statement saying it has a 60-year record of "serving our customers with products that meet the most stringent global safety standards." It also said it is cooperating with the NHTSA probe.
"Could we have missed more? That could be the case."
ARC did not respond to requests from The Detroit Bureau for comment about the possibility of a broader issue with the inflators.
So far, just two "incidents" have been identified involving ARC inflators, but the concern is that there may have been others that have not been identified, said Clarence Ditlow, director of the Washington-based nonprofit Center for Auto Safety.
"Could we have missed more? That could be the case," said Ditlow, noting that several Takata air bag deaths were initially misidentified. In one case, he noted, Florida police initially thought the shrapnel wounds to a victim's head and chest were the result of a vicious knife assault and began looking at the crash as a murder scene.
So far, Takata appears to be an outlier. Investigators are attempting to determine if the serious problems with its products were the result of design of its air bag inflators, with the material used to make those explosive devices or the manufacturing process itself.
But the emerging concern, which could have much-broader safety implications, is whether even good inflators could go bad over time.
Air bag systems typically are exposed to big variations in temperature – in some cases from minus-40 to over 200 degrees Fahrenheit – and humidity. And they are shaken and rattled by railroad tracks, gravel roads and potholes.
"It may be a reasonable assumption that as these things age they deteriorate."
Complicating the situation, the age of the average vehicle on the road today is 11 years, the oldest ever. That means some vehicles with the very earliest air bag systems are still in operation.
"It may be a reasonable assumption that as these things age they deteriorate," said automotive analyst George Peterson.
Even a small amount of pyrotechnic material flaking off, or changing in molecular structure could significantly alter the way they inflate when triggered, experts suggest. Meanwhile, over time, "Seals (could) start breaking down," said NHTSA's Rosekind, which could allow explosive gases to do unintended things.
"It appears there is more to the air bag story than just Takata."
While Takata remains the primary focus of the NHTSA air bag investigation, Dave Zuchowski, the CEO of Hyundai Motor America, told TheDetroitBureau.com that his company was advised by an agency official of "the potential residual (problem) of older vehicles with original air bags."
What You Need to Know About the Takata Recall
"It appears there is more to the air bag story than just Takata," Zuchowski added, noting that the Korean carmaker is now checking its records to see if it has used any of the ARC inflators (because Hyundai and Kia often share technology and suppliers) or experienced other air bag issues that might have been missed previously.
In the more than a quarter century since the first supplemental restraint mandate went into effect, air bag systems have become increasingly sophisticated. Some vehicles today feature more than 10 of the devices to protect passengers not only in frontal crashes but in side impacts and rollovers. Even critics of how the technology has been implemented acknowledge that air bags have saved thousands of lives.
"No one is saying you should disable your air bags," safety advocate Ditlow stressed. "You're far more likely to be helped than hurt by one if they go off."
More from The Detroit Bureau
Tesla Model S "Luuudicrous Mode" Goes from 0-60 in 2.8 Seconds
Chevy Goes Cuckoo for Crossovers