Ford announced a major shake-up in its senior management ranks on Friday, just days after the company reported a $1.7 billion fourth quarter loss that sent its already weak stock tumbling.
Joe Hinrichs, a 19-year veteran and president of automotive operations, is leaving the second-largest Detroit automaker. Jim Farley, who had been overseeing Ford's new business operations — including its push into electrified and autonomous vehicles — becomes chief operating officer.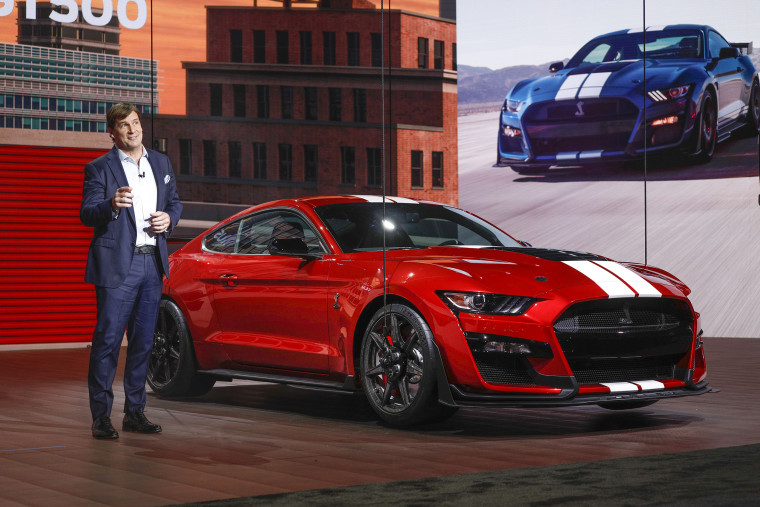 The shake-up comes at a critical time for Ford, which is struggling to cope with a variety of challenges. That includes weak sales in China, product launch problems, in addition to its plunging earnings.
Hinrichs was officially said to be retiring, though he is only 53. His tenure as president coincided with some serious problems, including last year's troubled launch of the Explorer SUV, one of Ford's most critical products.
For his part, Chief Executive Officer Jim Hackett declined to point fingers, praising many of the steps Hinrichs had taken — including efforts to streamline Ford's bloated corporate bureaucracy and get the automaker moving in a new direction.
Hackett himself was named CEO in 2017, following a management shake-up, quickly putting in place what he described Friday as "an S-Curve," a push for "smart vehicles for a smart world."
That translates into a rush to bring 11 new electrified vehicles to market, including Ford's first long-range electric vehicle, the Mustang Mach S, hitting showrooms later this year. Under Hackett, Ford also is investing heavily in autonomous vehicles and other mobility services.
During a conference call Friday morning, Hackett made clear that Farley is clearly aligned with his vision for the future. "Jim Farley is the right person to take on this important new role," the CEO said, adding that they "will work tightly" together to bring Hackett's new mobility vision to fruition.
"I didn't see this coming," said Stephanie Brinley, principal auto analyst with IHS Markit, noting that the results of Friday's shake-up "seem to move things in the direction Hackett wants to go."
In recent months, there has been speculation Hackett's own tenure might be uncertain as Ford continued struggling on a number of fronts. But the former Steelcase CEO and late-comer to the auto industry appears to have survived, at least for now.
"I plan to stay," he said Friday.
Ford is by no means the only automaker struggling to address what Brinley described as an era of massive change for the industry. The challenges — and the potential — can be seen in the way Wall Street has punished traditional auto brands such as Ford and General Motors while rewarding newcomers such as Tesla, whose stock hit unforeseen highs earlier this week.
Ford is investing over $11 billion on electrification, and billions more on autonomous vehicle development. But Hackett stressed it can't walk away from its traditional business. One of the other big executive moves announced Friday sees Hau Thai-Tang take on an expanded role. The 53-year-old already serves as chief product development and purchasing officer. Thai-Tang will now serve as "primary architect" of not only future vehicles but also the new services and "experiences" Ford will be offering.
Ford saw its stock price tumble 9.5 percent after its earnings announcement on Wednesday. Shares continued to tumble on Thursday and were down almost 2 percent as of Friday afternoon.