Chris Reighard, a 62-year-old retired employee of the Arkansas Division of Services for the Blind who lives in Altoona, Pennsylvania, considers herself and her husband, Dave, to be pretty tech savvy. But she was unable to book vaccination appointments for them, both who are blind, through the Pennsylvania Health Department website while using one of the most commonly used screen readers.
"Their page is very accessible until you get to where you need to find the locations of the vaccines, and those are done like colored dots on a map," she said. "Of course, the screen readers won't do colored dots, they pretty much do text, and the colored dots did not have any text associated with them. That was a problem."
But the Reighards are far from alone in their struggles to get vaccinated. Blind and visually impaired Americans are finding it difficult, and in some cases impossible, to schedule vaccination appointments because so many are being scheduled online. Even though they have software that enables them to do many things digitally, they're finding that these new registration sites suffer from low-contrast coloring, minimal text options, screen reader incompatibility and supplemental electronic forms that must be filled out.
Currently, about 12 million people above the age of 40 in the United States have vision impairment, including 1 million who are blind, according to the Centers for Disease Control and Prevention. Over 3 million people who are top contenders for the shot — aged 65 and older — have a vision disability, according to the 2019 American Community Survey.
Full coverage of the coronavirus outbreak
The booking problems are so widespread that a recent survey by nonprofit WebAIM and Kaiser Health News found technological accessibility barriers on all but 13 of 94 state webpages that included information about the vaccine, lists of providers and sign-up forms.
These barriers violate Title II of the Americans With Disabilities Act, which prohibits discrimination against individuals with disabilities in all state and local government programs, activities and services.
They also violate Section 504 of the Rehabilitation Act of 1973, which requires equal access to the benefits and services of programs, like state and local governments, receiving federal financial assistance.
Cyndi Rowland, WebAIM executive director, estimated that the barrier number is even higher because her group used an automated tool that only identifies "about a third" of accessibility issues. She emphasized that these problems are not new and should have been addressed long ago.
"It is, I think, a sad reflection of our times, that accessibility is still not part of what is top of mind for developers. We've had web accessibility guidelines and standards for 20 years," she said. "This has been a real rough year for folks with the kinds of disabilities that affect computer and internet use."
Widespread problems
When contacted about the Reighards' challenges, Pennsylvania Department of Health deputy press secretary Maggi Barton acknowledged that there are problems.
"While our website is accessible for those with vision impairment who are using a screen reader, the vaccine map may not be, as it's embedded through a different platform," she said. Barton added that the state also offers help booking through its telephone hotline.
But the problems with these sites are also happening outside of Pennsylvania.
Robert Jaquiss, a 67-year-old blind Montana resident who serves as the state's National Federation of the Blind chapter secretary, said he had trouble with multiple drop-down or "combo" boxes in both sign-up portals for shot slots provided by the Missoula City-County Health Department and University of Montana that he found on the county's website. In one instance, Jaquiss said he used a series of keystrokes to try and interact with a box that asked about the number of people requesting a shot slot. But nothing happened.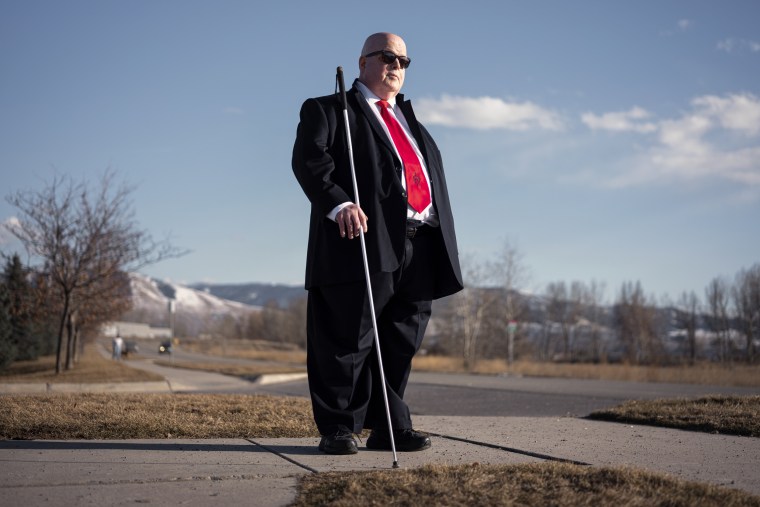 "I couldn't get through the form," he said. By the time he figured it out "all the appointments were gone."
Paula Short, associate vice president of campus preparedness and response at the University of Montana, said she asked that the drop-down box be removed. As of Friday, it was still there. For now, Short said the University of Montana added screen-reader-compatible language at the top of its sign-up portal to direct anyone with accessibility issues to the Missoula County call center and is currently testing an alternative registration process.
"The ability for everyone to have access to vaccines (and be able to schedule vaccination) is a top priority and we will work to remove any barriers to the online sign-up and continue to provide access over the phone," Short said.
Missoula City-County Health Department spokeswoman Hayley Devlin said the drop-down box found in the sign-up portal for the MCCHD vaccination site is an "optional field that is not required to book an appointment." Like Short, she also directed blind and visually impaired residents to the county's call center and noted that the health department reserves 20 percent of shot slots there, so people with vision impairments or lack of internet access can book appointments.
Like Reighard, Jaquiss had to turn to someone with sight for help.
"One of my friends helped me out," Jacquiss said. "I gave him my particulars and because he could see and work the web fast enough, he got me an appointment."
Seeking help
But not everybody feels comfortable asking for help.
Yolanda Thompson, a blind 63-year-old Colorado resident who ran into screen reader incompatibility issues when trying to select appointment times on the Safeway and King Soopers websites, said she would "rather die" than ask her sighted husband for help.
"Because of not choosing to have a co-dependent relationship, I don't use his sight to assist me," Thompson said. "It changes your relationship. It's not healthy." 
Thompson also said she was hesitant to call a technology assistance program like Aira out of personal and medical privacy concerns.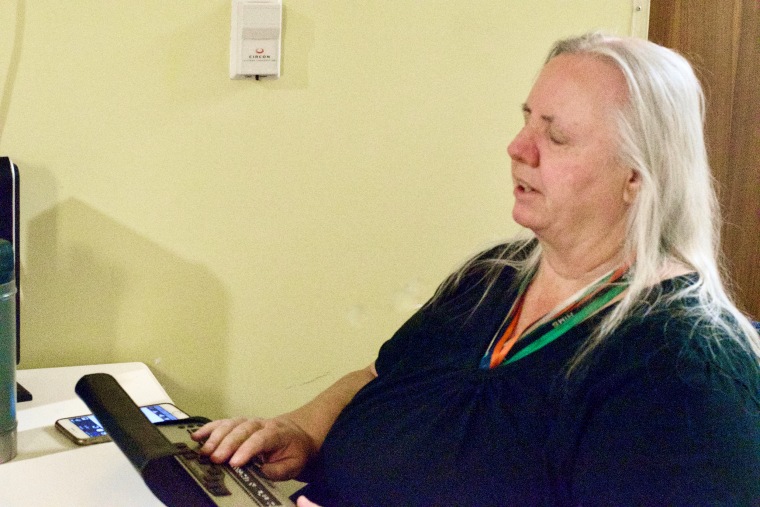 Boulder Community Health, where Thompson also hit another roadblock with a CAPTCHA box, said it was "not aware" that the portal had a barrier for people who are blind or visually impaired, according to its director of marketing and public relations, Richard Sheehan. He said Friday that the company added a new link near the existing CAPTCHA box that "can be read by the readers used by blind and visually impaired people" and "provides the same function as CAPTCHA."
Political intervention
The inaccessibility plaguing these websites is prompting outrage from politicians, advocates and health professionals alike.
Thirteen United States senators wrote a letter on March 3 to the Department of Justice and the Department of Health and Human Services asking the agencies to address some of these problems.
"In order to make sure that everyone in the United States is able to access these vaccines, we must attend to sectors of the population that have access needs, in particular individuals with disabilities who may need accommodations to access vaccination sites and register for an appointment," the senators wrote.
In addition to telling the agencies that websites should be compatible with screen readers, the senators asked that they adhere to the law and "the most up to date Web Content Accessibility Guidelines."
"Since each state has the option to develop its own vaccine registration system and distribution process, we ask that you ensure that these processes meet or exceed the requirements of the Americans with Disabilities Act and Section 504 and 508 of the Rehabilitation Act (29 U.S.C. 794d), as amended in 1998," they wrote.
Laura Epstein, press secretary for Sen. Maggie Hassan, D-N.H., said her office has not received a response yet and noted that the agencies have until Wednesday to give one.
Rachel Seeger, senior adviser for public affairs and outreach at the HHS Office for Civil Rights, said, "HHS is in receipt of the letter and will respond to Congress on this important issue."
Mark Riccobono, president of the National Federation of the Blind, sent a letter to all 50 governors last month demanding action and offering help.
"It is imperative that blind and low-vision Americans receive the same opportunities and tools to participate in ending this public-health threat as others do," he wrote.
Riccobono "has received no substantive responses to the letter to governors, although he has received some pro forma acknowledgements that they received it," NFB spokesperson Chris Danielsen said.
Potential answers
Some individual states and academic institutions are also stepping in to help fix this problem.
Johns Hopkins University recently created an accessible all-text vaccine dashboard to combat tech barriers. The Covid-19 Vaccine Prioritization Dashboard, updated every Wednesday, provides screen-reader-compatible vaccine eligibility information for all U.S. states and territories and is accessible in multiple formats such as Excel, PDF and CSV.
"Accessibility certainly has been an afterthought for a lot of the sites," said Bonnie Swenor, director of the Johns Hopkins Disability Health Research Center, who helped build the dashboard. "This conversation around gaps and access, differences and prioritization, is a really call-to-action moment for us, for our community."
Download the NBC News app for full coverage of the coronavirus outbreak
States like Arizona are trying to make the changes on their own. Arizona officials recently redesigned the state's vaccine finder to allow residents to search for providers using an all-text list rather than just a map that, as seen in Reighard's case in Pennsylvania, is incompatible with screen reader technology.
Amy Porterfield, secretary of the Arizona Governor's Council on Blindness and Visual Impairment, has been working with the state's health department to help make this change and modify other areas of the portal that are still inaccessible.
"It takes people from being in a place where they know they can get a shot but they have no idea how to where they can get on the website and see what their potential for getting the shot is and where they can go and what their resources are," she said. "Knowledge is power, and this provides the empowerment for blind people to have equality with everyone else."