U.S. equities soared on Tuesday, hitting new all-time highs, as investors digested housing data and kept an eye on President-elect Donald Trump's policy agenda.
The Dow Jones industrial average rose about 70 points, closing above 19,000 for the first time ever, with Home Depot contributing the most gains.
"What we're seeing is a shift in the sectors that are participating" in this rally, said Quincy Krosby, market strategist at Prudential Financial. "It hasn't been parabolic in some sectors."
Related: Dow Breaks Above 19,000, S&P Jumps Over 2,200 as Stocks Hit Record Highs
The S&P 500 closed over 2,200 for the first time, as telecommunications rose about 2.1 percent to lead advancers. The Nasdaq composite also closed at all-time highs, rising approximately a third of a percent.
"Global equity markets are reacting positively to new all-time highs in the SPX," said Katie Stockton, chief technical strategist at BTIG, in a note. "Momentum is proving strong enough to overrule overbought conditions, so we think it is appropriate to be buying breakouts."
Phil Davis, CEO at PSW Investments, said it might be time to fade this rally, however. "It's like a rocket at the apex of its trajectory. When a rocket launches, it rises up quickly, then it slows down and gravity starts pulling back down, but it does hang there for a bit," he said.
Tuesday's record-setting session came a day after the three major indexes, along with the small-caps Russell 2000, closed at all-time highs. Monday's rally was led by oil, which rose nearly 4 percent to lift energy stocks.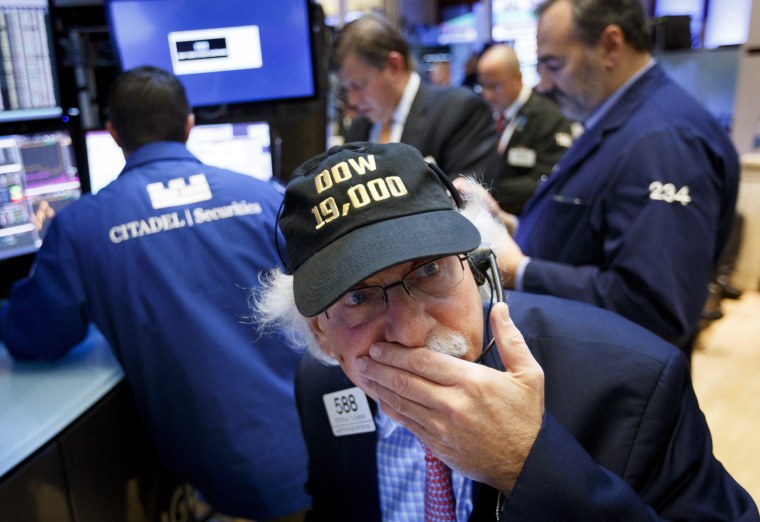 "From a time standpoint, this may be just the beginning," said Bruce Bittles, chief investment strategist at Baird. "Don't forget, we spend about three months consolidating before this breakout after the election,"
"We are in a transition period on a number of fronts. First, we're moving from an interest-rate driven market into an earnings-driven market," he said. "Also, something most people are missing, is we're getting a more business-friendly administration."
The Federal Reserve has indicated numerous times its desire to normalize monetary policy, and it's all but certain the central bank will take a step in that direction next month. According to the CME Group's FedWatch tool, market expectations for an interest rate hike in December were more than 90 percent.
"You're fully priced in on the short end of the curve" for a rate hike, said Gene Tannuzzo, portfolio manager at Columbia Threadneedle Investments. The two-year note yield held around 1.08 percent, after hitting its highest level since 2010. The benchmark 10-year yield held near 2.31 percent. The recent rise in yields "is pretty remarkable, especially considering ... the two election surprises we've gotten this year, with Brexit in the UK and the election here."
Meanwhile, S&P 500 earnings grew for the first time in more than a year. According to data compiled by The Earnings Scout, earnings per share had grown 6.21 percent as of Tuesday at 8:30 a.m. ET.
Stocks have also been bolstered by Trump's surprising win over Democrat Hillary Clinton, as expectations for deregulation in a number of sectors and tax cuts have increased optimism in the U.S. stock market.
On Monday, Trump expanded on his policy agenda, which includes withdrawing from the Trans-Pacific Partnership (TPP). The trade pact was a centerpiece of the Obama administration's "pivot" towards Asia and was meant to solidify the U.S.'s presence in what is considered by many American companies as the most economically dynamic part in the world.
Trump described the TPP as "a potential disaster" for the U.S. in the video, adding "we will negotiate fair bilateral trade deals that bring jobs and industry back onto American shores."
The U.S. dollar has greatly appreciated in value since the election, recently hitting levels not seen since April 2003. On Tuesday, however, it traded slightly lower against a basket of currencies.
"Near-term, we might see some profit-taking, but the dips are expected to be shallow,"said Peter Ng, senior FX trader at Silicon Valley Bank. "The economy itself has also picked up in the second half." "The prospects of higher rares are pushing the dollar higher."
In economic news, existing home sales rose to their highest annual rate since February 2007. There are no other major data due Tuesday, but Wednesday will see several reports released, as the U.S. will celebrate the Thanksgiving holiday on Thursday.
"The commuter trains should start thinning out by this afternoon as traders take advantage of the Thanksgiving holiday. The price action for the next several days should therefore put investors to sleep which will preclude the reprise of any deleterious amount of volatility," Jeremy Klein, chief market strategist at FBN Securities, said in a note.
In corporate news, medical equipment maker Medtronic reported mixed quarterly results. Medtronic also cut its full-year forecast, as customers delay purchases ahead of new products entering the marketplace. Meanwhile, KKRis buying Japanese auto parts maker Calsonic from Nissan Motors and its partners for $4.5 billion.
Overseas, European equities traded mostly higher, with the pan-European Stoxx 600 index rising 0.23 percent. In Asia, stocks rose, with the Nikkei 225 closed 0.31 percent higher and the Shanghai composite gained 0.94 percent.
The Dow Jones industrial average rose 66 points, or 0.35 percent, to 19,023.25, with Verizon leading advancers and Visa the top decliner.
The S&P 500 traded 4 points higher, or 0.19, at 2,202, with telecommunications leading nine sectors higher and health care the biggest laggard.The Nasdaq composite advanced 12 points, or 0.24 percent, to 5,381.About two stocks advanced for every decliner at the New York Stock Exchange, with an exchange volume of 599 million and a composite volume of 3.118 billion in afternoon trade.
The CBOE Volatility Index (VIX), widely considered the best gauge of fear in the market, traded slightly higher, near 12.6.U.S. crude oil for December delivery fell 0.44 percent to settle at $48.03 per barrel. Gold futures for December delivery rose $1.40 to settle at $1,211.20 per ounce.