As Top Ten lists go, the Transportation Security Administration's list of the most unusual items found at airport checkpoints during the past year is a doozy.
For starters, there were five dead endangered seahorses found inside an oversized bottle of brandy at the Detroit Metropolitan Airport, a replica suicide vest spotted at Richmond International Airport, and a trailer hitch cover shaped like a hand grenade that showed up at San Luis Obispo County Regional Airport.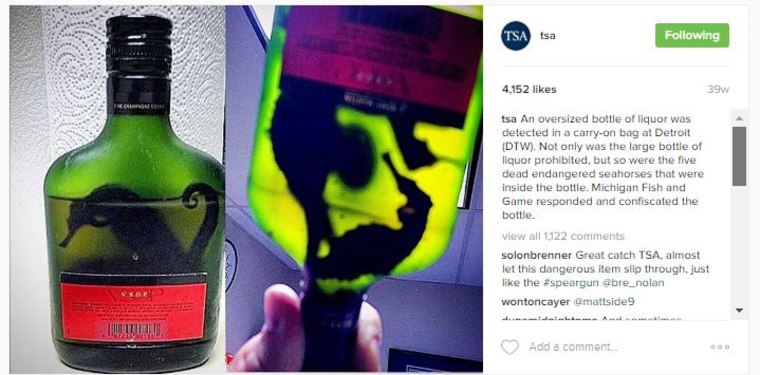 Then there was the five-bladed flogger someone tried to take on a plane at George Bush Intercontinental Airport in Houston.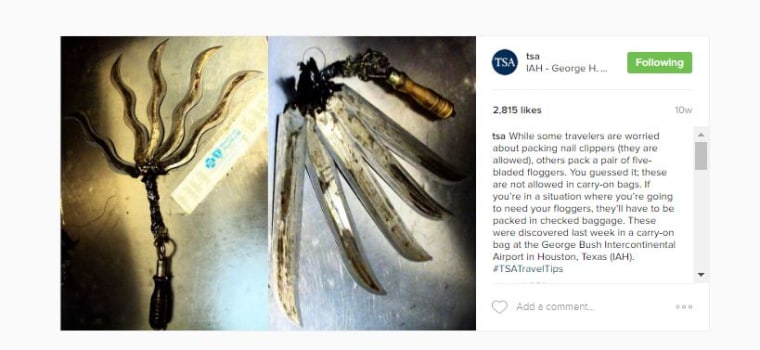 The list also includes a Hello Kitty-themed firearm found at Bradley International Airport in Connecticut and a movie prop corpse that was spotted at the Hartsfield-Jackson Atlanta International Airport checkpoint — and given the all-clear to travel.
All 10 items are featured in the quirky video in which TSA social media specialist Bob Burns offers a charmingly corny countdown, commenting on everything except the object described as a "post-apocalyptic bullet adorned gas mask," for which Burns simply takes off his glasses and shakes his head.
Most of the items included in the 2016 edition of the TSA's Top Ten Most Unusual Checkpoint Finds will be familiar to those who follow the TSA blog or its popular Instagram account, where the agency shares a weekly report on the number of firearms (loaded and unloaded) and posts photos of notable "finds."
Travelers who would like to make sure the contents of their carry-on luggage aren't included in TSA 2017 Top Ten List can check to see if an item is permitted via the TSA's "Can I bring my… through the security checkpoint" tool or on the "Ask TSA" Facebook Messenger site.