WARWICK, R.I. -- Gun components and ammunition were found hidden inside three stuffed animals carried by a passenger at Rhode Island's T.F. Green Airport on Tuesday, federal transportation officials said.
Authorities later allowed the 4-year-old boy and his father to continue their travel to Detroit after concluding the man didn't pose a risk, authorities said. He told police that he didn't know the parts were inside the stuffed toys -- which included a Mickey Mouse.
"It appears to be the result of a domestic dispute," Rhode Island Airport Police Chief Leo Messier said. "It was jointly investigated by the RI Airport Police, FBI and the RI State Police and it was determined that there was no threat at any time to air safety."
NBC News station WHDH reported that a magazine loaded with two .40-caliber rounds was discovered inside a bunny and a firing pin was inside Mickey Mouse.
'Artfully concealed'
Officials with airport police and the Transportation Security Administration declined to comment further, saying the incident remained under investigation.
A TSA officer noticed the disassembled gun components "artfully concealed" inside three stuffed animals. The stuffed animals were inside the child's carry-on bag, which had been put through an X-ray machine as part of normal security screening.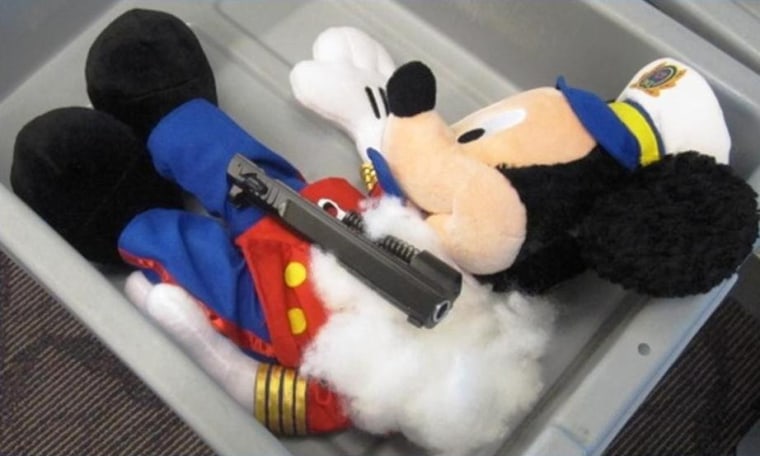 The parts could have been assembled to make a full firearm, authorities said.
The items were confiscated. Police have not released the man's name.
Passengers at T.F. Green told WHDH they were thankful the system worked.
"I know a lot of people don't like the screening procedure, but I'm thankful that they really screen people and we feel much safer because of it," one woman told the station
NBC News station WHDH and The Associated Press contributed to this report.