Agents of the Transportation Security Administration have discovered over 1,500 guns at airport checkpoints year to date, a record for the agency. In 2012, the TSA set a record when it discovered over 1,500 guns. At this rate, the agency responsible for manning security at United States airports is on track to discover over 1,800 guns in 2013.
As of Nov. 1, agents have discovered 1,531 guns. Of these, 1,286 were loaded and 424 had a bullet in the chamber. All were in passengers' carry-on bags or coat pockets. 
The final tally in 2012, made on Dec. 28, was 1,527 guns.
The increased discoveries are not related to any changes this year in how the TSA operates. Ross Feinstein, press secretary at TSA, tells Skift, "Our procedures have not changed," Feinstein says. "It's pretty well known that bringing a loaded weapon on a plane isn't allowed. Most people who travel understand."

The TSA collects information about guns discoveries and publishes it every Friday on its blog, usually with reminders about why replica weapons and inert or novelty grenades seriously slow down security lines. In addition to guns, each week the TSA routinely discovers stun guns (nine last week), cartons of bullets, and knives, which are usually disguised in canes, belts, books, and other places. The agency also posts images of some objects on its Instagram account.
Like last year, most weapons were found in states that allow residents to carry concealed weapons and are much more likely to have a gun with them on a day-to-day basis. Texas has six cities in the top 21 and Florida had five.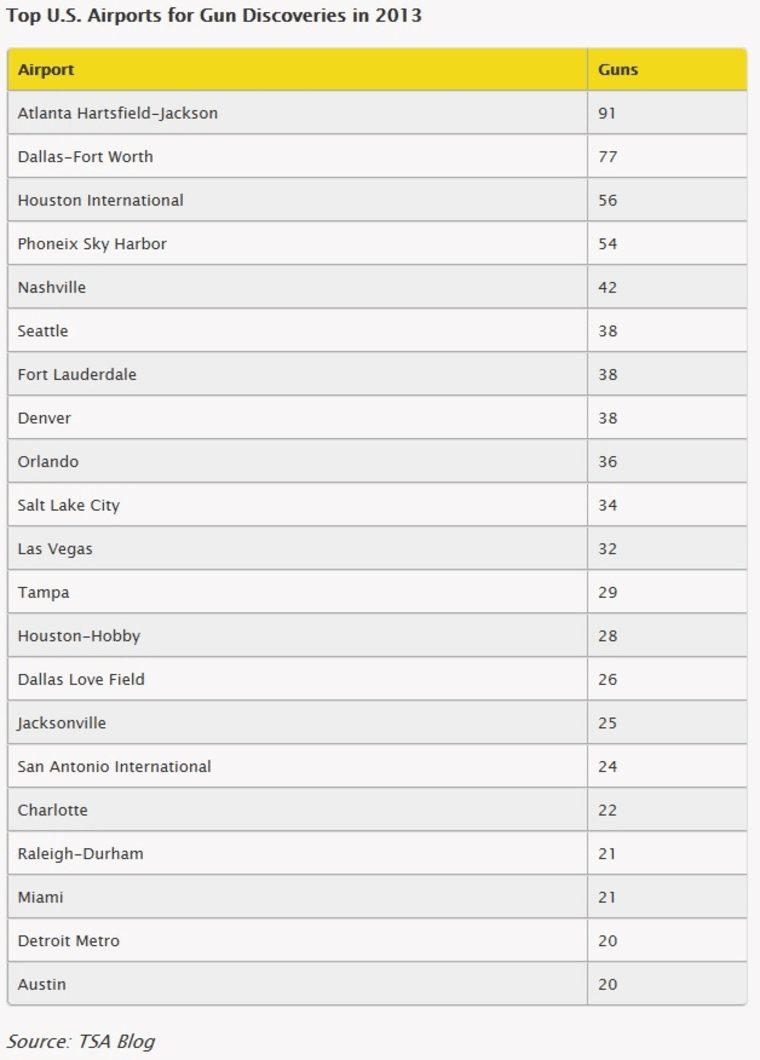 Atlanta, which is the U.S.' most-trafficked airport, is understandable in first place. But at Chicago's O'Hare, the second busiest airport in the U.S., agents only discovered twelve weapons. According to Feinstein, the TSA is working with local authorities to increase the signage about banned weapons in Atlanta and other high-profile airports.

New York City's three airports were responsible for only 14 weapons between them. (This doesn't include the Tennessee man arrested Saturday attempting to check weapons that were both illegal in New York and not packed properly.) Both Chicago and New York City have strict rules on handgun possession.
Some of the discoveries become high-profile ones: Ted Nugent's wife and 79-year-old NBA legend Bill Russell were the two most high-profile offenders this year, with the former being discovered with a loaded handgun at Dallas-Fort Worth and the latter showing up at Seattle's airport with a loaded .38-caliber pistol.
But most of the discoveries, since they happen in jurisdictions where weapons are legal, do not end with an arrest or jail time. Since the TSA has no power to arrest, local law enforcement is alerted and deals with the matter. The TSA does fine some passengers — amounts range from $250 to $11,000 for repeat offenders — and violations can prohibit a passenger from signing up for TSA's PreCheck or the State Department's Global Entry program for a period of time.
More content from Skift