It's been 21 days since Keya Strong last saw her younger sister, 25-year-old Chyna Crawford. 
It was Monday, October 23. "I was actually moving," Keya said, adding that she'd be living closer to Chyna, who lived alone in the Southeast Washington, D.C. area. "I came past the neighborhood and I ended up seeing her. And we stopped and we talked for a little while."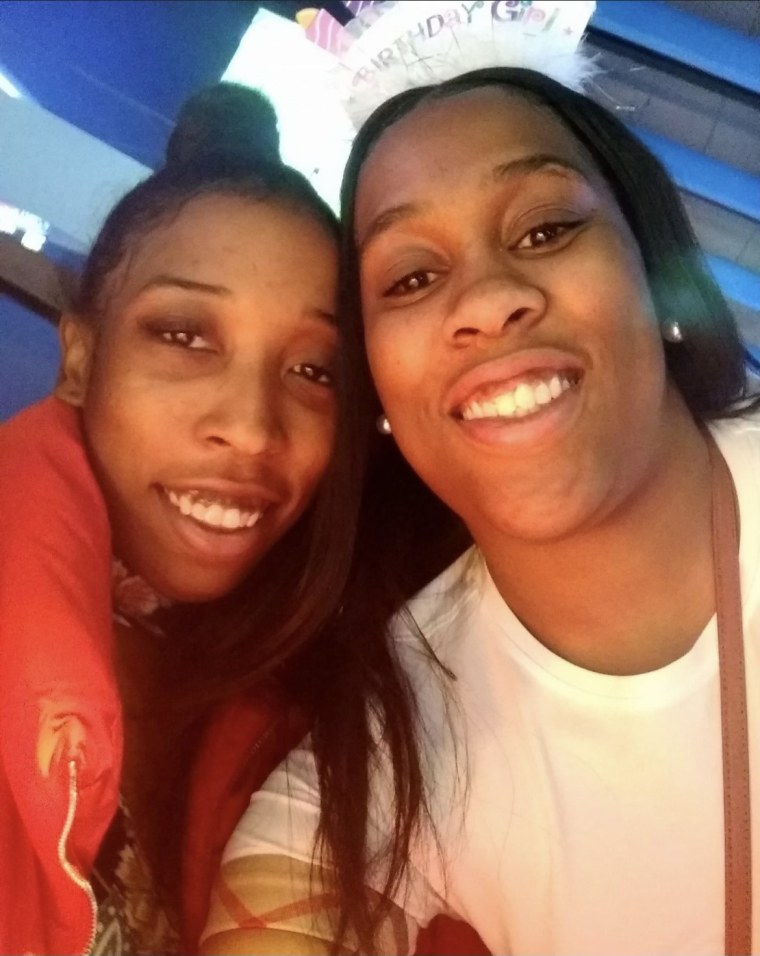 The sisters grew up in Washington. Chyna was the youngest of 5. "She's still young," Keya said. "She's still trying to find her way." 
"She's very independent, she's a go-getter," Keya said. "She can adapt to any situation."
"She's very blunt," Keya continued. "If she sees something that's not right, she'll speak on it or she'll help fix the situation." 
Keya told Dateline she didn't stay and chat with Chyna very long on that Monday evening, "I had to go take my things into my new place." But they were going to get together soon. "I was supposed to see her during the weekend," she said. 
But that didn't happen, because Chyna Crawford disappeared.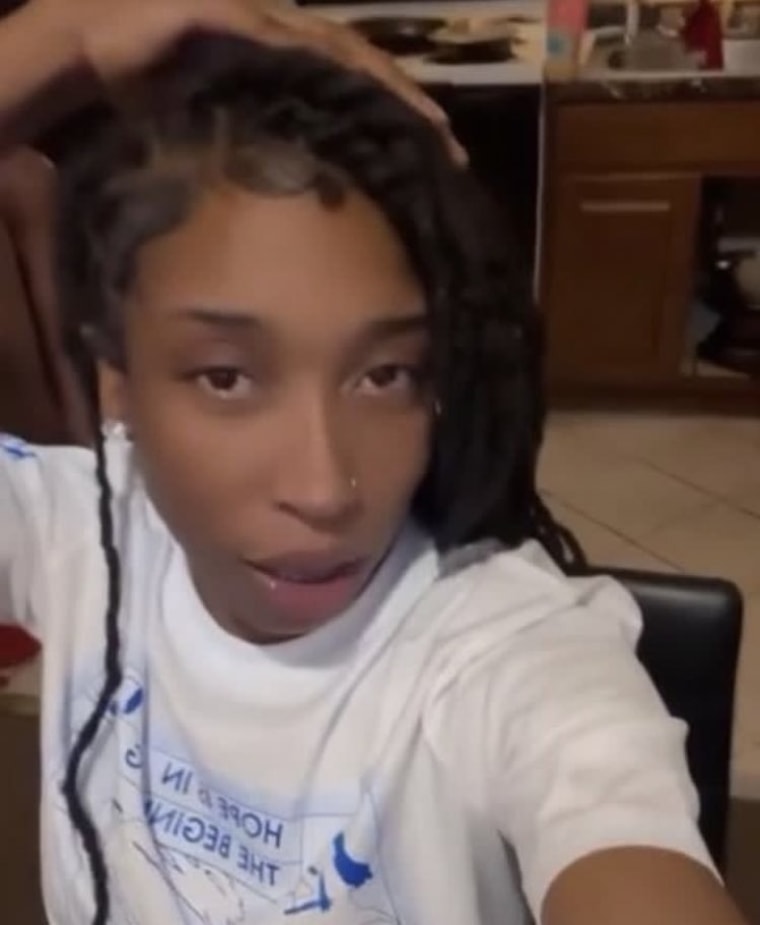 On Wednesday, October 25, Keya received a call from her mother. "My mother called on Wednesday and she said, 'Did I talk to Chyna?' And I said, 'Yeah, I just seen her the night before last,'" Keya told Dateline, adding that it was normal to go a day or two without talking to one another. Keya said that her mother told her that she was worried Chyna could be missing. Keya said she asked everyone she was with when her mom called if any of them had seen Chyna. "They're like, 'No,'" Keya said. They all checked Chyna's location, using the "Find My" app on their phones. "So when all of them check the location -- their locations for her -- it didn't show nothing," Keya said. 
According to Keya, her mother reported Chyna missing that day. She told Dateline that Chyna has never disappeared before and that it is out of character for her to be gone this long and have no contact with her family. 
On Friday, November 3, 2023, the Metropolitan Police Department posted a press release stating that authorities were seeking the public's assistance in locating Chyna Crawford. The release stated that Chyna was "last seen on Monday, October 23, 2023, in the 1600 block of Good Hope Road Southeast."
The release also noted that "Her vehicle, a gray 2012 Mercedes Benz CLS550 with Virginia temporary license plate 998859V, is also missing." Chyna's case is described as a "critical missing" person. 

According to The Washington Post, MPD recently moved Chyna's case from the missing persons unit to the "major case victims unit." The paper also stated that while there is no evidence of foul play, detectives believe there are "suspicious circumstances" regarding Chyna's disappearance. 
Dateline reached out to the Metropolitan Police Department for comment, and an officer confirmed that Chyna's case has been moved to the major case unit.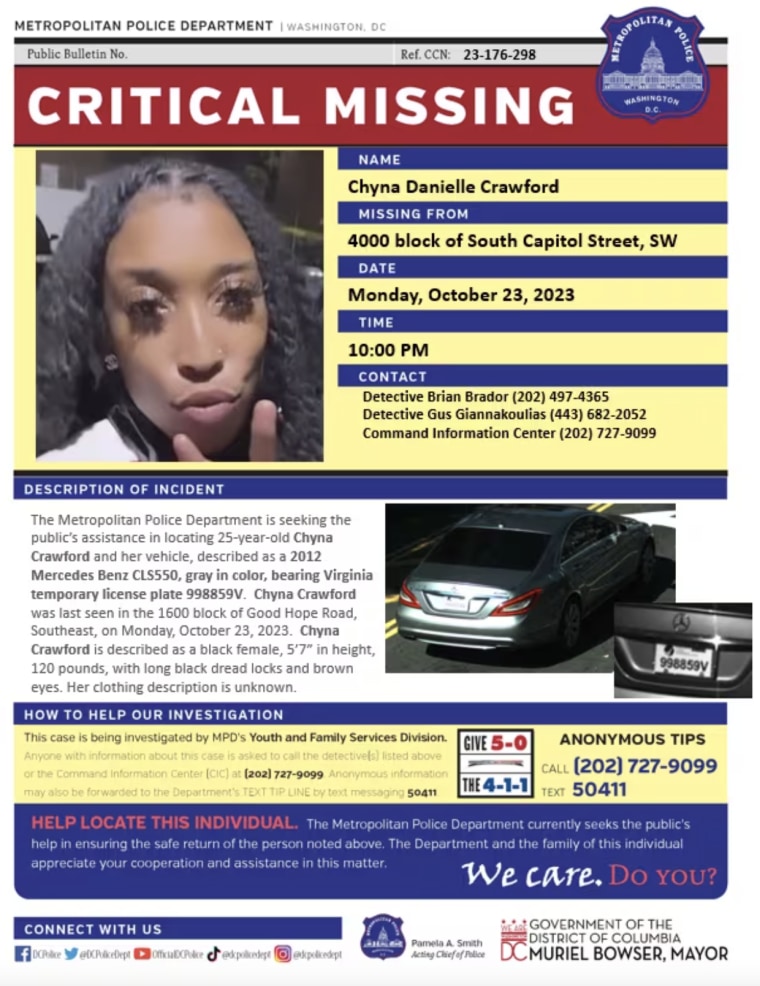 Keya said the family has been searching for Chyna nonstop since she disappeared. 
"I did coordinate two searches," Keya said. The first one was on Monday, October 30. "We went down Anacostia Park behind a railroad track, and we split up in two groups. One went one way and the other went the other way." 
They walked around Chyna's neighborhood and searched in the nearby woods. "Nothing was found," Keya said. 
Keya made fliers, too. "I printed out a lot of them... I did 100 and something," she said. "We started with those and hung them around the city." 
The second search was on Saturday, November 4. "Both times we did searches, we had a good amount of people that came out. So we did have a lot of support and love from a lot of people," Keya said. "People that we don't know from other states have showed their support. People then came out with their kids and came out and assisted us." 
According to Keya, nothing was found on that search, either. She told Dateline that she is grateful for the help and is currently trying to plan more searches. She is concerned that the weather is getting colder. "It's getting cold, I'm worried about her well-being," Keya told Dateline. "I can't eat because I'm thinking about, 'Have she ate?' I can't sleep because I'm thinking about, 'Have she had the chance to sleep?'"
But Keya and her family are not giving up hope. "Something in me tells me that she's still alive. I don't even have the thought in my head that she's not with us," she said. "Something in me tells me that she's with us."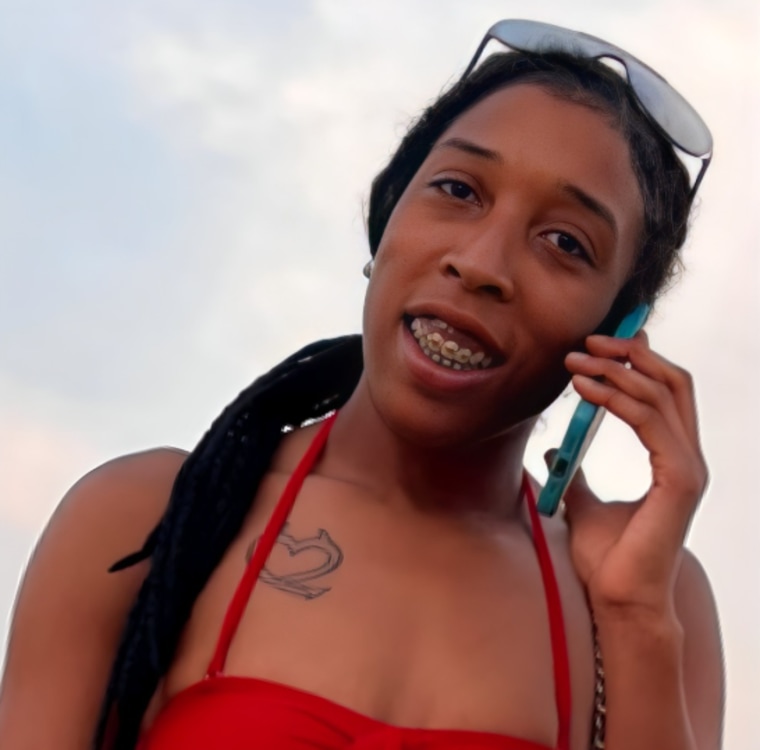 Regardless of the outcome, the family will not stop searching for Chyna. "We are going to continue, and I want everybody to know this," Keya told Dateline. "We're not stopping until we find her." 
The family has started a GoFundMe to help raise money for a reward. "It's a $5,000 reward that we're raising," Keya said. "This money will go towards whoever give us any credible information to lead us to where she at." They are also asking the public to share relevant posts about Chyna's case using the hashtag #FindChyna.
Chyna is 5'7" and weighs 120-130 lbs. She has dreads down to her waist, braces and two tattoos: the name Anthony on her hip, and a heart with devil horns on the right side of her chest. 
Anyone with information is asked to call the Metropolitan Police Department at 202-727-9099 or text tip to 50411.