"If anybody knows something please speak up," Veronica Garcia told Dateline. "It's been way too long without my sister, and it's been such a nightmare."
Arelie Garcia vanished a year ago. The 25-year-old was last seen in Salinas, California on September 22, 2022.
"Somebody has to have seen something," Veronica stressed.
Arelie grew up in Salinas with six siblings. "Arelie is the baby of everyone," Veronica said. "We're super close. Especially us three."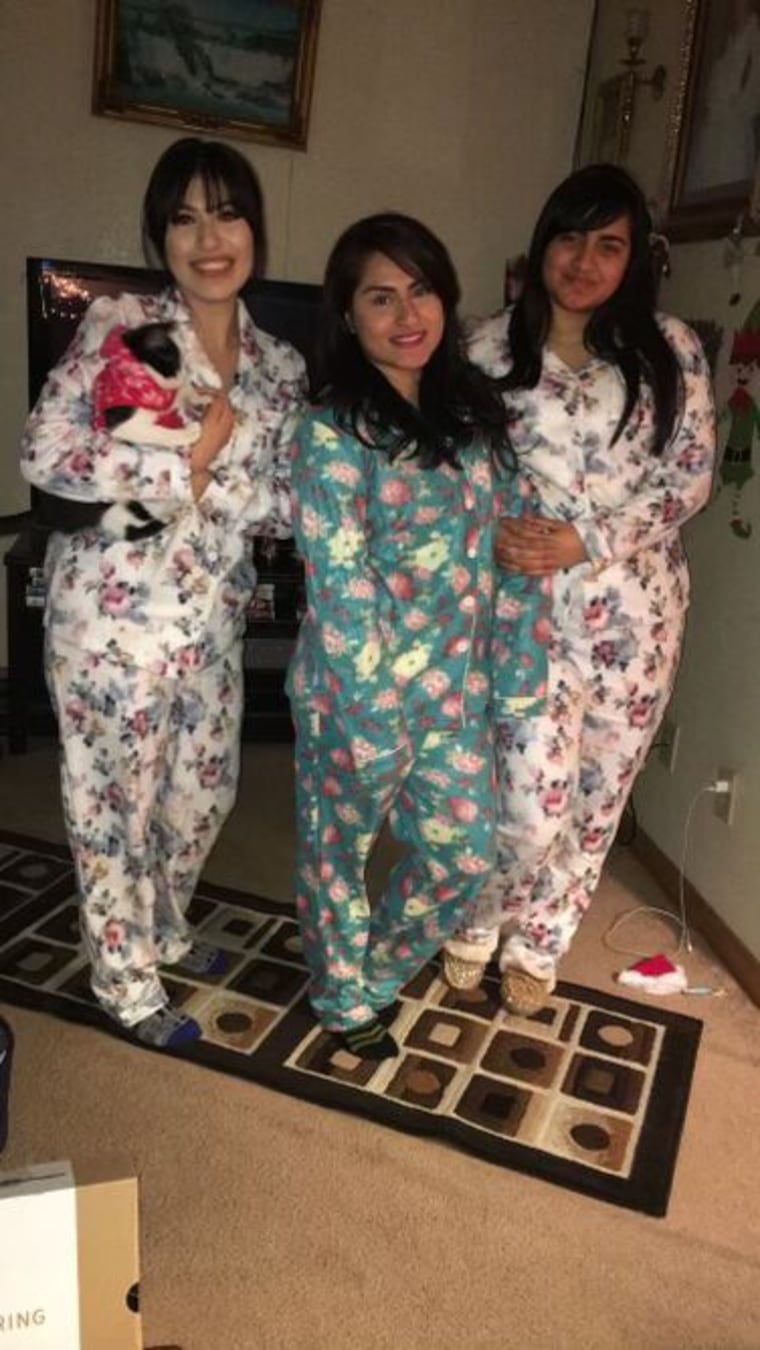 Veronica told Dateline that she, their sister Elizet, and Arelie are particularly tight-knit. "Shopping was one of [our] things to do together," Veronica told Dateline. "She would normally either take us or invite us to drink a Starbucks drink," Elizet Mendoza added.
According to Veronica, their sister is the type of person who is there for anybody and everybody. "She loves helping people," she said. "She goes out of her way." 
"She's very bubbly. She's always laughing," Veronica added. "It doesn't matter what type of day you're having if you see Arelie, you know you're gonna be laughing."
Arelie was living with their mother in Salinas at the time of her disappearance. The sisters Dateline spoke with are both married and living on their own but said they both spoke to Arelie that week.
Elizet said that she saw Arelie that Monday, September 19, 2022, when she went to pick-up a car seat at their mother's house. "That was pretty much the last time I saw her."
Veronica said she actually was in touch with Arelie on the 22nd, the day she disappeared. Arelie texted her around 6 a.m. that morning. "We would text each other almost every day. She pretty much said, 'Good morning, I love you,'" she recalled. "My little one --she says that's her baby -- so she would be like, 'I love you and the baby.'"
That was the last message Veronica got from her sister.
Arelie worked as a service advisor at My Chevrolet in Salinas. Elizet told Dateline that Arelie's job called her on the morning of September 22. "I got a call saying, well, from the manager saying that she never arrived -- if I knew anything because there was no sign of her," Elizet said. "And that is not something she would do." Arelie had been expected at work around 7 a.m.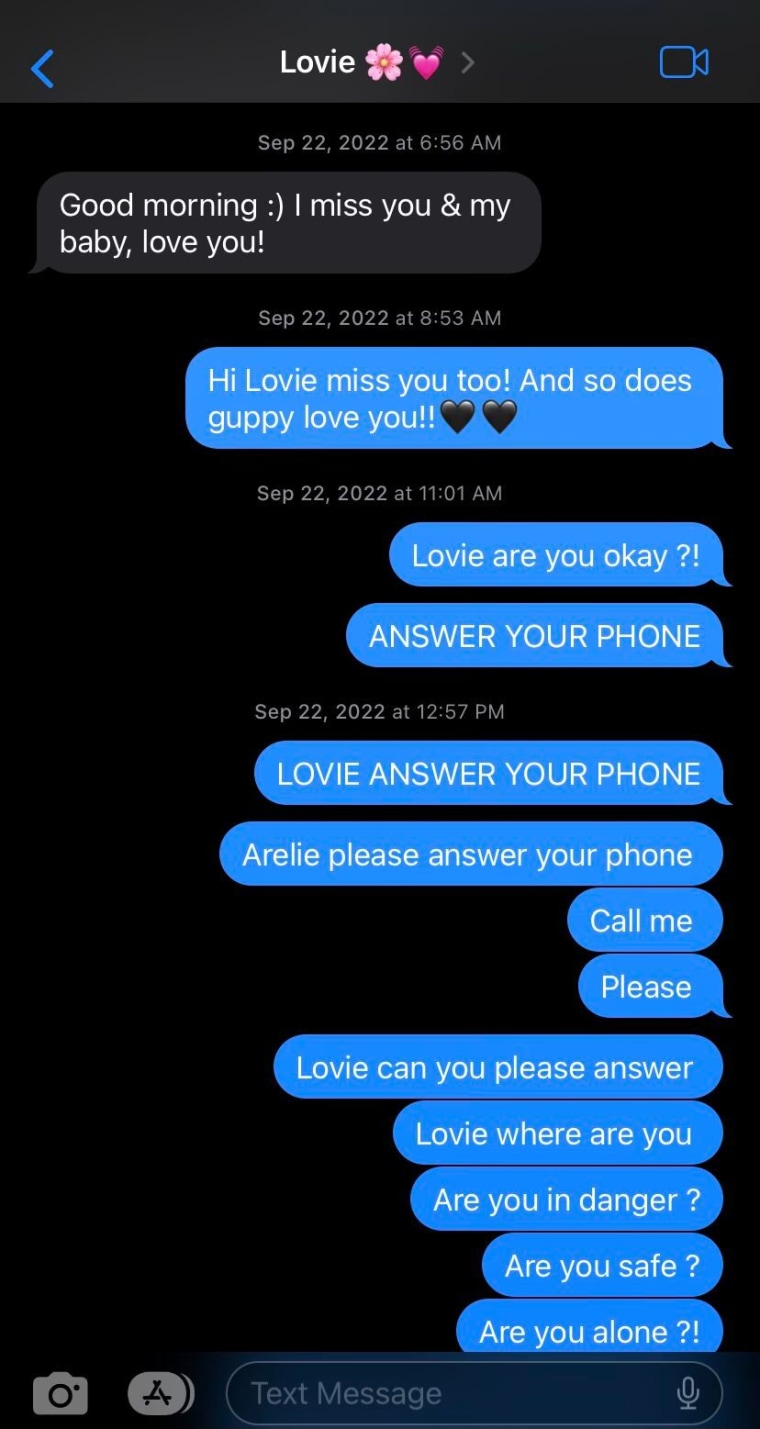 The sisters told Dateline that they started texting and calling Arelie but got no response. "We just panicked. We went to my mom's house -- we waited for her there," Elizet said. "We were trying to look at her room to see if there was any notes [or] anything strange, but everything was normal."
Both women said it was extremely unlike their sister to just go missing. "She would always tell us pretty much where she was going to be at," Veronica said. "So, it was very unlike her to just disappear out of nowhere."
Veronica said that she decided to log in to Find My iPhone to track down her sister's location. She said Arelie's phone last pinged to a location in Big Sur — about an hour away from Salinas. "We were really confused on why her phone would ping there since it's kind of far from Salinas," Veronica said. "So that's when my sister and her husband decided to drive over to Big Sur with the location."
Veronica told Dateline that while Elizet and her husband were driving to Big Sur, Veronica and her husband worked locally. "I went with my husband to the police department to file a missing person's report," she said.
Elizet and her husband arrived at the location in Big Sur and found Arelie's car, a bright red-wrapped Honda Accord, parked on the side of the road.
"Everybody in town knows that car because it's so bright," Veronica said. "Everybody knows it's her when she's driving around."
The car was locked and Arelie was nowhere to be found.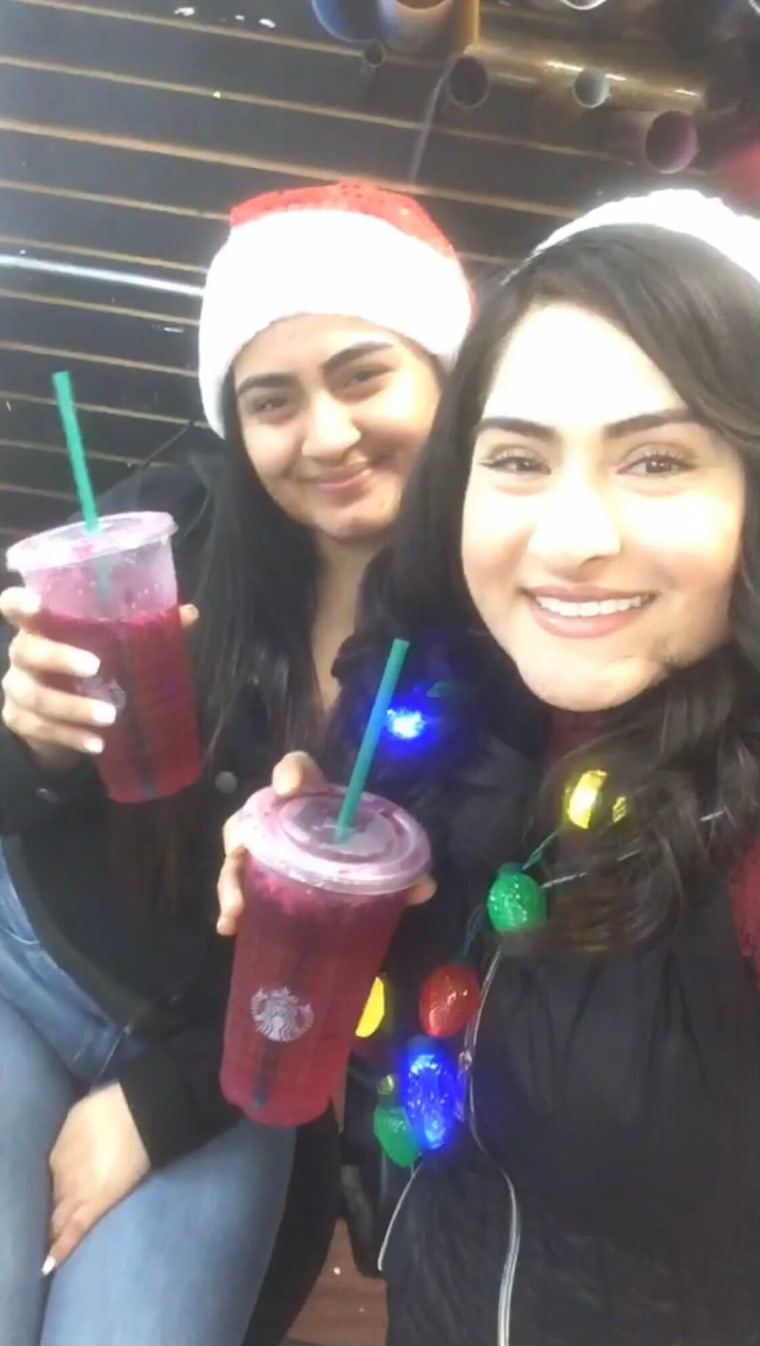 Elizet said that she and her husband had to drive about 10 minutes away to get a cell phone signal so they could alert the family. When they got back to Arelie's car, police were at the scene. "One of the officers decided to unlock the car and there's where we found out that the phone and her belongings were inside," Elizet said.
Detective Edwin Cruz with the Salinas Police Department is the lead detective on Arelie's case. He told Dateline in an email that surveillance video showed that Arelie left her residence alone in her vehicle on the morning of September 22. He added that, "no one approached her and there is no indication that her vehicle was followed."
He went on to say that detectives scanned footage and believe a vehicle matching hers passed the Carmel Highlands General store -- about 40 minutes away from her apartment, a route he said is consistent with where Arelie's vehicle was later found in Big Sur.
According to the detective, Arelie's vehicle was found on Highway 1 near the Little Sur River in Big Sur with her cell phone, wallet, and keys, all inside. He said at the time, there were "no obvious indications" of foul play.
"An extensive search was conducted on the day of her disappearance by the Monterey County Sheriff's search and Rescue Team by drone. This search was repeated the following day, 9/23/22 on foot by the Search and Rescue Team with the assistance of drones and a CHP airplane," Det. Cruz wrote. "Arelie was not located, and no evidence was found. This area was searched again on 10/2/22 by SPD Detectives, MCSO Search and Rescue, a drone, and a trained cadaver dog with no findings. MCSO has conducted additional searches since 10/2/22 with no success."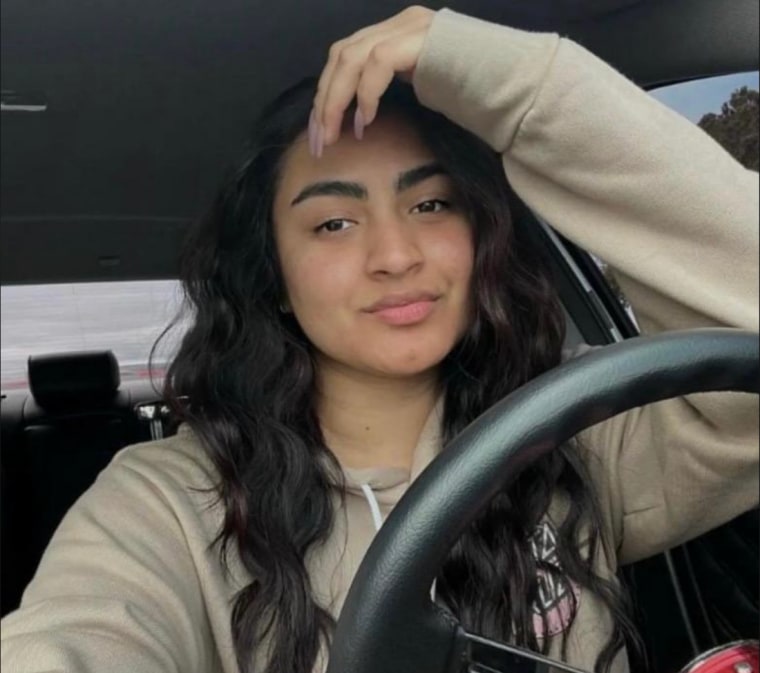 Arelie's sisters told Dateline that their family has done its own searches, as well. "We were planning searches, we have done protests, just to see if anybody touches their heart and comes forward and says, 'I know something," Veronica told Dateline. "But unfortunately, that's not the case."
Detective Cruz told Dateline that multiple search warrants for Arelie's electronic devices and bank accounts have been conducted and there has been no activity since the time she disappeared. "Detectives have [interviewed] 62 persons including Arelie's family, friends, and co-workers with no investigative leads," he wrote.
According to the detective, Arelie's case is an ongoing and active investigation.
Elizet and Veronica told Dateline that, initially, they were frustrated with the investigation into their sister's disappearance. "In the beginning, we were just left in the dark, not knowing what to do, not getting no answers. It was very sad and frustrating," Veronica said. "They kind of cut us off in a way."
But now, the sisters believe that with Detective Cruz on the case, their family might just get the answers they are desperately seeking. "We're seeing a lot more progress with this [detective]," Veronica said.
The sisters told Dateline that they don't know anyone who would want to harm Arelie. "We have no idea. She would always, well, at least from what we saw — she would get along with anyone," Elizet said.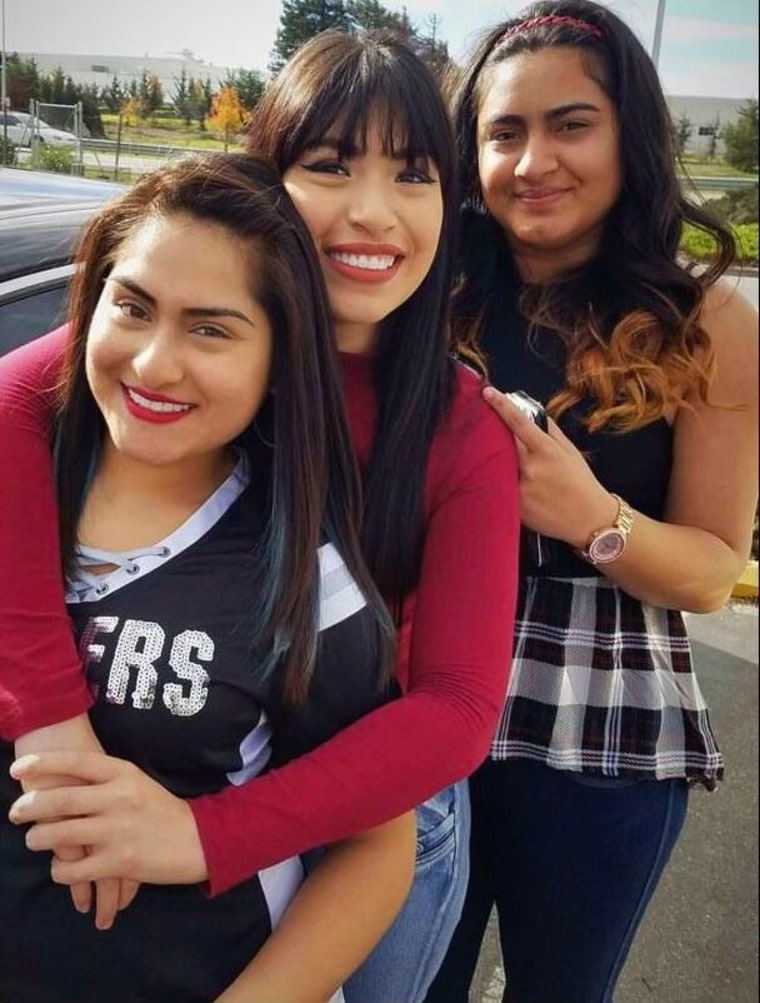 They said they don't believe detectives know either. "They don't know anything, which is really weird. All the cameras -- there's no evidence. So it's just a very mysterious case," Veronica said.
This year, on the anniversary of Arelie's disappearance, her family held a vigil for her at Closter Park in Salinas. "We did a candlelight [vigil] and followed it by a mass… in the St. Mary of Nativity Church," Veronica told Dateline. "It was pretty much to keep spreading awareness."
Other ways the family gets the word out is through their Instagram page, website, and Google toolkit — all dedicated to bringing Arelie home.
"Keep spreading her story out, repost any picture, attend any marches we might do next," Elizet told Dateline as a message to the Salinas and Big Sur communities. "I feel like the more people, it would give more impact."
Arelie is 5'5," about 150 lbs., with brown hair and brown eyes. She was last seen wearing a black hoodie and black leggings.
Anyone with information is asked to call Detective Cruz with the Salinas Police Department at 831-758-7393 or the anonymous tip line at 831-775-4222.