Want to see a first-run movie tonight? If it's the new Olivia Wilde comedy "Drinking Buddies," you can catch it on opening night at an arthouse theater, or you can plop down on your own couch and order it up on your own TV.
"Drinking Buddies" is just the latest first-run independent film available in theaters and for home video on demand at the same time. In the film's case, it was actually released on demand in late July and opens theatrically in New York and Chicago on Aug. 23, with other cities to follow.
Unlike indie theatrical releases that are generally limited to specialized big-city venues, video on demand doesn't discriminate. Titles are typically available via major cable companies, DirecTV and such digital outlets as iTunes, Amazon Instant Video, Vudu, Xbox and PlayStation.
"It's all about accessibility," "Drinking Buddies" director Joe Swanberg told NBC News. "I like to think about myself as a high school student when I was first falling in love with movies and really paying attention to world cinema. It was so hard to see that stuff. You would read about it, if it premiered at Cannes or Sundance or something, you knew the work existed, but it may be a year and a half before it made it to the nearest big city. If VOD had existed back then I would've been able to be so much more a part of the conversation. The cinephile community is so much bigger than just the major cities, it's so exciting to provide that kind of access."
Following in the footsteps of successful trendsetters including Richard Gere's legal thriller "Arbitrage" and Kevin Spacey's Wall Street crisis drama "Margin Call," more and more filmmakers and distributors are lining up to offer their films on demand the same time -- or up to a month before -- they open in theaters. 
"Each year the number of people who are comfortable sitting down and ordering a new release on their TV goes up," Swanberg said. "So the audience grows and grows."

While hard numbers are difficult to come by -- distributors typically only release on-demand grosses to tout successes, as with the eye-popping $11 million haul for 2012's "Arbitrage" -- it's no secret that many of these releases make money. And they do so with a fraction of the advertising budget needed for traditional theatrical runs.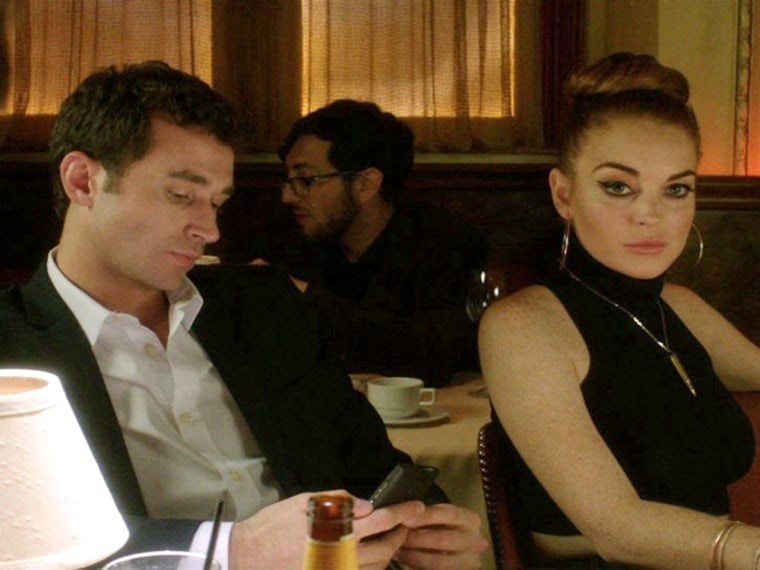 "VOD has actually opened up a new space where it feels like independent films can actually play at the same level as studio projects," Swanberg said. "In terms of putting them on cable systems and iTunes -- where on any given night, 40 million people in America have access to this movie and it's playing on the little 30-minute loop of coming attractions the same way that a Tom Cruise movie is."
It still helps to have a big-name cast or concept. That's borne out by some of the most significant recent VOD releases including porn star biopic "Lovelace" starring Amanda Seyfried, ultra-violent action drama "Only God Forgives" starring Ryan Gosling (both released by The Weinstein Company's VOD-friendly division RADiUS) and celebrated auteur Terrence Malick's "To the Wonder" starring Ben Affleck and Rachel McAdams.
When VOD pioneers IFC Films acquired Paul Schrader's controversial erotic thriller "The Canyons" starring tabloid fixture Lohan, the company set about making it a "must-see VOD" title according to president Jonathan Sehring. As Sehring told The Hollywood Reporter prior to the movie's joint VOD and theatrical bow earlier this month, "Paul thinks, and I don't disagree with him, that aside from the types of movies the studios are doing, the big tentpole things, (VOD in conjunction with theatrical) is going to become the new normal. Today we're talking about 'The Canyons,' but more and more filmmakers are going to be talking about this model."
Except, of course, for the major Hollywood studios. There's a reason the on-demand trend has so far been an indies-only proposition. The biggest theater chains, including AMC and Regal, insist on a 90-day window between a film's theatrical release and any kind of on-demand play. When Universal floated the idea of offering the 2011 Ben Stiller/Eddie Murphy comedy "Tower Heist" on demand at a premium price within a few weeks after opening, the exhibitors vowed to ban the movie from their screens. Universal backed off, and no major studio has even discussed it since. (There's a little experimenting in the VOD realm happening in South Korea with big titles including "Brave" and "Django Unchained," but U.S. audiences shouldn't read that as a sign of anything to come locally.)
The advantages of the current on-demand model are obvious for film fans: you're watching at home, with your own snacks, friends and comfortable seating. On-demand movies are typically around $10 for pre-theatrical releases and $7 for theatrical releases, compared to the average single movie ticket price of $8.38. 
But questions linger about what impact the strategy has on a film's box-office take. Examples like "Arbitrage" (which drew $7.9 million in theaters, in addition to its reported record $11 million on-demand take) and "Margin Call" ($6 million on VOD and another $5.4 million in theaters) are rare. Other notable VOD hits have stalled in theaters, including "Bachelorette" ($5.5 million on VOD but under $500,000 in theaters) and "All Good Things" ($6 million on VOD, $600,000 million in theaters). With its emphasis on VOD viewing, "The Canyons" has flatlined, earning under $50,000 in theaters.
Swanberg is hoping for the best with "Drinking Buddies," and despite his enthusiasm for VOD remains resolutely dedicated to a traditional viewing experience: "I'll make no bones about it, watching a movie in a theater is a better way to watch a movie," he said. "Nobody will ever present a compelling argument to me why that isn't the best way to see a movie. But it doesn't mean that the other ways of seeing movies are invalid."