A high school valedictorian who got into 12 colleges, including all eight Ivies, has decided which school she will go to in the fall.
Augusta Uwamanzu-Nna, 17, of Long Island, New York, said Monday she will be joining the Harvard University Class of 2020.
The daughter of Nigerian immigrants, Augusta said she wanted to find a place that would be a second home and support the Nigerian values her parents taught her.
"At Harvard, I felt like the community there really is supportive of me and what I see myself doing, in terms of becoming a leader and realizing my full potential as an African-American woman of today," Augusta said.
Augusta knew she could find what she wanted to do academically at any of the schools, so her decision came down to where she could see herself fitting in socially.
"I was really captivated by the strong presence of not only the black community, but the Nigerian community, and how everyone was really proud to show their culture," said Augusta, who was introduced to organizations, including the Nigerian Students Association and the African Students Association, on one of her visits.
RELATED: Detroit Teens Compete to Make Debate History
Although it had no bearing on her decision, Augusta said the fact that First Daughter Malia Obama chose the same university speaks highly of Harvard.
"I'm sure she had numerous options, but the fact that she chose to attend Harvard kind of attests to something that's happening at Harvard that's really enticing applicants to actually commit," Augusta said.
In addition to all the Ivies, Augusta was accepted to Johns Hopkins University, Massachusetts Institute of Technology, New York University and Rensselaer Polytechnic Institute. Choosing one, and conversely saying goodbye to the other 11, was not easy, and Augusta waited until May 1 to officially commit.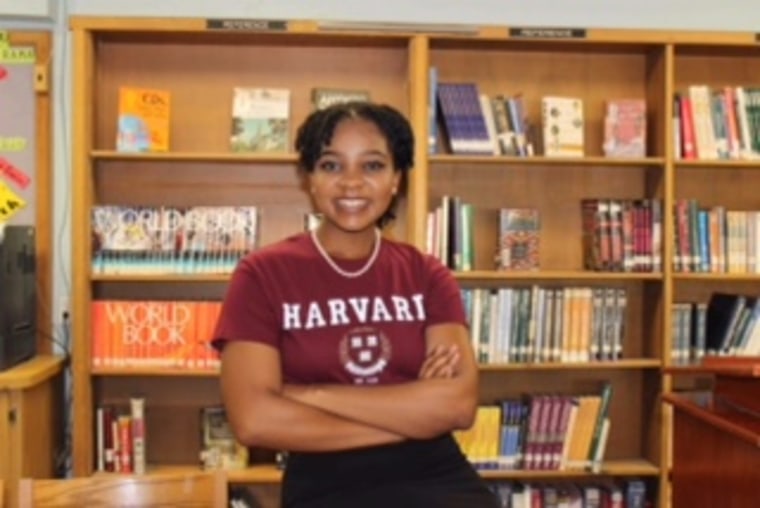 Now she feels a sense of relief. With just a few more exams to go before graduating in June, Augusta is looking forward to the summer, when she plans to spend time with her friends and recharge.
Aside from maintaining a 101.64 weighted-grade point average at Elmont Memorial High School, she was named a finalist in the 2016 Intel Science Talent Search.
Her research on cement and oil wells led her all the way to Washington, D.C., this spring, where she presented her findings at President Barack Obama's annual White House Science Fair.
RELATED: Malia Obama to Attend Harvard University
She said she plans to delve further into sustainable development and pursue biochemistry and environmental studies at Harvard.
Augusta thanked God, her family, and the teachers and community at Elmont Memorial High School before announcing Harvard as her pick at a press conference Monday.
Her high school has a strong track record when it comes to college applications: Last year, another senior, Harold Ekeh also scored eight Ivy acceptances.