Students at the Massachusetts Institute of Technology are using their coding skills for an important cause: lowering the suicide rate at their school.
In the past decade, there have been 12 suicides among MIT graduate and undergraduate students, according to the Boston Globe. While the university has instituted its own initiatives to support mental health, three students took it upon themselves to go a step further.
Through an anonymous texting hotline called Lean On Me, anyone in the MIT community in need of support can reach out at anytime and connect with a peer — which can be just as important as getting help from a professional, says MIT sophomore Andy Trattner, one of the hotline's creators.
Trattner's mother died when he was 10 years old, and he and his sister were sent to a therapist to help them with their grief. But that wasn't what Trattner needed, he said.
"It was really ineffective for me, because I didn't have anyone who was a peer to speak with," Trattner, 20, said.
So last fall, when he and fellow MIT students Nikhil Buduma, 21, and Linda Jing, 20, came together at MIT's annual HackMIT hackathon with the intent to build something that could help support students' mental health, Trattner wanted to make sure it would provide that kind of authentic peer connection.
"If we can help even one person so that they feel like there is someone on campus who supports them — even if they don't know who that person is — they might feel better."
"I wanted to find a way to create a safe space where students could get past the trivialities of 'How are you? What classes are you taking?' and really get to the core of each other," Trattner told NBC News.
Special report: Get tips and advice about college at College Game Plan
The result of the trio's 24 hours of brainstorming and work at the famed hackathon was Lean On Me, which allows people in the MIT community to connect with a trained "peer supporter" through text message exchanges when they're struggling with the pressures of college course loads and relationships.
"There are certain issues that people just don't feel comfortable talking about in person, but if you can give them a sense of anonymity, they feel a lot safer expressing their vulnerabilities," said Buduma, who wrote the first iteration of the app's code.
Lean On Me works, Buduma said, because it "lowers the activation energy to zero": Instead of worrying whether or not their problems are big enough to warrant professional help or hassling with scheduling appointments, students can text the network and instantly match with a peer supporter who has familiarity with issues central to the MIT experience.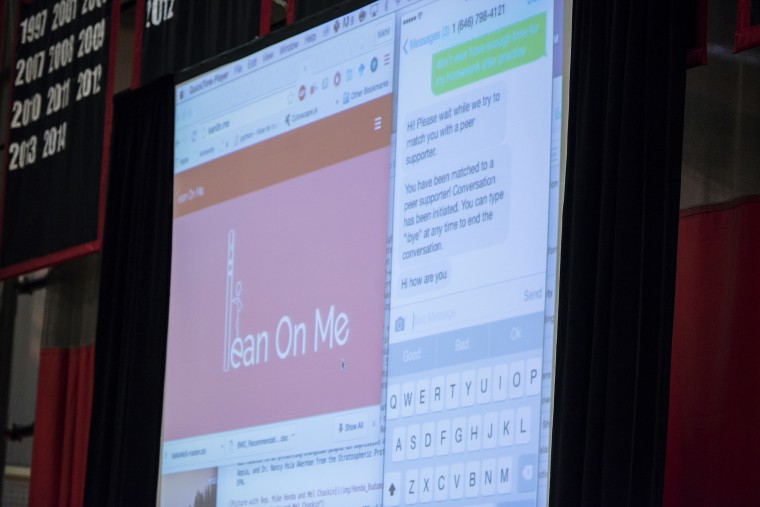 The texting model is also effective because makes it easy to filter spam and block numbers if necessary while also maintaining the users' anonymity, Trattner said.
Related: Middlebury College Bans Energy Drinks, Linking Use to Alcohol, 'High-Risk' Sex
Peer supporters are vetted by Lean On Me staff and trained using videos and material available on their website as well as a two-hour training session taught in part by Libby Mahaffy, the Assistant Director for Conflict Management at MIT. Central to their peer support philosophy is the "hurricane video" on their website, in which Mahaffy explains that when someone tells you their problems, it can look like a hurricane at first.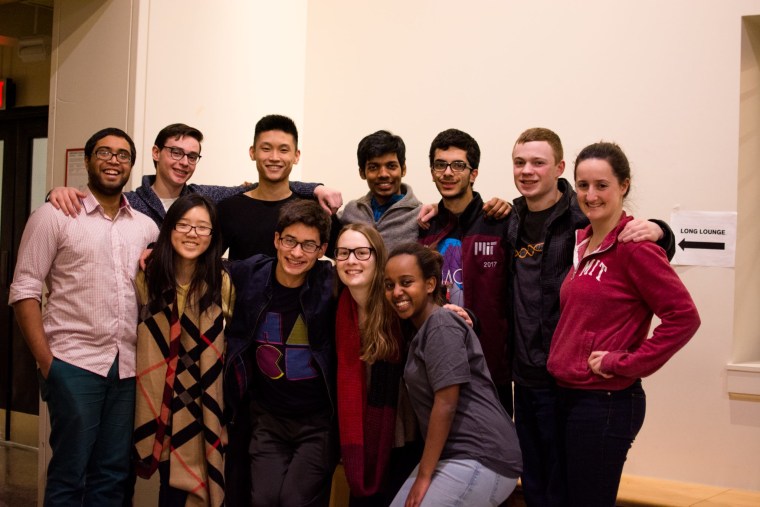 "Your first instinct might be to ask how hard the wind is blowing, or in which direction, but that's wrong," Trattner said. "That person in the hurricane just needs someone to be with."
MIT is also doing its part to help students' well-being.
"Peer-to-peer support complements the administration's comprehensive short and long-term response because the data show students want to connect with their friends or peers, and that peer-driven support can have positive impacts," Kimberly Allen, Director of MIT's Media Relations, told NBC News.
Related: Don't Fall for These Five Misconceptions About the SAT and ACT
Lean On Me has only been officially up and running since February, but is already seeing a steady stream of use. The Lean On Me founders are now applying for non-profit status and speaking to other colleges and organizations about implementing the texting service within their own communities.
"We're hoping that this can have a type of 'Butterfly Effect,'" said Jing, who shared a class with one of the women who committed suicide last year. "If we can help even one person so that they feel like there is someone on campus who supports them — even if they don't know who that person is — they might feel better and more comfortable, and that comfort might spread."