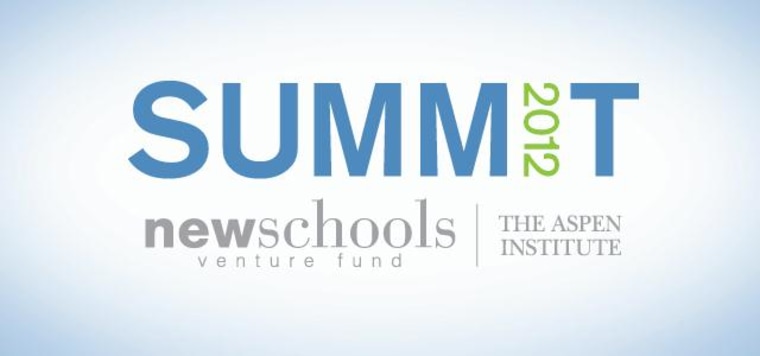 Education Nation joined NewSchools Venture Fund for their annual NewSchools-Aspen Institute Summit in San Francisco, CA.
The NewSchools Venture Fund-Aspen Institute Summit on Education Innovation #nsvfsummit
The NewSchools-Aspen Institute Summit is the leading event on education innovation nationally. The Summit aims to showcase ideas and organizations that can bring transformative change to public education in low-income communities. Through a partnership with NBC, content from this invitation-only event is available nationally for the first time.
Watch video of the panels held at the event below.
Education Nation San Francisco Panels
Entrepreneurs have brought disruptive innovation not just to private enterprise, but to areas of public good from energy to medicine with major benefits to the public. Yet education has been slow to learn from the work of entrepreneurs in other sectors. Extraordinary entrepreneurs focused on key areas of public good, health care, green energy, and food and nutrition will share their stories, lessons, and advice.
Speakers
Rushika Fernandopulle, Iora Health
Danny Kennedy, Sungevity
Kristin Groos Richmond, Revolution Foods
Moderator
Kim Smith, Bellwether Education Partners
Watch the panel in its entirety here!
Roland Fryer's Apollo 20 project is working to translate charter practices into district successes in Houston, and it's demonstrating exciting early results. What's happening there, and can it work elsewhere?
Speakers
Roland Fryer, Harvard University, Education Innovation Laboratory
Tom Boasberg, Denver Public Schools
Moderator
Carlos Watson, Goldman Sachs
Watch the panel in its entirety here!
Race to the Top spurred a flurry of policy enactments and other ambitious reform commitments. Entrepreneurial organizations feature prominently in many of these reforms. Two years into this endeavor, what have we learned? What are the most promising developments, and where is the work off-course or struggling? What have entrepreneurial organizations learned about working "inside" the system, and how should they approach Race to the Top Round 3?
Speakers
Joanne Weiss, U.S. Department of Education
Mitch Chester, Massachusetts Department of Elementary and Secondary Education
Jean Desravines, New Leaders
Respondents
Chris Cerf, New Jersey Department of Education
Michael Petrilli, The Thomas B. Fordham Foundation
Moderator
Watch the panel in its entirety here!
A wave of leaders from entrepreneurial organizations has moved to head up large traditional systems. Now that they are there, how their views changed, and how do they see innovative organizations fitting into their reform agenda? What do they wish outside organizations would do now that they are on the other side?
Speakers
Cami Anderson, Newark Public Schools
Kaya Henderson, District of Columbia Public Schools
Chris Barbic, Achievement School District, Tennessee
Moderator
Jim Blew, The Walton Family Foundation
Watch the panel in its entirety here!
A conversation between key leaders of the Republican and Democratic parties on the federal role in education, the future of No Child Left Behind, and how the 2012 election will affect education reform.
Speakers
Senator Michael Bennet
Secretary Margaret Spellings, Margaret Spellings & Company
Moderator
Watch the panel in its entirety here!
Speaker
Rahm Emanuel, Chicago Mayor
Watch the session in its entirety here!