Fourteen-year-old football star Jabez Spann had nothing but opportunities in his future. But as the search for the missing Florida teen reaches the three-month mark, his family is left with nothing but questions.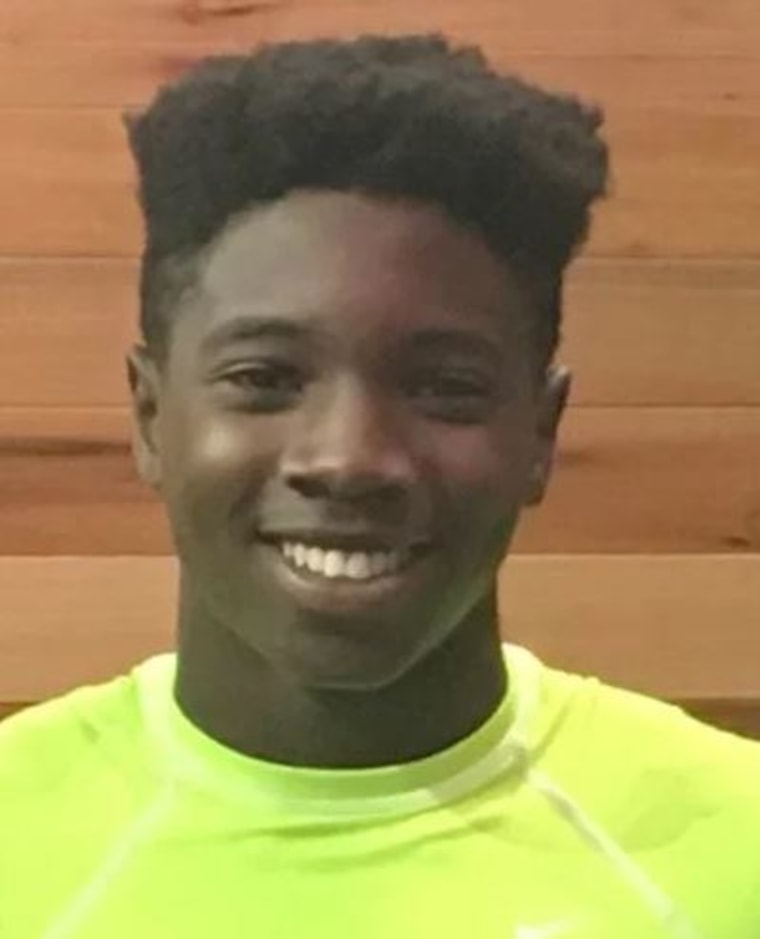 Jabez was last seen on September 4, 2017 in his hometown of Sarasota, Florida. His mom, Tawana Spann, told Dateline she spoke to him that night. Tawana told Dateline that the next morning, Jabez's maternal grandmother, with whom he lived, grew worried when she learned he hadn't gone to school.
"He was a teaching assistant and a star football player," Tawana said. "His career and football was what he really thrived off, so when he didn't go to school, that's when she got worried."
Tawana stayed up for the next 24 hours, trying to figure out where her son could be. She contacted all of his friends – nobody knew where Jabez was. Tawana called the police to report her son missing.
"They put out a missing person's alert – but then Hurricane Irma hit," she said. "When Irma hit, that was the last time his cell phone pinged. After the hurricane, they realized this young man is missing for real."
"We've done all sorts of searches, and have partnered with the FBI and the Florida Department of Law Enforcement to do that," Genevieve Judge, Public Information Officer for the Sarasota Police Department, told Dateline. "Unfortunately, at this point, they have not come up with anything of significance."
According to Tawana, just as the family was wrapping up a search in late October, a man approached them and wanted to help. Their efforts for that day were done, but the man, Reginald Parker, said he had information that could help them: he said he knew why Jabez disappeared.
Reginald said that, on August 28, he had witnessed the fatal shooting of Travis Combs in Sarasota. He said he wasn't the only witness, though – he said Jabez was there, too.
"He told us that Jabez was coming out of a friend's house when [Travis] was shot," Joseph Randall, a private investigator working Jabez's case, told Dateline. "Jabez yelled something along the lines of, 'Y'all shot him!'"
Parker told the private investigator that while the suspects in Travis's death saw Jabez at the scene, they didn't see him. One of the suspects then allegedly drove off in the car and the others fled on foot.
Because of this account, Jabez's family believes Jabez disappeared because he saw who killed Travis.
"We have people who we suspect [are responsible for Jabez's disappearance]," Randall told Dateline. "But we're still gathering evidence to put the nail in the coffin."
A few days later, on November 1, Reginald relayed this same story to the Sarasota Police.
On November 7, though, police arrested Reginald, a sex offender, for failing to report that he vacated a home within 48 hours, which is mandatory for sex offenders to report. He failed to appear in court for the violations and was taken into custody. In a subsequent police interview, according to a release by the department, Reginald "denied that he witnessed Travis Combs's murder." He also denied ever telling the private detective the story about seeing Jabez at the scene.
Sarasota Police have since charged Reginald with accessory after the fact of Travis's murder. Sarasota Police PIO Judge told Dateline that doesn't mean police are discounting a possible connection between the two cases.
"Both of these those cases are still open and active," Genevieve said. "There are different detectives working each case, but they're working hand in hand with each other as the investigations continue."
No arrests have been made in Jabez's case.
Jabez's mom Tawana says the fact that Jabez seems to have been in the wrong place at the wrong time is especially painful, because involvement with crime is exactly what Jabez was trying to avoid.
"He has an older brother serving 15 years and another who just got out of a program," she said. "One of the main things he didn't want to do was follow in those footsteps."
Jabez is described as being 5'9" and about 120 lbs. He was last seen wearing a turquoise t-shirt.
There is a $25,000 reward being offered for information leading to Jabez's whereabouts. The FBI is contributing $19,000, FDLE is contributing $5,000 and the Sarasota Police Department is contributing $1,000. Anyone with information on this case is asked to call Sarasota Crime Stoppers at 941-366-TIPS or private investigator Joseph Randall at 941-780-2175.