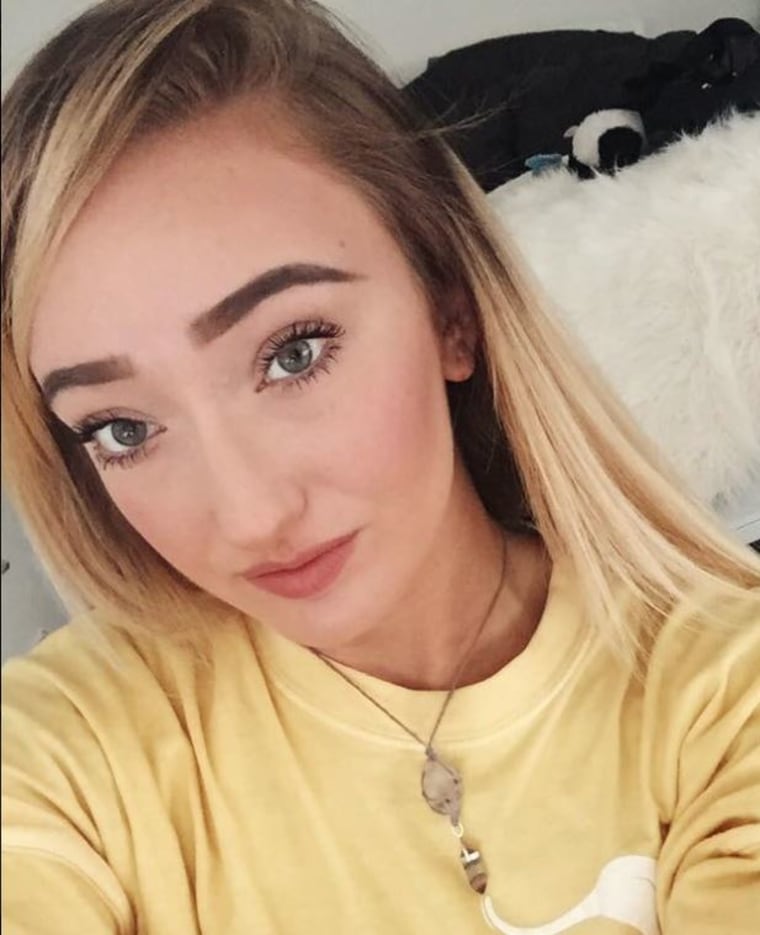 The last time anyone heard from Toni Anderson was in a text sent in the middle of the night.
"Omg I just got pulled over again," it read.
But in the nearly three weeks since that text was sent, no one has heard from Toni, and her family and friends are in a state of shock.
"With these types of cases, we know you only have so much time before it's too late," Jared Morton, a friend of Toni's, told Dateline. "It's been too long already and we're just really worried.
Toni was last seen around 4:30 a.m. on Sunday, January 15. The 20-year-old left her serving job at Chrome, an adult entertainment club, and was reportedly headed to meet friends across town. But she was pulled over on her way by a North Kansas City police officer for an illegal lane change.
Authorities said Toni told the officer she was almost out of gas. He let her off with a warning, and pointed her in the direction of a nearby QuikTrip store.
At 4:42 a.m., one of Toni's close friends, Roxy Townsend, received that text, "Omg I just got pulled over again." It's unclear if that text was sent in reference to the North Kansas City officer's stop or if Toni had been pulled over again after that.
"There have been many reports of cars in Kansas City impersonating police with lights or sirens so now I'm not sure about what "again" means," Roxy told Dateline.
Officials reportedly have no record any other officer pulled Toni over that morning.
What is known, is that Toni never returned to the apartment she shared with her boyfriend of more than two years, Pete Sanchez. The couple moved to Kansas City from Wichita several years earlier.
Toni was set to start classes at the University of Missouri-Kansas City the following Tuesday, something her loved ones have said she was extremely excited for. She was working as a music blogger, and had several work trips scheduled as well.
There is no indication that something may be wrong in Toni's life, according to Jared Morton, who is a close friend to both Pete and Toni. He told Dateline the Toni he knows would never disappear on her own.
"She would never do that to Pete. She would never break his heart like that," Jared said. "There was no sign she packed up in a hurry, and everything was left at their place. It's terrifying because we know something had to have happened to her."
Toni's friends are hoping their latest effort may soon bring some answers in the case. They are petitioning police to release footage of the last known whereabouts of Toni, including the dash-cam footage from when she was pulled over. The online petition has garnered nearly 2,500 signatures as of Monday afternoon.
Kansas City Police have said that, because the case is active and ongoing, the footage will not be released until the case is closed.
When asked why they are pressuring police to release the footage, Jared told Dateline, "Let's just say we want things to be confirmed for us and be sure everything is out there. It would put us at ease that something corrupt isn't going on."
Few clues have been found in the case, and authorities have not released whether they've located any significant pieces of evidence. Toni's 2014 black Ford Focus with licenses plate 989 GAX also remains missing.
"We don't know if foul play is involved or not," Sgt. Kari Thompson of the Kansas City Police Department told Dateline. "We have nothing to suggest it has or has not. We are investigating this as we do every other missing person case we get. Our goal is to have her home safe."
Rumors have begun to spread online about Toni and her case. Her loved ones are trying to ignore what they call hurtful and useless postings. Toni's friend Jared said their message is simple: Just find Toni.
"We want things to be truthful that are out there, but let's just find Toni. Say what you want about her, or her friends, or whatever," Jared said. "But let's just bring her home."
Toni Anderson is described as 5'4" tall, weighing 140 lbs. with blonde hair and green eyes.
Anyone with information regarding her case is urged to contact the Kansas City Police Department's tip line at (816) 474-TIPS