Growing up, the big yellow "Magic School Bus" symbolized the wonders of the world around us. It sprouted rockets to visit the stars, became a submarine to cross oceans and could shrink to enter a human body. However, there's a new bus in town, and the bright orange monstrosity is certainly not about opening anyone's eyes. In fact, it's trying to do quite the opposite.
The "Magic Fool Bus," as I've coined it -- because it deliberately spreads ignorance -- is touring the East Coast this week to spout its anti-transgender message from Boston to Washington, D.C. Each side of the bus reads, "It's Biology: Boys are boys… and always will be. Girls are girls… and always will be. You can't change sex. Respect all." The message also calls on passersby to "Sign Now To Defend Freedom of Speech" and provides the web address www.FreeSpeechBus.com.
The organizers of the U.S. bus tour are the notoriously anti-LGBTQ National Organization for Marriage (NOM) along with the International Organization for the Family (IOF) and CitizenGo. The U.S. campaign closely resembles one launched in Spain last month, which was put together by CitizenGO and local religious extremist group Hazte Oir (Make Yourself Heard). Spain's "Magic Fool Bus" is currently under investigation for violating the country's anti-discrimination laws.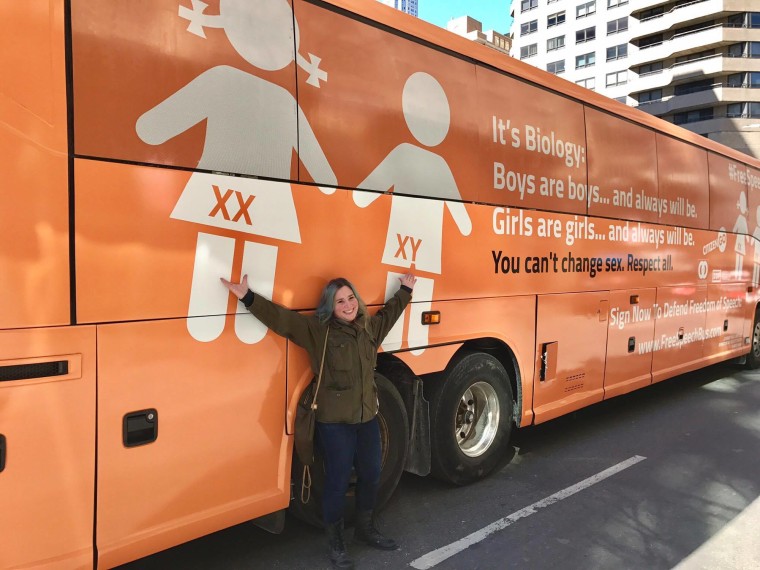 I had the chance to visit this eyesore in person on Thursday, as it sat parked near the United Nations headquarters in Manhattan. My first reaction was to laugh at its blatantly false slogans that dismiss lots of natural variation. It's "biology" indeed, if only taught from the six days of creation. The unsettling reality of just how harmful it could be began to sink in.
Transgender people are disproportionately affected by violence, harassment and risk of self-harm, and the message being spread by this bus -- which seeks to invalidate the existence of trans people and suggest their identity is a deception -- will only add fuel to the fire. If taken seriously, this hate speech could empower a parent to treat their child's queer identity as a lifestyle choice that they can overrule; embolden a transphobic person to physically assault a trans person; and normalize the fear and rejection many trans people are already subjected to.
The crowd surrounding the pristine bus on Thursday consisted of approximately a dozen supporters and at least twice as many protesters. NOM President Brian Brown was visibly thrilled to hear protesters drowning out his monologue and used it to bolster his claim that protesters were suppressing his free speech. A few protesters circled the bus as it was loaded and attempted to depart. This was largely symbolic and entirely non-violent. We couldn't want it gone faster.
NOM and IOF released images of their bus being "attacked," and spray painted some time after it left its spot near the United Nations, and the NYPD told USA Today it's currently investigating the incident. While I stand in solidarity with the protesters, I urge my community and our allies to KEEP IT CLASSY now more than ever. Our knee-jerk reactions only further solidify their twisted notion that we are society's problem and the obvious aggressors.
The "Magic Fool Bus" -- and its shameful anti-humanity message -- pulled away from its spot near the United Nations, yet the very people it hopes you'll believe don't exist remained, undaunted. The world still has some magic in it, with or without a school bus. Keep your eyes closed too long and you'll miss the best parts.
Hannah Simpson is a transgender advocate and writer based in New York City. Follow her on Twitter at @hannsimp.