A former Missouri college wrestler has been sentenced to 10 years in prison for infecting another man with HIV and endangering four other sexual partners. Michael Johnson, 25, was sentenced Thursday after reaching a plea deal.
Johnson, also referred to as "Tiger Mandingo" in some news reports, initially was ordered to serve 30 years after a 2015 conviction, but an appeals court tossed the guilty verdict, finding that a trial court erred in admitting jail recordings that weren't disclosed to Johnson's attorneys in advance. The tapes were used to cast doubt on Johnson's claim that he disclosed he was HIV-positive to his sex partners.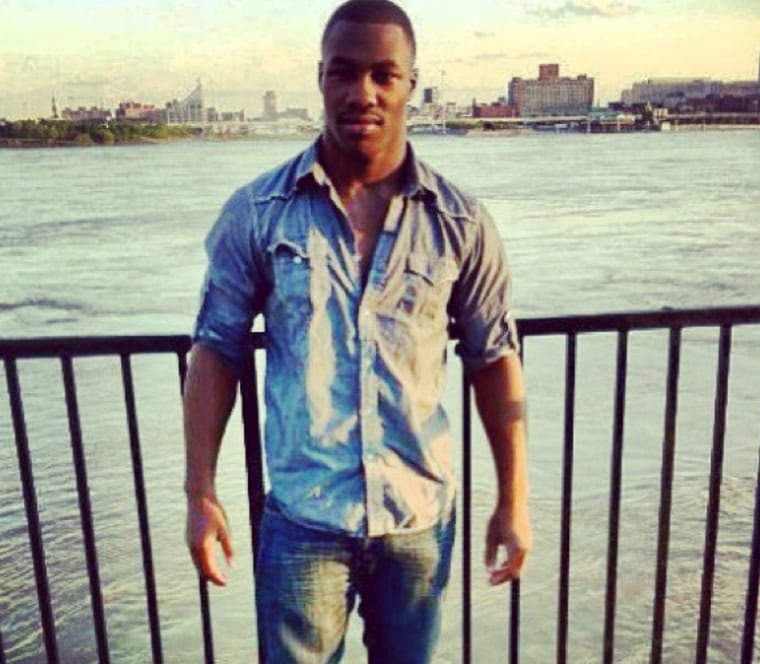 Johnson was a student-athlete at Lindenwood University in St. Charles, Mo., until his 2013 arrest. The case drew the attention of legal reform groups and gay rights activists who argued HIV criminalization is outdated, in part because of advances in treatment for the disease. The American Civil Liberties Union of Missouri said the fact Johnson is black and gay were factors in his conviction.
St. Charles County Prosecuting Attorney Tim Lohmar denied the prosecution of the case was motivated by Johnson's race or sexual orientation, arguing that Johnson denied the victims the right to make an informed decision about engaging in sexual activity with someone who could expose them to HIV.
Lambda Legal HIV Project Director Scott Schoettes, who worked with Johnson's public defender to provide "behind the scenes" assistance in preparation for the defense, told NBC News that Johnson's severe punishment stems from Missouri's particularly harsh law criminalizing HIV transmission.
"These laws came out of the fear that typify the beginning of the HIV/AIDS epidemic," Schoettes said. "Some of them were prompted by a provision in the Ryan White CARE Act that said states need to have a way to prosecute the intentional transmission of HIV."
"The best thing is ... to have a law that actually addresses the situation and builds in some real safeguards so that the people being prosecuted are only people with malicious intent."
The Ryan White Comprehensive AIDS Resources Emergency (CARE) Act, which provides funds for states' AIDS treatment and care, required every state to certify that its criminal laws adequately could prosecute any individual with HIV who knowingly exposed another person to the virus.
Currently, 24 states require HIV-positive people reveal their status to sexual partners, and 14 of those 24 states require HIV-positive people reveal their status to any needle-sharing partners. In Missouri, HIV transmission is punishable by 10 to 30 years or life imprisonment if they "create a risk of infecting another person … with the virus through sex, needle sharing, biting or other established means of transmitting the virus."
"Unfortunately, a number of states didn't recognize that the laws on the books they have already made it possible to prosecute that, and they created HIV-specific criminal laws where unfortunately the intent piece fell away," Schoettes continued. "So these laws no longer involve intentional transmission. They really just involve exposure."
"We know the justice system is already inherently racist, and we've seen it play out in this situation and in media coverage playing up the sexuality of Michael and this notion of a black man as a sexual predator," Schoettes said. "The best thing is ... to have a law that actually addresses the situation and builds in some real safeguards so that the people being prosecuted are only people with malicious intent."
According to Dr. Jeffrey Birnbaum, executive director of SUNY Downstate Medical Center's Health and Education Alternatives for Teens (HEAT) Program, one of the nation's largest clinics for young people living with HIV, these laws create a separate standard for people living with HIV, while actually placing their partners at risk.
"In intimate relationships, lots of HIV transmissions occur among people who do not even know they are living with HIV. Relying on what you think you know about a partner, or what they know or tell you, is a pretty sure way to eventually get some kind of STI, whether HIV, herpes or HPV," Birnbaum said in a statement.
Mayo Schreiber, deputy director of the Center for HIV Law and Policy, which filed an amicus brief in support of Johnson, said it is "disturbing" that Johnson is not yet a free man but added that he and his organization support Johnson's decision to take a plea deal and "not risk a life behind bars."
"It likely is the end of his case, but our work to bring an end to HIV criminal laws like Missouri's continues," Schreiber said in a statement provided to NBC News.
Related: Harvard Medical School Takes Leading Role in LGBTQ Health
Through the plea Johnson submitted, he acknowledged the state has enough evidence to convict him. The concurrent 10-year sentence was the mandatory minimum for the two most serious charges — recklessly infecting and recklessly exposing a sexual partner to HIV.
"I think that the fact that the minimum was 10 years, that that's the best we can do, shows how severe these charges are," Johnson's attorney, Eric Selig, said. "There is no other disease that, if you infect someone else with, you're charged with a crime."
Lohmar, the prosecuting attorney, described the sentence as "appropriate" but added that the state laws criminalizing the failure to disclose HIV were passed in the 1980s and may be outdated.
"I think we had a lot more limited understanding about HIV and long-term consequences, so I think opponents of the law make a fair point," Lohmar said. "But that's something that would need to be handled by the legislature."
Johnson, who was expelled from Lindenwood, is originally from Indiana, where he was a state wrestling champion.