Aquetzali B'e Noj, a 26-year-old drag queen from Huehuetenango, Guatemala, wears a long skirt and a woven huipil, a blouse typical in Guatemala's indigenous communities. For her, drag is a way to express her identity. Being indigenous, or native Guatemalan, is a major part of that.
"I choose to wear my typical indigenous clothing when in drag to show that it's not bad to do so. I'm not doing it to make fun of the culture as some people who aren't part of the community do," Aquetzali said. "There is an idea that the indigenous community is more conservative, but that's not necessarily true. I want to show the true identity of the indigenous community."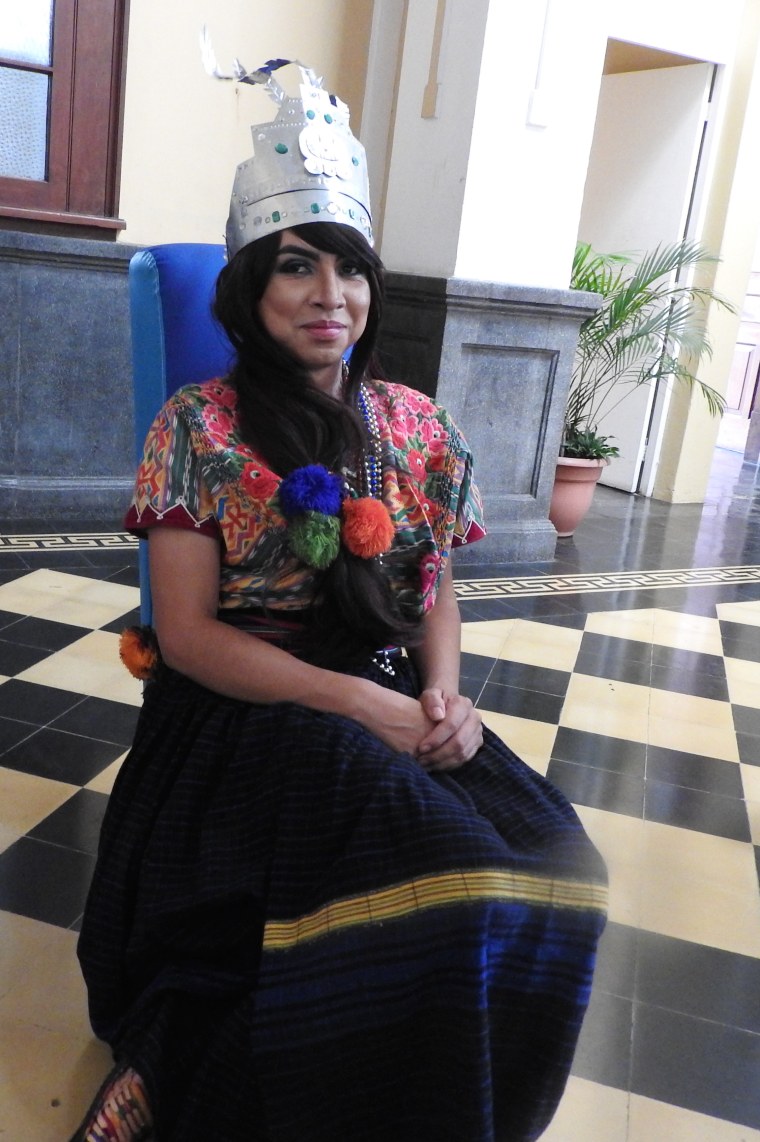 A silver crown rests on top of Aquetzali's long, sleek black hair. She wears the crown proudly as Guatemala's first Reina Indígena Trans, which translates directly to Indigenous Trans Queen. Aquetzali was awarded the title in September as part of an initiative launched by the LGBTQ-rights organization Gente Positiva (Positive People) to improve services for indigenous LGBTQ Guatemalans. A better translation of the title might be Indigenous LGBTQ Beauty Queen, because the organization used the word "trans" in an open sense that included trans women, drag queens and any other participant still defining their identity.
Within Guatemala's LGBTQ community, the identities of indigenous people are often erased, according to Aquetzali, but she said the two identities cannot be separated, as their intersection may uniquely affect one's experience. Around the world, from Nepal to Australia, LGBTQ individuals from indigenous communities experience higher levels of discrimination than their non-indigenous counterparts, which can lead to a host of other issues. For example, a 2013 report on LGBTQ rights in Australia found LGBTQ Australians from indigenous communities were at higher risk of suicide, and in Nepal, indigenous transgender individuals often experience more discrimination within their families, according to a USAID report.
In Guatemala, the erasure of indigenous people within the LGBTQ community is particularly problematic, advocates say, because an estimated 40 and 50 percent of the population identifies as indigenous. A recent survey by Gente Positiva revealed that services for LGBTQ Guatemalans are not accessible in many Mayan communities, particularly in Quiché, Alta Verapaz and Aquetzali's home of Huehuetenango.
"Why do we still lack indigenous representation in the LGBT community?" Aquetzali asked. "Particularly taking into consideration that many of the people who work in organizations for the LGBT population are indigenous," she added.
Gente Positiva wants to better serve the country's indigenous community. So, they created the role of "Reina Indígena Trans." The idea is that only someone who is indigenous and LGBTQ can represent this group and cut through some of the current language and cultural barriers.
"When you are indigenous, it's important that you hear the experience from the voice of someone who has been through it," said Aldo Davila, director of Gente Positiva. "It's important to have this title to open this type of space. We aren't just saying that we are going to pick the prettiest contestant, or the person with the best dress or the best figure. We chose someone who is aware of the reality for the community."
Six finalists, including Aquetzali, competed in a contest organized in the structure of a beauty pageant in September. The role is not just symbolic. As winner of the competition, it is now Aquetzali's job to travel around Guatemala to represent the country's indigenous LGBTQ population and then develop programs to address their needs.
Aquetzali grew up in Huehuetenango, an area in northwestern Guatemala that borders Mexico. About 58 percent of its residents identify as indigenous, according to statistics from Guatemala's National Survey Institute (INE).
Aquetzali admits that not all gender identities and sexual orientations are fully accepted where she comes from, but she believes her community is no more conservative than other parts of Guatemala.
"I don't always feel accepted in my community, but it's not that they don't want me, but rather that they just don't understand me," said Aquetzali, who asked to only be identified by the name of her drag personality, since she does not speak openly with her family about her drag shows or being part of the LGBTQ community.
About four years ago, when Aquetzali was 22, she met a group of drag queens and trans women who introduced her to the world of drag. At first, she was hesitant about performing herself, because she was in a process of discovering her own identity. But soon enough, she began planning her own shows and getting out on stage. Shortly afterwards, she heard about the LGBTQ beauty competition when Gente Positiva put out a call for participants.
"The purpose of the competition was not just to arrive and to win," she said. "Rather the requirement was to perform, win and then support the fight for the rights of the LGBT community. If you weren't willing to do this, you couldn't participate."
Aquetzali arrived at the competition in September ready to do just that. She had prepared a choreographed Mayan dance, a speech in both Spanish and her native Aguacateco language and two outfits — one regional dress and another ceremonial one.
But she believes she really wowed the judges with her response in the question round. As a program coordinator for a non-governmental organization in Huehuetenango, she is already working to advocate for marginalized communities. So she was prepared to answer a question about what she would do to help her community.
"I answered that I was going to change the question, because it's not what I would do, but rather what I have done," Aquetzali said. "Through the organization I work for, we promote human rights for the LGBT community, working to raise awareness within the two government agencies that are the most important, health and education, to provide quality, caring attention."
The outreach part of her role as the winner of Gente Positiva's competition is what Aquetzali is now concentrating on. She wants to focus her time as Guatemala's Reina Indígena Trans on developing sexual education programs in indigenous languages.
Aquetzali will reign until September 2018, when she will then pass on her crown to her successor.
"It's a great responsibility," Aquetzali said, "to fight for those who are afraid to speak up, for those who are afraid to express themselves and for those who are afraid to say 'This is me. Here I am.'"